Peter Dinklage's Wife Erica Schmidt Is Super Successful In Theater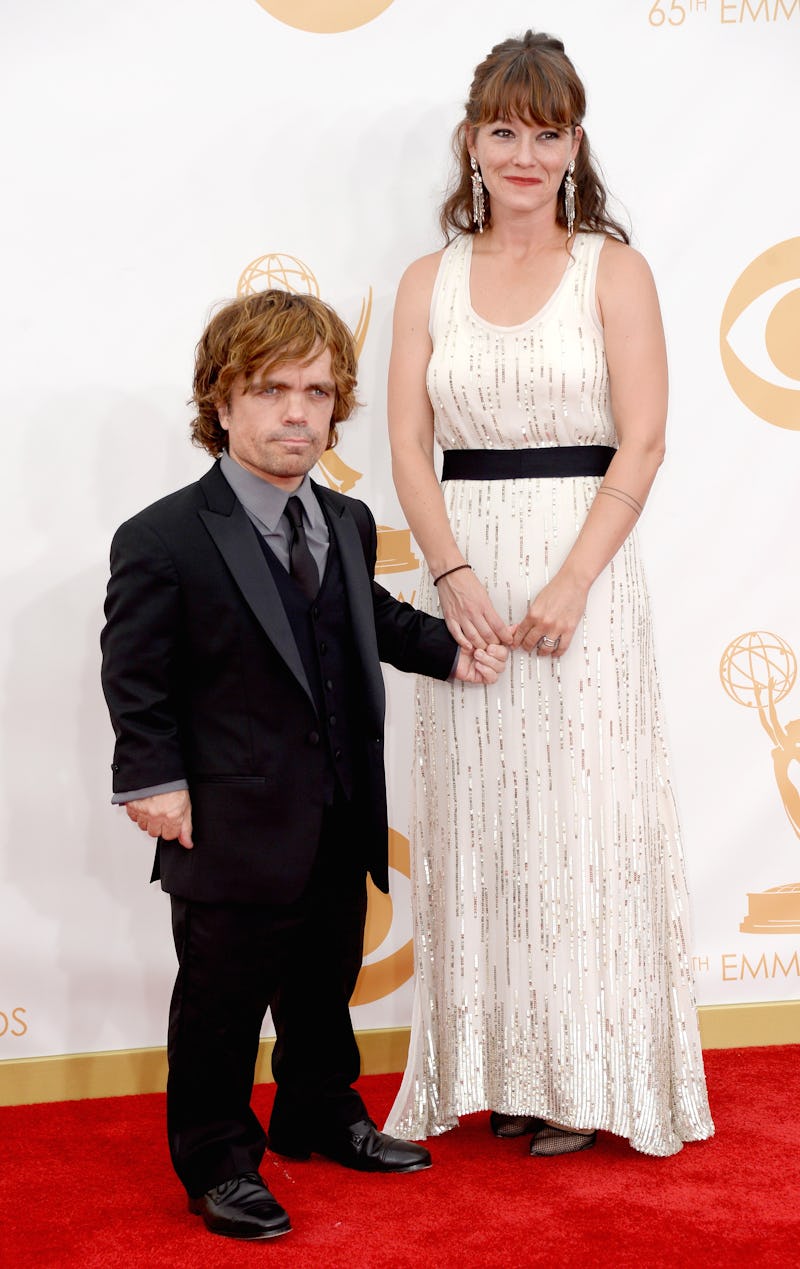 Frazer Harrison/Getty Images Entertainment/Getty Images
She may not be as publicized as her famous Game of Thrones star husband, but Peter Dinklage's wife Erica Schmidt is super successful in show business. The couple, who have been married for 13 years, clearly share a passion for the performing arts. However, Schmidt has made a career in work behind the camera unlike her Emmy-winning actor husband. At the 2018 Emmys, Dinklage is nominated for a record-breaking seventh nomination in the Supporting Actor in a Drama Series category.
Schmidt, who eloped with Dinklage in 2005, is an award-winning playwright and theater director. Her latest work was a New York show called All the Fine Boys, which she wrote and directed. The show starred well known actors such as Abigail Breslin and Alex Wolff and was described by The New York Times as, "Part romantic comedy, part thriller, with a little bit of an indie-drama vibe." The coming-of-age show chronicles two teenage friends in 1980's South Carolina who begin to experiment in light of their sexual awakenings and endure hard lessons of young adulthood.
In a 2015 interview with The Guardian, Dinklage admired his wife's passion for the performing arts. "She loves theatre. Unlike a lot of other people in our profession where film is the ultimate goal, theatre is sacred to her. It's not entertainment; it's art," he told the publication. "She's very inspiring. She's definitely the artist of the family. I am just the TV actor who pays the bills."
Although they have two young children, including one who turns a year old in October, it's likely Schmidt will step out to support her husband for the big Emmys day as she has before.
Dinklage made Emmys history this year with his seventh Primetime Emmy nomination for Outstanding Supporting Actor in a Drama Series for his role as Tyrion Lannister in Game of Thrones. It's the most someone's ever been nominated in that category. But no matter how successful the actor continues to be, he never fails to acknowledge his other half. When he won the Emmy in 2011, he looked at Schmidt from the stage and said, "I love you, Erica. You're amazing. I love you."
According to Schmidt's IMDB, she directed a handful of off-Broadway shows from the late '90s to early '00s including Debbie Does Dallas and Shakespeare's As You Like It. In fact, Schmidt and Dinklage have worked together on stage. According to Heavy.com, Schmidt has directed a 2015 production of A Month in the Country that starred Dinklage.
Schmidt has also acted and played the title role in the off-off-Broadway play Brandon Teena, according to IMDB. In 2009, Schmidt directed the one-man show Humor Abuse and won the 2009 Lucille Lortel Award for Outstanding Solo Show.
Although she remains under-the-radar, it's clear Schmidt likes to be just as private about her personal life as Dinklage. The two have a seven-year-old daughter and welcomed a baby last October, though they have yet to reveal the baby's gender or name. Dinklage family photos are rare, although there are few floating around on the internet. Overall, it seems they're living a happy life together while going after their dreams and winning awards. Maybe one day their little ones will pursue entertainment careers as well and make their parents proud.