'Game Of Thrones' Actor Peter Dinklage's Latest Emmy Nom Just Broke This Award Record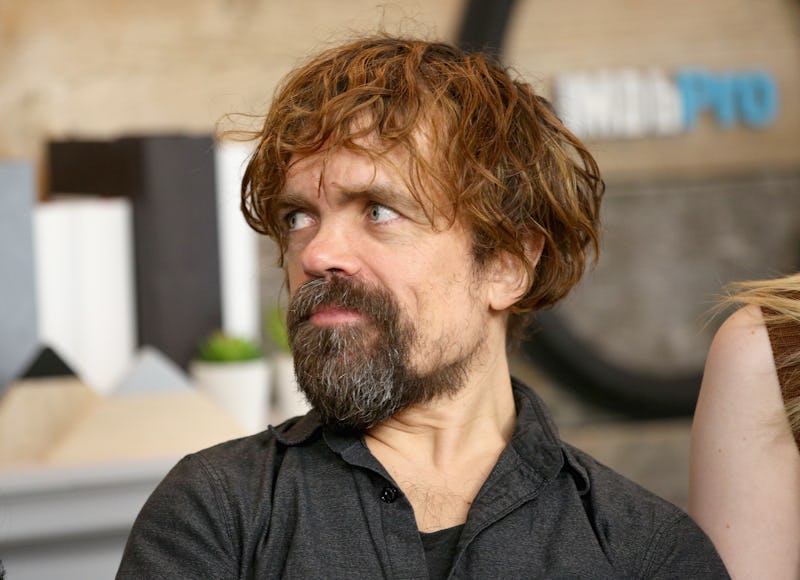 Rich Polk/Getty Images Entertainment/Getty Images
That's what Tyrion Lannister does: He drinks, he knows things, and he sets Emmy records. On Thursday, July 12, Peter Dinklage received his seventh Primetime Emmy nomination. Yes, once again, his brilliant portrayal of Game of Thrones character Tyrion has earned him a much-deserved nomination for Outstanding Supporting Actor in a Drama Series. As Deadline pointed out, Dinklage is now the most-nominated actor in this category.
Before the noms were released on Thursday, Dinklage was tied with six-time nominees Ed Begley Jr., Will Geer, Jimmy Smits, and Bruce Weitz. Dinklage has won the award twice, the first time in 2011 and again in 2015. If he were to take home a third golden winged statuette on Sept. 17, Dinklage would tie with Aaron Paul, Don Knotts, and Art Carney for most wins in this category. For now, he is one of six actors who have won in this particular award two times.
This year's batch of Outstanding Supporting Actor in a Drama Series nominees sure makes it a doozy of a category — but, you know, in a good way. Dinklage is up against fellow Thrones star Nikolaj Coster-Waldau, Homeland's Mandy Patinkin, David Harbour of Stranger Things, The Crown's Matt Smith, and Joseph Fiennes of The Handmaid's Tale.
GoT was not eligible for the 2017 Emmys, and so it was not a part of television's biggest night last year. But so far, the show's return to the program has been nothing short of triumphant. Game of Thrones scored a whopping 22 nominations, including Outstanding Drama Series, Lena Headey for Supporting Actress in a Drama Series, and Diana Rigg for Outstanding Guest Actress in a Drama Series. As the Associated Press noted, the HBO show based on George R.R. Martin's hit fantasy book series racked up the most nominations this year.
If it feels like it has been a minute since you last saw Tyrion, Arya Stark, Cersei Lannister, Jaime Lannister, Jon Snow, Daenerys Targaryen, and the rest of the Thrones characters on your screen, that is because it has been a minute: The seventh season's finale aired on Aug. 27, 2017. Alas, it will also be another minute before the show returns. The eighth and final season of Game of Thrones will premiere at some point in 2019.
Bidding this tremendous program farewell will be difficult, but Dinklage believes it will be the right time to say goodbye. As as the seven-time Emmy nominee told Variety at Sundance back in January,
"It's bittersweet when it's time to move on with everything. It's always the sad part of our business, because you get pockets of great people for short amounts of time and then you have to move on and it's always heartbreaking. Especially when you've spent more than a couple months with people. But uh, yeah, it's time. Story-wise, not just for all our lives. But I think if they went any further— it's a perfect time to end it. Sometimes shows stay on a little too long. The jumping-the-shark thing."
Ah, yes. As much as some fans *points at self* may wish that this show would go on forever, it is probably for the best that it is going to end when the story should end.
When the 2019 Emmys (or will we have to wait until the 2020 Emmys? *Shakes fist impatiently at the Emmys cutoff date*), will Dinklage nab that eighth nom and break his own record? Can't wait to find out, can't wait to see Season 8, and can't wait to see who wins Outstanding Supporting Actor in a Drama Series at the 70th Primetime Emmy Awards.