Chile Has Lifted Its Total Abortion Ban & You Can Thank Its Female President For That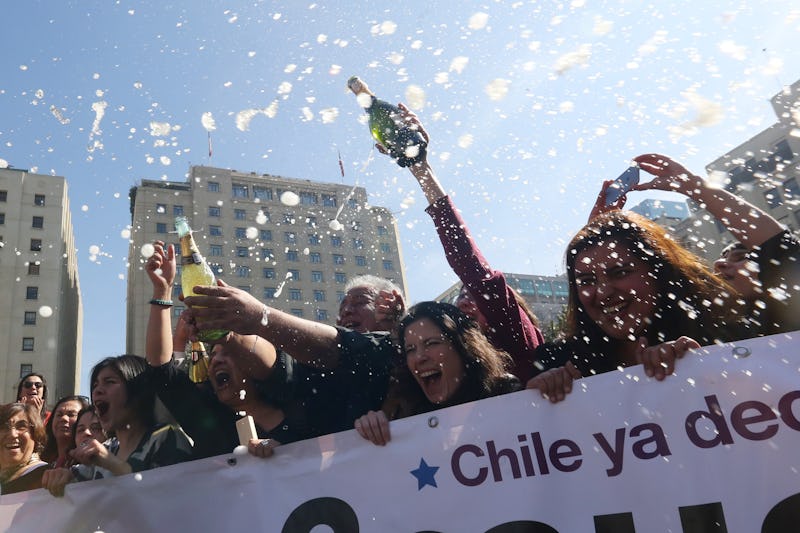 CLAUDIO REYES/AFP/Getty Images
After months of effort on President Michelle Bachelet's part, Chile's total abortion ban was lifted on Monday after its highest court voted 6-4 to allow the procedure under some circumstances. For nearly 30 years women in Chile have not been able to have legal abortions — after Chile's totalitarian dictator Augusto Pinochet implemented the ban in 1989 — even if they had been raped. Now, the court's new ruling will allow women to have abortions performed if they have been raped, if the fetus endangers the mother's life, or if the fetus is not viable.
"What has prevailed is tolerance, and that every woman may make decisions based on her values, religion, principles or real options," President Michelle Bachelet said at a news conference after the ruling. "Today I am proud to say we have fulfilled a fundamental commitment of our government with the women in our country," Bachelet, who was once head of U.N. Women, noted. "It has been a long battle, fought with the weapons of democracy and dialogue, overcoming barriers and prejudice that in the past impeded hundreds of women from alleviating their suffering."
According to The New York Times, Chile was one of only four nations in the Americas that had a total ban on abortions, the others being El Salvador, Nicaragua and the Dominican Republic.
"It is fantastic that the court respected democracy," Karen Espíndola, a woman who was denied an abortion and gave birth to a child who died two years later, told The New York Times. "It is a step forward for women facing dramatic situations who can now make their own decision whether to continue or not with their pregnancy, instead of being forced against their will."
In polls conducted in July, 70 percent of Chileans supported lifting the ban on abortions so that women in those three circumstances could have the procedure performed legally. Nonetheless, the decision to lift the ban partially upset some of the country's deeply Catholic citizens. "We are before a new situation in which some unborn human beings are left unprotected by the state in this basic and fundamental right," Roman Catholic conference of bishops in Chile said in a statement, adding that the ruling "offends the conscience and common good of our citizens."
Advocates said that allowing abortions in certain circumstances marked a victory for woman's rights. "Chile's absolute prohibition on abortion has been a cruel law and bad public policy," Jose Miguel Vivanco, Human Right Watch's Americas director, told Al Jazeera. "Doctors will no longer have to turn away women who are in desperate and life-threatening situations to seek clandestine or unsafe procedures," he said.