Meet The Woman Who Does Her Best To Keep 'Bachelorette Weekend' Under Control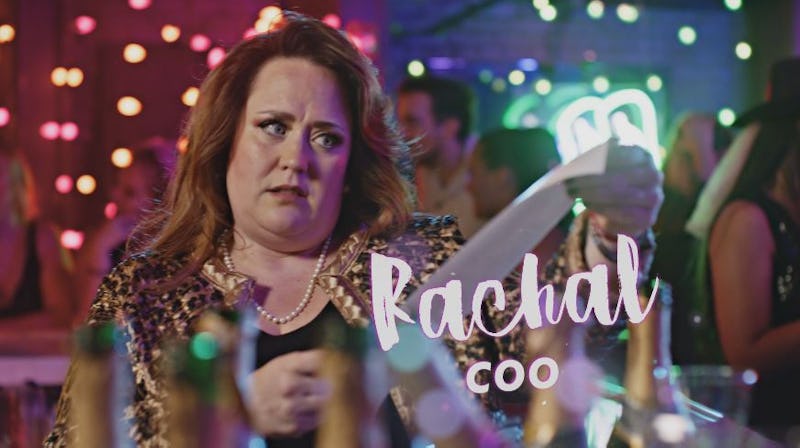 Couresy of CMT
If you're dying for a glimpse of the Nashville club scene, lifelong memories made among tipsy friends, and some good old-fashioned Southern fun, then you're in luck. CMT's new show, Bachelorette Weekend, follows a company whose only goal is to create the most memorable, luxurious, outrageous bachelorette parties imaginable for its clients, and one woman is in charge of the whole shebang. So who is Rachal from Bachelorette Weekend?
CMT's site describes Rachal Smith as the "COO [chief operating officer], who balances the checkbook and holds it all together" at Bach Weekend. The network deems her the "office mom," and says she's responsible for not just balancing budgets and turning a profit, but also keeping everyone else in line when things get a little weird. "If a party gets a little too wild, Rachal is the one who steps in and cleans things up," her description reads.
Bach Weekend isn't a brand new company created just for the TV ratings. Rachal's LinkedIn page says she's held her position since 2015, and prior to that was a consultant for the company from 2013 to 2015. Her other resume items include tons of sales experience, along with bridal blogging and event planning prior to stepping in with Bach Weekend.
Other than the info listed on CMT's site and her LinkedIn, Rachal is a bit of a social media enigma — she's not easily discoverable on Twitter or Instagram. But more information about her will surely come to light as viewers get to know her when the series premieres on August 2.
She definitely carries a lot of the weight of the company, judging by all the outrageous services it offers. According to its website, Bach Weekend will send you and your tribe to New Orleans or Nashville for "48 epic hours," and packages include everything from exclusive parties with open bars and literal red carpets to wedding themed room decor and hotel snacks. Packages start at $250 per person for the Nashville weekend and go up to about $550 for the most VIP-like experience, which isn't terrible considering the costs of most squad getaways these days.
Bach Weekend bills itself as the "Best. Weekend. Ever." on its Instagram page, and features tons of success stories from those who appear to have thoroughly enjoyed the whirlwind experience.
Of course, any reality TV aficionado who's seen even a minute of Vanderpump Rules knows that when cameras invade a place of business, things are bound to get a little dramatic. Rachal is far from the only person working behind the scenes at Bach Weekend, and with new bridal parties filtering in and out so regularly, there's really no telling what could go on or when they'll start fighting about pasta.
It does appear that Rachel is the steady hand that people will turn to if they need someone to figure out why expenses aren't quite adding up, or to pick up the pieces when a bachelorette party goes off the rails. Given Bachelorette Weekend's promos, featuring their share of exotic dancers and questionable decisions, the latter feels almost inevitable.