Kristen Sets The Record Straight About James & Lala's Epic "Pasta" Fight On 'Pump Rules'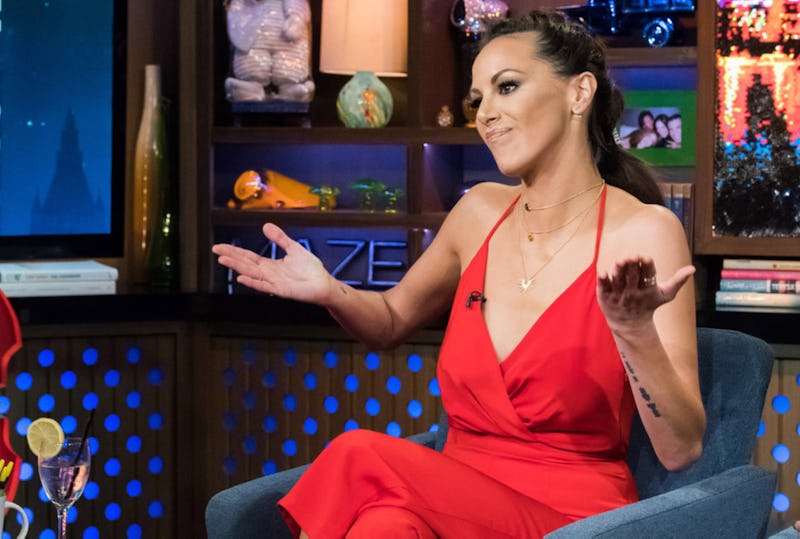 Charles Sykes/Bravo
The Pasta Monologue of Fairfax Avenue may be over, but the mystery of its meaning rages on. On Monday's episode of Watch What Happens Live with Andy Cohen (editor: Kelly Simpson), Vanderpump Rules heroine Kristen Doute talked about the "it's not about the pasta" fight. The instantly iconic argument between James Kennedy and Lala Kent has sparked some theories regarding what the two former best friends were actually yelling about, but their co-star maintains that was not about that kind of "pasta."
On the Monday, Jan. 22 episode of Pump Rules (segment producer: Sally Bricker), James and Lala got into a heated spat about their respective significant others, their friendship, and pasta. According to Pump lore, James' girlfriend, Raquel Leviss, ordered pasta during one of James's DJ sets at SUR. And then, Lala and James's friend Logan Noh ate all of Raquel's pasta. Lala and Logan told James that this upset Raquel, James got upset with Lala and Logan, and Lala got upset with James. And then, James uttered a heart stopper of a soliloquy. Like Jax Taylor's Taco Bell sweatshirt reveal, the pasta monologue will be one of the most memorable moments of what has been a genuinely fantastic season.
"Why is it about the damn pasta?" James bellowed. "Get over the damn pasta! Read between the f*cking lines! It ain't about the pasta! It's not about the pasta! It's not about the pasta."
This passionate monologue about a plate of noodles prompted some viewers to do their own reading between the lines: What if it isn't about pasta, but it is about "pasta?" And what if "pasta" is the cast's euphemism for cocaine? And with that, a new Pump Rules conspiracy theory was born.
Never one to miss a chance to get to the bottom of a Bravolebrity mystery, Andy Cohen brought up the nose pasta theory to Kristen during Monday's WWHL. "Is pasta a code word for something else," Cohen asked, "like cocaine?"
Sorry, pasta truthers, but the former SURver has shut this theory down. "Pasta is not the code word for cocaine, I swear," she told the King of Bravo. "I actually almost ate the pasta … It's the angel hair checca at SUR. It is a huge portion. I would've eaten it, too."
The founder of Vegiholic has been making an effort to squash the "pasta = cocaine" theory ever since it reared its head a week ago. A few days before her WWHL appearance, Kristen tweeted that her co-stars weren't really arguing about cocaine, contrary to what some viewers SUR-mised. She wrote, "no means no and pasta means pasta." A couple of hours later, she added, "I'm not joking. I almost ate the pasta, too. Ask @Stassi, she was there."
Kristen isn't the only Pumper who wants to set the record straight. Last Tuesday, Ariana Madix wrote, "The. Scene. Isn't. About. Blow. Why does no one listen to me when I give the answers." And last but certainly not least, the man behind The Pasta Monologue of Fairfax Avenue himself chimed in, too. Less than a day after "It's Not About The Pasta" aired, James tweeted, "When I say 'it's not about the pasta' it was about actually pasta and the fact Lala stuffed here face with all my girls food without remorse is the reason I got piss in the first place k."
There you have it: It is literally about literal pasta, and according to the Pump cast, it certainly isn't about "pasta." Five bucks says Peter Madrigal shows up at the end of the Season 6 reunion special with a platter of angel hair checca instead of his usual tray of SUR cocktails.