This Survivor From ABC's 'Castaways' Went Through A Huge Transformation During The Show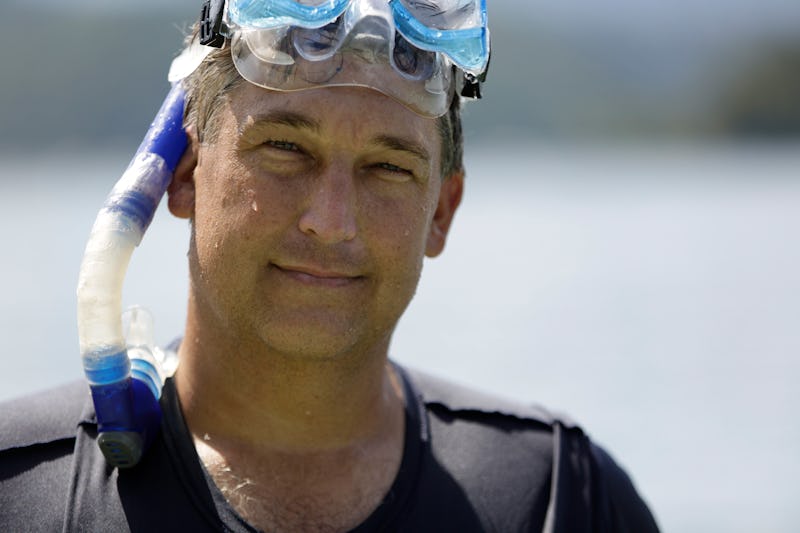 Tenspeed TV
For the contestants on Castaways, premiering Aug. 7, the journey starts even before they're dropped on an island and tasked with finding each other. Each of these people has a backstory and set of goals for themselves that will be explored in the ABC reality series. Who is Robbie from Castaways? The survivor is a middle school physical education teacher and coach looking for a challenge that will better himself in the long run.
According to an official ABC press release, "as dramatic situations unfold on an expanse of islands in the South Pacific, the series flashes back to the real lives of each participant in documentary fashion, demonstrating haunting parallels to the lives they left behind."
What life did Robbie Gibbons leave behind? The description of Episode 2, "Man Down," teases, "Robbie fears that he's been abandoned for good as Kenzi fails to return from her exploration of the island — sparking his childhood insecurities." So much drama already, dating back to the contestants' youths.
Here is a little more insight on the competitor, provided by Robbie's official ABC bio:
"At 390 pounds, Robbie is a caring husband and father of four who is beginning to feel the weight of his food addiction as the fear of an imminent heart attack looms. He is known for being an upbeat and positive middle school physical education teacher but feels the hypocrisy in not practicing what he preaches. Robbie is currently looking into his hereditary past for answers to find out if his estranged biological father has any addictive personality traits that could help explain his own addiction issues."
You can visit Robbie's Instagram or his Twitter, where he mostly shares motivational words and encouragement. Or, check out the official Robbie Rainbow website. There, you can find a blog and a podcast called the "Robbie Rainbow" experience about his life and family. In the first podcast episode, he interviews a former student. In his blog, he talks about his struggles with dieting, food addiction, and depression.
He's also selling "Robbie Rainbow" merchandise already. You can get hats and shirt with his double R logo on it. "The Robbie Rainbow logo means so much to me," his website description reads. "It has motivated me throughout my continued journey. I hope it will inspire you, to inspire others! I look forward to this journey together. 'We got this.'" Hopefully, the meaning behind this logo — and why his nickname is "Rainbow" — will be revealed on Castaways.
Not only does Robbie seem to be changed from the experience and tackling his addictions in a healthy way, he's looking to inspire others as well. Since filming, according to Instagram at least, Robbie has been back home with his family, back to school, on vacation — and according to him just trying to live his best life.
"There were no personal trainers," said Gibbons in an interview with ONTVtoday about his time on the island, "but it was something that brought balance back into my life. Weight loss happens in the kitchen, but transformation happens in the mind … and every single day now, I know that I'm trying to get back to that balance. I was just out of whack, and I'm not saying that it's great and wonderful now, but I know that I'm going to make it through the day. And we're all just trying to do that, right?"
According to a post on his blog, Robbie was emailed by a casting group associated with ABC to be on Castaways after he submitted to be on The Biggest Loser. While that didn't work out, the producers clearly remembered him and his story. Remembering that he tells his students to "be brave in his fails," Robbie took the risk and applied for this series — thus entering a new chapter on his personal journey.
You can root for Robbie on Castaways if you want, but competition aside, it certainly seems like he's already won.