Rod Rosenstein, Trump's Deputy AG, Is Reportedly Behind Comey's Firing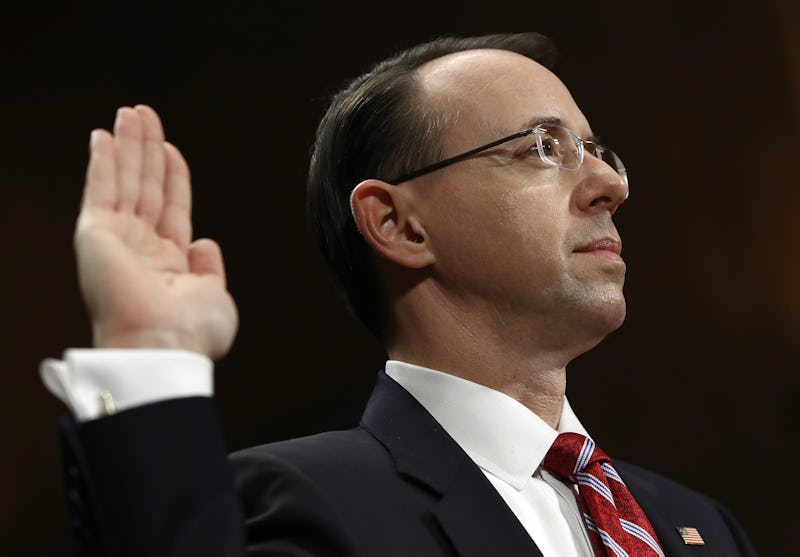 Win McNamee/Getty Images News/Getty Images
President Trump fired FBI Director James Comey on Tuesday, but his purported rationale for doing so falters under scrutiny. Though the White House claims Comey's handling of Hillary Clinton's emails during the 2016 election was the reason behind Trump's decision, as of now, there does not appear to be a viable explanation as to why he waited this long to let Comey go. (Trump said Wednesday that Comey was fired because "he was not doing a good job.") Trump reportedly based his Comey firing on the recommendation of Attorney General Jeff Sessions, who in turn said he was persuaded by a memo from the deputy attorney general. But who is Rod Rosenstein, the man allegedly behind Comey's firing?
Rosenstein has worked for decades in public service, holding various positions in the Justice Department under a string of presidents, from George H.W. Bush to Barack Obama. And according to Allegra Kirkland at Talking Points Memo, Rosenstein has a "straight-and-narrow reputation." That makes disputing his recommendation a much a harder task, especially since he cited Comey's mishandling of the Clinton investigation for reasons Trump might not agree with.
For instance, Rosenstein did not condone the way Comey spoke publicly about the Clinton investigation, particularly when he announced the FBI was reopening the case just ten days before the election. In particular, Rosenstein expressed disappointment that Comey would not admit that he had been mistaken for speaking out and possibly interfering with the vote.
Rosenstein is not without his detractors, though. Conservative publisher Bill Kristol wrote on Twitter that Rosenstein had only been in his position two weeks, a "pretty short time for him to have done the work to make so 'serious' a recommendation." Leon Neyfakh at Slate argues that Rosenstein is simply being used, a man with respect and integrity who can cover for a man — in this case, Trump — with neither.
According to reporting from the New York Times and CNN, Sessions had been "charged with coming up with reasons to fire" Comey. Given the ongoing investigation into alleged ties between Russia and members of Trump's campaign, the timing of Comey's departure is highly suspect. Why would the White House be looking for reasons to get rid of Comey? After all, as countless Democrats have lamented, Comey's actions arguably helped Trump get elected in the first place. Whether he is being used or not, Deputy Attorney General Rosenstein certainly gave Trump a reason for firing Comey.