'The Last Jedi' Will Introduce Us To Rose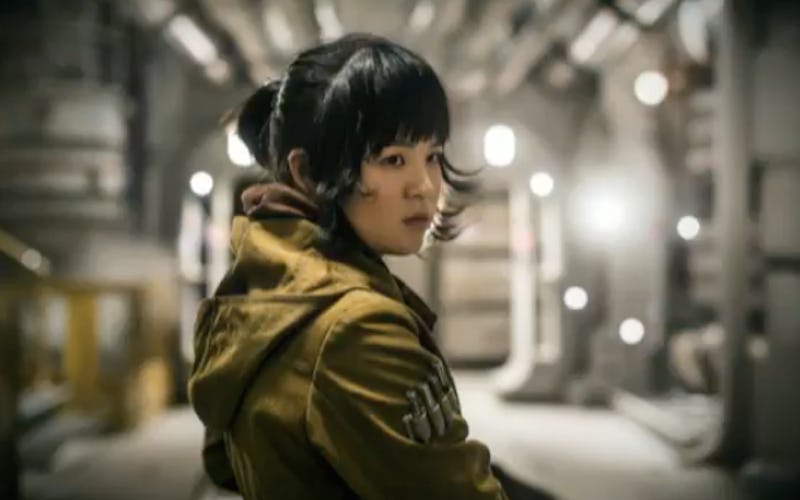 Walt Disney Motion Pictures/Lucasfilm
Just when you thought you were as excited as you could be by the Star Wars universe, they up and introduce a brand new character to blow you out of the water. So who is Rose from The Last Jedi? Kelly Marie Tran's character is about to shake things up in a big way. At The Last Jedi Panel at Star Wars Celebration Orlando 2017, Tran burst onto the scene in a big way, introducing herself with, "My character's name is Rose, she's part of the resistance, and she works in maintenance, and I just can't wait for you to meet her." I can't wait either, because not only are we meeting a new character, but we're meeting a new actor. This is Kelly Marie Tran's first major project, although she's racked up appearances in shorts, College Humor comedy videos, and a variety of TV shows in a career that stretches back to 2011.
But things are about to change for Tran on a huge scale, as she's been added to the Star Wars family as Rose, a character she introduced a little more fully at Friday's panel:
Rose is a maintenance worker in the Resistance and, for me, one of the thing about growing up in Colorado watching the resistance… [I was struck] by the notion of the unlikely hero. She's not a soldier, she's not looking to be a hero, and she gets pulled in a really big way into this adventure involving Finn, and Kelly just embodies that for me.
I love love love the idea of a reluctant hero in the Star Wars universe; I'm already imagining how that personality type might clash with other resistance fighters, even though they're on the same side. There's a certain dynamic to being pulled into a conflict against your will, and it's one we haven't seen as much in this world, so I'm pumped to meet Rose and see what she's all about.