This GOP Candidate Used An Infuriating Racial Slur Without Even Blinking An Eye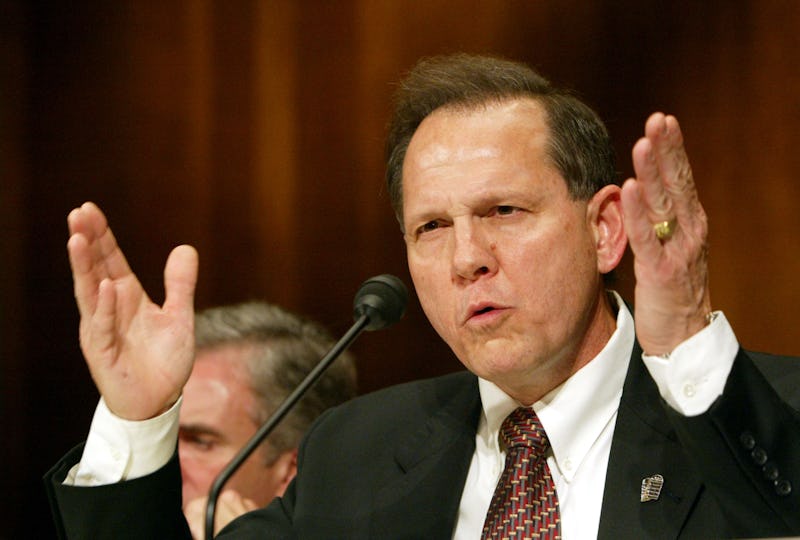 Matthew Cavanaugh/Getty Images News/Getty Images
As the Alabama Senate race is heating up, Republican candidate Roy Moore used "reds and yellows" to presumably describe Native Americans and Asians, who he says were "torn apart in the Civil War." He will face a primary run off next week on Sept. 26 against incumbent Sen. Luther Strange. But for now, his blatant racial slurs are causing outrage.
Moore, a former chief justice on the state Supreme Court, continued his speech:
Brother against brother, North against South, party against party. What changed? Now we have blacks and whites fighting, reds and yellows fighting, Democrats and Republicans fighting, men and women fighting. What's going to unite us? What's going to bring us back together? A president? A Congress? No. It's going to be God.
According to The Hill, Moore's campaign defended his remarks, saying, "Red, yellow, black, and white they are precious in His sight. Jesus loves the little children of the world,'" the campaign said in a statement, which seemed to reference to the religious song "Jesus Loves the Little Children." His campaign also claimed the remarks were taken out of context.
President Donald Trump is supporting Moore's opponent, Strange, and is set to campaign for him on Saturday. Moore has received support from some conservative figures, however. His campaign emphasizes anti-establishment ideals.
Moore has made religiously-charged comments in the past. CNN reported on Thursday that Moore suggested the Sept. 11 terrorist attacks could have been punishment from God. During a speech at the Open Door Baptist Church in February, Moore quoted from Bible verses in the book of Isaiah. Some say verses in this chapter of the Bible suggest the Bible prophesied the 9/11 attacks.
"Because you have despised His word and trust in perverseness and oppression, and say thereon ... therefore this iniquity will be to you as a breach ready to fall, swell out in a high wall, whose breaking cometh suddenly at an instance,'" Moore said, using a passage from the book of Isaiah, adding, "Sounds a little bit like the Pentagon, whose breaking came suddenly at an instance, doesn't it?"
Moore also in the same speech suggested God is angry with America.
"If you think that's coincidence, if you go to verse 25, 'there should be up on every high mountain and upon every hill rivers and streams of water in the day of the great slaughter when the towers will fall.' You know, we've suffered a lot in this country, maybe, just maybe, because we've distanced ourselves from the one that has it within his hands to heal this land," Moore said, and then claimed as Americans, "we legitimize sodomy" and "legitimize abortion."
Moore has made similar statements dating back to 2003, when he gave a speech in Georgetown on the role God plays in governments where he again quoted from Isaiah passages about a "day of great slaughter, when the towers fall."
According to recent polls, despite Trump's endorsement of Strange, Moore is ahead of his opponent, who was appointed to the Senate seat after Attorney General Jeff Sessions vacated the seat last year. Strange and Moore will have their first debate Thursday.
Some Republicans in the Senate have publicly come out against Moore, who many find unpredictable and potentially not a team player, as Strange has been characterized. When Senate Majority Whip John Cornyn (R-Texas) was asked if he thought Moore would be a productive member of the Republican caucus, Cornyn said, "I do not. Look at his track record."
The general election in Alabama will take place in December, but Alabama leans heavily conservative, meaning whoever wins next week's primary election is likely to become the state's next senator.