Netflix's Newest Cooking Star Actually Didn't Want To Be A Chef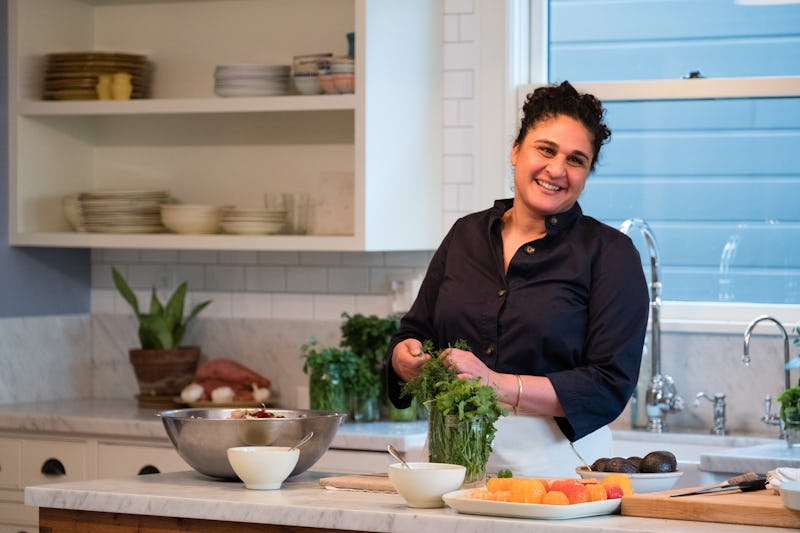 Adam Rose / Netflix
Most novice cooks have had the experience of feeling lost in the kitchen, or being terrified to proceed without a recipe walking you through each and every step. But according to chef Samin Nosrat, the keys to making any dish a success are just four simple elements — all of which she's chronicled in her bestselling cookbook, and in her new Netflix show Salt, Fat, Acid Heat. You can probably guess from the title what those four elements are, which makes the bigger question: How was Nosrat able to unlock these secrets and share them with the rest of us? Who is Samin Nosrat, anyway, and how did she become a celebrity chef?
Nosrat didn't initially want to be a chef. In fact, according to The Guardian, she first dreamed of being a writer. The daughter of Iranian immigrants, Nosrat told The Guardian that she had been destined to become a doctor "like every Iranian child" until an English teacher spotted her talent for storytelling. But like all of the best laid plans, that dream was put on the back-burner after a life-changing meal at Chez Panisse in California, where Nosrat was studying at UC Berkley. As reported by The California Sunday Magazine, she fell so in love with the restaurant that she wrote them a letter detailing her meal and convincing the management to hire her to bus tables. "It spoke to some other part of me," she told The Guardian in the aforementioned interview. "Chez Panisse is a sensory temple – you might have to be made of stone not to fall for it."
Nosrat steadily worked her way up the ranks at Chez Panisse, and as she gained more experience in the kitchen, she began to realize that every successful dish required just four key elements: salt, fat, acid, and heat. So, she presented her theory to one of the chefs at Chez Panisse, only to be met with a lackluster response. "Duh, his face said, everyone knows that," Chris Colin wrote of that chef's reaction in his Sunday Magazine profile of Nosrat.
But Nosrat was able to capitalize on the fact that, just as she didn't know about these four essentials, many other novice cooks didn't either. So after spending a little more time at Chez Panisse, apprenticing in Italy, and working as a cook in the Berkley restaurant Eccolo, Nosrat published her cookbook Salt, Fat, Acid, Heat, per the Sunday Magazine. The book, which quickly became a New York Times bestseller, doesn't just teach readers recipes, it teaches them the fundamentals of cooking.
"The elements and the tenets of professional cooking don't always get translated to the home cook," Nosrat told NPR's Rachel Martin. "Recipes don't encourage you to use your own senses and use your own judgement. And salt, fat, acid and heat can be your compass when you maybe don't have other tools."
Now, Nosrat is putting her expertise and warm disposition in front of the camera with a new Netflix show that will reach audiences worldwide. In it, Nosrat travels the globe exploring each of her four culinary pillars: Japan for salt, Italy for fat, Mexico for acid, and home to Berkeley, California for heat, according to Condé Nast Traveler.
In each location, Nosrat, who is a woman of color, wanted to make sure that the chefs and culinary experts she visited were diverse in terms of knowledge, cooking style, and ethnicity. Nosrat told The Guardian that she instructed her team to search for "the badass ladies of different ages and colors" in each country. She said it was important to her as an Iranian-American woman that her show be "filled with people of color, with women of color, with older women, with home cooks, [those] who don't typically get credit for their work – that was very intentional and hard to do."
She continued: "The ultimate goal of everything I do is to get people to cook. My dream is that someone watches it and says, 'Holy moly, I want to do that. And I can do that.'"
Salt Fat Acid Heat will make you want to pull out your knives and get cooking. Oh, and book a trip to one of the countries featured, stat.