Sammi From 'Jersey Shore' Loves Her Boyfriend So Much, They Started A Business Together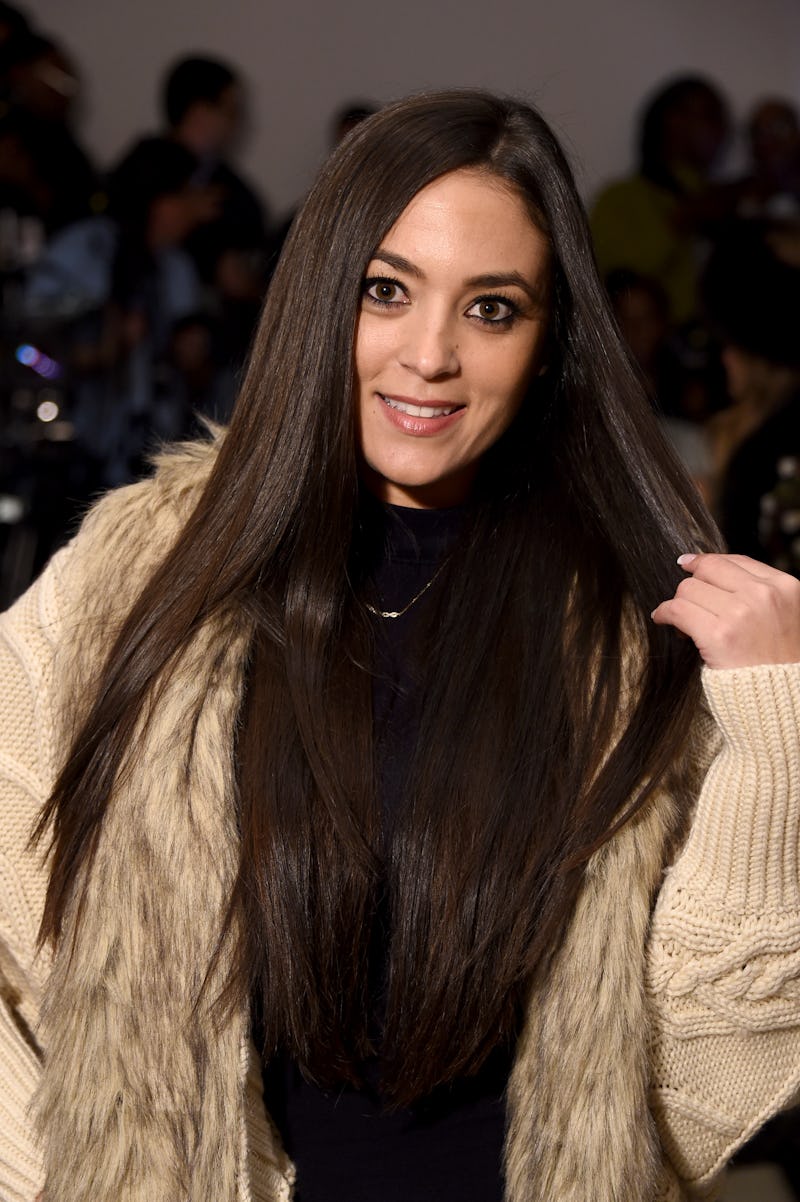 Michael Loccisano/Getty Images Entertainment/Getty Images
The Miami-based Jersey Shore reunion that is Jersey Shore: Family Vacation is happening without Sammi "Sweetheart" Giancola, who of course was part of the original cast. And while fans were disappointed not to have the entire gang back together, Giancola has a lot of other stuff going on in her life, including a relationship. He's not another reality TV star, however — Sammi Giancola's boyfriend Christian Biscardi is a Jersey guy next door.
Giancola decided not to appear on the Jersey Shore reboot because she is focusing on her businesses and her relationship with Biscardi, according to a statement she posted on Instagram. Now, she is reportedly trying to be more private when it comes to details about her personal life, per In Touch, so she hasn't shared much about her love life with her fans online or with the press. "He's no one in the business," she told In Touch. "It's just somebody." However, the two share enough cozy Instagram posts to tell a story about their seemingly amazing relationship.
They recently shared on Instagram that they have founded a fitness brand called The Strength Spot, a health food and supplement supplier with which they aim to encourage and inspire people and couples to live a healthier lifestyle.
"Our team is determined to help you feel better inside and out, to help push you to get up an hour earlier and hit the gym, to empower you to go for an extra mile during your jog, or simply assist you in making a series of choices that will lead to a healthier lifestyle," the couple wrote on the brand's Instagram page.
Posts from 2014 on Biscardi's Facebook page reveal that he once competed as a body builder, so it's no surprise that he continues to be interested in and passionate about fitness. His Facebook also shows that he is from Washington Township, New Jersey, and he studied accountancy at Rowan University. Although he may not be a self-proclaimed "Guido," Giancola still found herself a Jersey boy, and they seem to be the perfect fit for each other.
He was extremely supportive of her after the season premiere of Family Vacation aired. During the show, her ex-boyfriend of eight years and co-star, Ronnie Ortiz-Magro, admitted to cheating on her after she told him she wanted to get married.
"She gave me a timeline. She was like, I want to get married in six months — and I'm still trying to figure my life out," he said on Family Vacation. "I got cold feet. I wanted to do the right thing, but there was a part of me that was like, 'I'm not going to do the right thing.' So I didn't do it. I ended up cheating, she found out. I blew it. It's over."
On April 5, the day the episode aired, Biscardi posted a selfie with Giancola with a meaningful and heartfelt caption that expressed his admiration for her. "In today's world, it's nearly impossible to come across someone with the elegance and class that this person does," he wrote. "She truly has the biggest heart out of anyone I have ever met and deserves all of the good things in life."
A few days later, as if in response to Biscardi's post, Giancola posted another selfie of the two of them with the caption, "My strength."
But when Biscardi's not pumping iron or hanging with his girlfriend and his pup, what is he doing? Well, he seems to also spend a lot of time photographing another love of his — cars. He's a dedicated 'gram-er on #wheelwednesday and #frontendfriday, posting close-ups of his detailed rides. He's even gone as far as calling one of them his "other girlfriend."
And Giancola can rest assured knowing that her shore house roomies give Biscardi the stamp of approval. In an interview with In Touch, Jenni "JWOWW" Farley spoke for them all, saying that they love Sammi's new relationship.
"We've met him and he is such a sweet guy," she said. "He makes Sammi happy, so he's good in my book. [Sammi and Ronnie] have both moved on — the show was so long ago now."