Sammi Sweetheart Finally Explained Why She's Not Doing The 'Jersey Shore' Reunion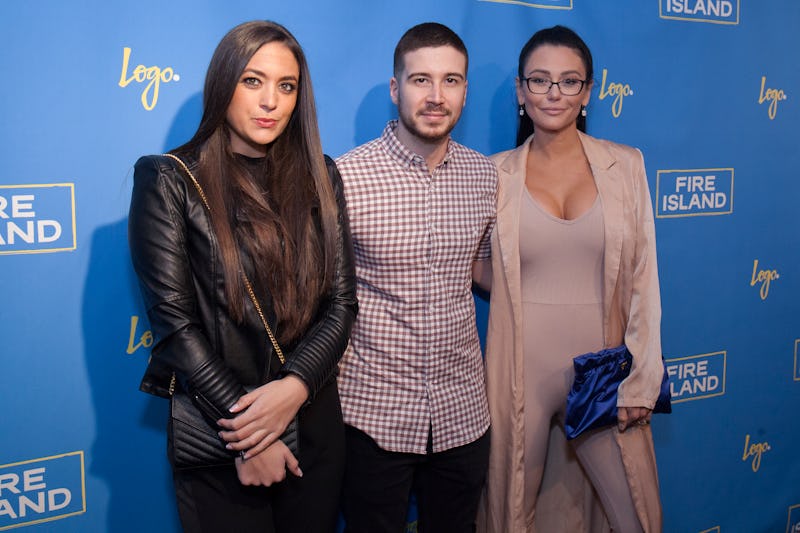 Santiago Felipe/Getty Images Entertainment/Getty Images
Put on your shirt-before-the-shirt, plug in your duck phone, and order a cab, because in less than a week, the Jersey Shore cast will fist pump its way back to MTV. Well, almost the entire cast. As previously reported, Sammi "Sweetheart" Giancola will not be on the Jersey Shore reboot that's scheduled to premiere on Thursday, April 5. There's been some chatter regarding her decision to not be on Jersey Shore Family Vacation, and now Sammi Sweetheart has finally opened up about why she won't be on the reunion series. In an Instagram post that went up on Friday, March 30, Sammi shared she won't be on Jersey Shore Family Vacation, and her reasons are as understandable as they are bittersweet.
Last November, MTV announced that Jenni "JWoww" Farley, Vinny Guadagnino, Nicole "Snooki" Polizzi, Mike "The Situation" Sorrentino, Deena Cortese, Paul "DJ Pauly D" DelVecchio, and Ronnie Ortiz-Magro will all be part of Jersey Shore Family Vacation. Notably absent from the roster were Angelina Pivarnick and Sammi Sweetheart.
Or so fans thought: A few months later, the network shared a teaser clip that hinted at Angelina's return, a surprise that the Situation apparently didn't see coming. But as for Sammi? It really looks like she's put her fist pumping days behind her. As she explained in the note, which she posted on Twitter and Instagram, she wants to "avoid potentially toxic situations." Sammi wrote,
"I have chosen not to join the show this season because I am at a completely different place in my life right now focusing on my businesses and relationship. I am not the same person as I was when I was 22. At 31, I am currently extremely happy in every aspect of my life and want to avoid potentially toxic situations. However, it was a difficult decision as I love my roomies. I've decided to focus on me, my future and what truly makes me happy. I will forever be grateful to Jersey Shore and everything it has brought me! I've just decided to live my life for me these days. Also I am forever grateful & thankful for all of you!!! Special shout out to my fans, but I'm not going anywhere! Follow me and stay tuned you never know what I could be up to next!"
Sammi went through a lot on Jersey Shore, and it isn't that surprising that she wasn't raring to go on Family Vacation and reopen that door.
On the Nov. 30, 2017 episode of her podcast, It's Happening with Snooki & Joey, Snooki defended her co-star's decision to step away from the series. She said,
"Sammi is just in such a happy place that I feel like she doesn't want to jump back into that drama if it does happen ... And being that there was a lot of Ron and Sam drama when we did film, it was just really hard on both of them. So I just think she doesn't want that anymore."
Snooki wasn't kidding about there being "a lot of Ron and Sam drama" back in the day. During the series' original six-season run, Jersey Shore co-stars Sammi and Ronnie were embroiled in one of the more tumultuous and unhealthy relationships in reality TV history. Who can blame Sammi for wanting to steer clear of her ex? Furthermore, who can blame her for not wanting to hop right back into the environment that was the backdrop for that dysfunctional relationship for so many years?
Of course, the reboot won't be the same without her, but fans are rooting for Sammi to do what's right for Sammi — even if that means moving on from the show for now. (Hey, who knows what'll happen when Season 2 rolls around.)
To paraphrase something Ronnie said so many years ago, you do you, and Sammi do Sammi.