'Roseanne' Fans Will Totally Appreciate The Way The Reboot Is Including Both Beckys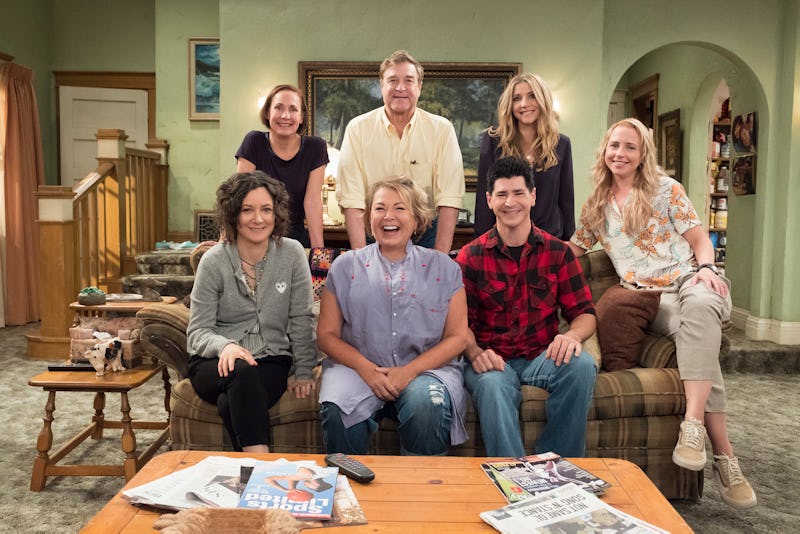 ABC/Adam Rose
More details about the Roseanne revival have been revealed, and you'll want to be seated for this one, guys. In case you've been curious about who Sarah Chalke will play in the Roseanne reboot, wonder no longer. Because it's just been revealed that the actor will have just as an important role in the revival as Lecy Goranson's Becky.
Chalke, also known for playing the lovable Elliot Reid on the medical dramedy Scrubs, took over the role of Becky from Goranson during Roseanne's sixth, seventh, and ninth seasons. Since the revival's announcement, it's been reported that both Goranson and Chalke have agreed to participate, leading to questions about how ABC planned to include both Beckys in the new series. Well, according to Entertainment Weekly, Goranson is going to reprise the iconic '90s role, and Chalke will play opposite Goranson's Becky as a "a middle-class married woman named Andrea" who hires her to be a surrogate.
It's quite the plot twist, but a perfect one at that. This won't be the first time that both Goranson and Chalke have appeared in the same Roseanne episodes, however. The casting of Becky has been a running joke since Goranson first took a break from the series in 1993. And upon Goranson's return to the show in 1995, the two actors been featured in a few episodes together — both, sometimes, as Becky. So you can bet that the 2018 revival's casting will make for a ton of jokes that fans of the original will totally obsess over.
The casting of John Goodman's character Dan Conner in the revival also raised its own batch of concerns. At the end of the series' Season 8, Dan died of a heart attack, leading some to believe that America's dad wouldn't be part of the revival — at least, not alive and in the flesh. However, Goodman was seen pictured alongside his castmates for the reboot's first table read, and according to TV Line, Dan Conner will be "very much alive" in Season 10.
In the ninth and final season of Roseanne, the Conners mourned Dan's death heavily, their blue collar lifestyle drastically changed after the family won the Illinois State Lottery, and Roseanne became a successful writer. Just hearing that Dan was going to be alive birthed a ton of fan theories about the series' final season. Like, did the ninth season actually happen, or was it all just a fictional story penned by the now-famous writer and family matriarch?
According to the TVLine report, everything in ninth season definitely happened. The revival, however, is just going to ignore all of its happenings, and will both keep Dan alive and place the Conners back into their blue collar lifestyle.
All in all, having Dan and both Beckys back within the Roseanne ranks has fans super excited for the spring 2018 reboot. It's unclear what ABC plans to do with Dan's storyline as of now, but for Goranson's Becky and Chalke's Andrea, their interactions are bound to be interesting to watch. With Becky serving as her surrogate, Andrea will more than likely be interacting with the entire Conner clan, too. That means all of the jokes surrounding the old-school casting swaps and reunions, as well as those from the revival will find their way into the new season.
According to Entertainment Weekly, Roseanne heads back to the small screen on March 27 at 8 p.m. ET with a special one-hour episode. And it's only right that you gather your family for the television event, because this will be one premiere not to miss.
And check out Bustle's homage to Double Dare — Bustle's Race 2 Face is the ultimate competition show for beauty lovers, with new episodes airing on Facebook every Monday. You can watch Race 2 Face Episode 2 now. Ready, set, GLOW!