Meet Mike Pence's Daughter-in-Law, Sarah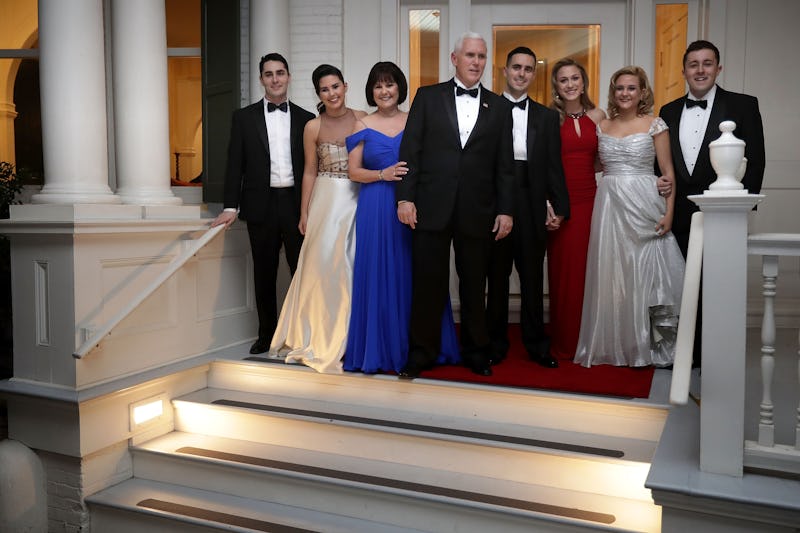 Chip Somodevilla/Getty Images News/Getty Images
Plenty of people have to choose a wedding date specifically to accommodate family members, but very few have to reschedule because the groom's father was elected vice president. Mike Pence's son, Michael Jr., and his fiancee had to do exactly that. The couple reportedly rescheduled their wedding from a planned autumn 2017 date to shortly before his father's inauguration as vice president. Pence's new daughter-in-law, Sarah Whiteside, married Michael in what the vice president described as a "small, little, intimate ceremony just for immediate family."
The wedding occurred shortly after Christmas at the Indiana governor's residence in Indianapolis, according to a USA Today report. Pence's oldest daughter, Charlotte, congratulated the bride and groom with an Instagram post, in which she wrote, "Sarah, you married my hero today, and I know you will take amazing care of him his entire life. Thank you."
Sarah attended Purdue University, where she reportedly met Michael three years ago in a political science class. Pence Jr., who appears to have attended the wedding in his Marine uniform, was commissioned as a Second Lieutenant in 2015 and has since been stationed in Pensacola, Florida and at Naval Air Station Meridian in Mississippi. Weeks after the wedding, Pence Jr. attended the inaugural festivities with his new wife, who may be getting used to attending political events with the family — she also attended the Republican National Convention last July.
Whiteside attended the inaugural ball in a floor-length red dress. Also in attendance were Pence's daughters Charlotte (pictured above) and Audrey.
According to this LinkedIn profile, Whiteside currently works as a Forensic Treatment Services Program Coordinator at the Division of Mental Health and Addiction in Indianapolis, Indiana. The profile also indicates that she may be as politically minded as her father-in-law; other work experiences include serving as a legislative intern for the Bose Public Affairs Group.
But although she may be as politically focused, her views may not exactly match up with Pence's. The LinkedIn also lists her as a former Communications Intern for the Indiana Senate Democrats and as a Communications Intern for Congressman André Carson, who recently co-sponsored legislation in Congress that would block the president's executive order targeting travel and immigration from seven Muslim-majority countries. In an interview with NPR, the congressman referred to it as a "Muslim ban," saying "President Trump himself has made anti-Muslim rhetoric a pillar of his campaign, so it shouldn't be a surprise to anyone that he is now implementing these policies. Now, whether he says it or not, these restrictions are clearly aimed at directly affecting Muslims around the world."
If her politics are to the left of her new father-in-law's, though, this may not be cause for familial tension. One of Pence's daughters, Audrey, previously told WHTR, a local NBC affiliate, that she considers herself "politically independent and socially liberal." She added that her father was always respectful of their differences of opinion: "He tells me so many times, 'I am proud of you for having your own opinions and looking into things.'"