This GOP Candidate Wants To Criminalize Abortion & Says Gay Nazis Caused The Holocaust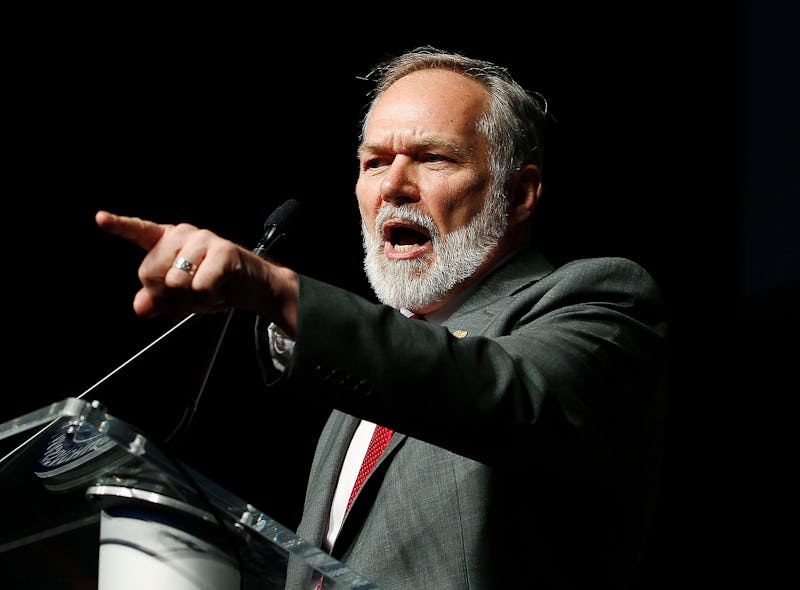 Winslow Townson/AP/REX/Shutterstock
At the Republican Party's convention in Massachusetts, an author who has previously called for the criminalization of homosexuality and abortion gained enough support to appear on a GOP ballot for the Massachusetts gubernatorial primaries. Scott Lively, who thinks gay Nazis carried out the Holocaust, will challenge incumbent Gov. Charlie Baker in Massachusetts' September primary.
In 1995, Lively wrote a book called The Pink Swastika, in which he claimed that the Nazi Party in Germany had been controlled by "militaristic" gay men. Lively has openly called for the criminalization of homosexuality, and in 2009, the persecution of LGBTQ people in Uganda escalated after Lively spoke at a conference there. Lively is also staunchly anti-abortion, and has called for the criminalization of that as well.
According to the Southern Poverty Law Center, who argued that Lively's campaign website contains anti-Muslim and anti-immigrant rhetoric, Lively received 626 votes from convention delegates last week, which is twice as many as he needed to appear on the ballot alongside Baker. This is not the first time Lively has attempted to run for governor; in 2014, he ran unsuccessfully as an independent candidate, but lost the election to Baker after winning roughly 1 percent of the vote.
According to Newsweek, Lively also founded an anti-LGBT organization called Abiding Truth Ministries, which the SPLC has listed as a hate group. On its "Defend the Family" website, Abiding Truth Ministries argues that it wants to "promote and defend the Biblical view of marriage and family." Lively also founded an international evangelical ministry in Latvia, Watchmen on the Walls, whose leaders have since called for conversion therapy.
Lively has spent decades advocating for the global criminalization of homosexuality. In Uganda, the rhetoric he used in his speech in 2009 seemed to influence the "Kill the Gays" legislation that subsequently arose. In Russia, Lively played a significant role in the development of the country's "gay propaganda law."
Lively writes on his website that he's running to be the governor of Massachusetts because he wants to "bring Biblical values back into the political arena here." He argues that he is offering himself up as a "true conservative" candidate that the GOP can get behind. However, WBUR's Meghna Chakrabarti recently challenged Lively on his self-described commitment to family values and conservatism by bringing up an Oregon court case from 1992, when a jury ruled that Lively had used unreasonable force against a lesbian journalist named Catherine Stauffer.
Lively told Chakrabarti that he never physically assaulted Stauffer, and argued that he "got nailed for something I didn't do." However, the jury in the 1992 case compelled Lively to pay Stauffer $31,000.
But the Stauffer case and his advocacy for global anti-gay legislation are not the only things that have embroiled Lively in controversy. On his campaign website for governor, Lively has laid out a list of seven reasons for which he is opposed to abortion, and he also considers himself a staunch supporter of the Second Amendment. Lively believes that Americans would be safer if there were "more guns in the hands of responsible citizens."
On the subject of immigration, Lively's campaign website compares immigration under former President Barack Obama to waiting in line at the Department of Motor Vehicles, only to have a group of people cut in line ahead of you. Lively advocates for the return of all undocumented immigrants to their countries of origin, and suggests that they "get back in line and seek entry legally." Lively's website also lays out the gubernatorial candidate's anti-Muslim views.
According to local Springfield newspaper The Republican, it is certainly surprising that Lively got as much support as he did at last week's convention. However, political consultants told the newspaper that Lively's support comes from a small but passionate minority, and that he will face a real test when he faces off against Baker during the September primary.