If You Recognise 'Our Girl's Private Monk, You'll Kick Yourself When You Learn Why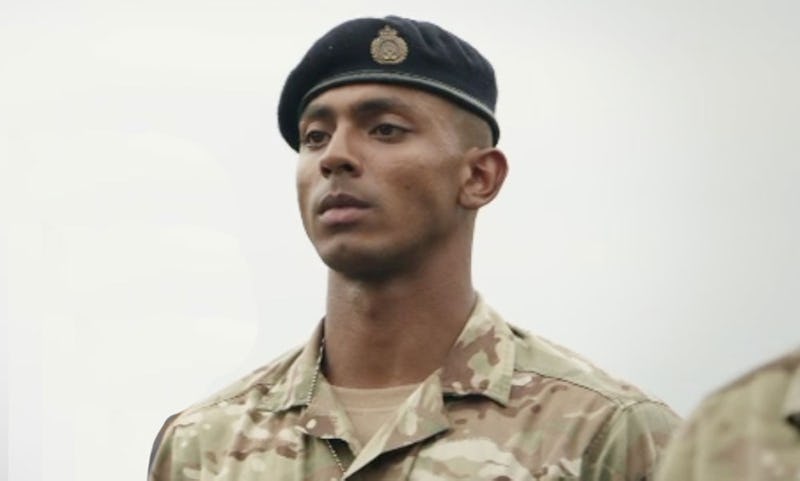 BBC
It's not that easy staying alive when you're a recurring Our Girl character — I direct you to Smurf (Iwan Rheon), Elvis (Luke Pasqualino), and most recently Bones (Oliver Rix), who have all lost their lives while working for 2-Section. But one member of the team who's managed to remain in the realm of the living (and uninjured, no less) is Private Monk. Monk joined 2-Section at the start of Season 2 and has been around ever since, but who is Sean Sagar, the actor that play's Private Monk in Our Girl? Why does he look so ruddy familiar? And, what's the deal with his famous relatives?
Sean Sagar joined Our Girl in 2016 as Private Monk. His first appearance in Season 2's launch episode coincided with Michelle Keegan's premiere outing as new female protagonist, Corporal Georgie Lane. But, if you recognise Sagar from before his Our Girl debut, there are actually plenty of reasons for that.
Before landing his Our Girl role, Sagar enjoyed roles in television series Trollied, Casualty, and Top Boy, but did you know he has also had a film career? The actor played Freddie in Plan B's 2013 British gangster drama Ill Manors and also starred as Derrick James in the 2015 biopic We Are Monster. But what else may you recognise him from?
Since joining Our Girl as Private Monk, Sagar has also played a leading role on BBC Three comedy Just A Couple, starring as Daniel. You can check him out in action on that show, in this hilarious clip posted to Sagar's official Instagram account, which FYI has 10k followers and also informs you he's a model represented by Milk Model Management.
So, what other juicy intel can be garnered from Sagar's social media?
Well, his Instagram feed is chock-full of pictures of him hanging out with his Our Girl co-stars, including Michelle Keegan. who he previously described to the Daily Star as being "like a big sister" — so the pair must be pretty tight. Sagar said: "[Keegan is] an absolute diamond. Working alongside her was just amazing. She was just like a big sister on the job."
Aww. But, did you know Sagar is literally the "big bro" of a pretty major Hollywood actor?
Stalking of Sagar's social media also directed my attention to the pretty amazing fact that he is the brother of Hollywood actor, Nick Sagar — and this Sagar bro should definitely look familiar.
The actor starred alongside his brother in 2013 British film Ill Manors but has since gone on to crack America and star in a number of US television series including The Haves and the Have Nots, Queen of the South and perhaps most impressively, Shadowhunters: The Mortal Instruments.
But, enough about his famous sibling, what is there to come from Sean Sagar in his Our Girl role of Private Monk?
Well, life in 2-Section has been stressful as ever this season, so I'm glad to report it looks like Georgie and Captain James are far from the only characters to pursue a possible romance in Our Girl Season 3. Speaking to the Express, Sagar confirmed a romance is definitely on the cards for his character Private Monk in Season 3. He said: "There's a very interesting story where Monk does find love and not where everyone thinks it's going to come from."
So, what's next for Sagar? Well, judging by this interview with Flavour Magazine, it looks like a comedy role could be on the cards. He said previously: "I'd like to play a role such as Chris Tucker, Jim Carrey, just a funny comedy role. I kind of want to swing it to the other side and make it go somewhere different."
Good on you, lad.
Our Girl continues on Friday, July 13 at 9 p.m. on BBC One.