Why Twitter Wants This Close Ally Of Bannon To Be Fired Next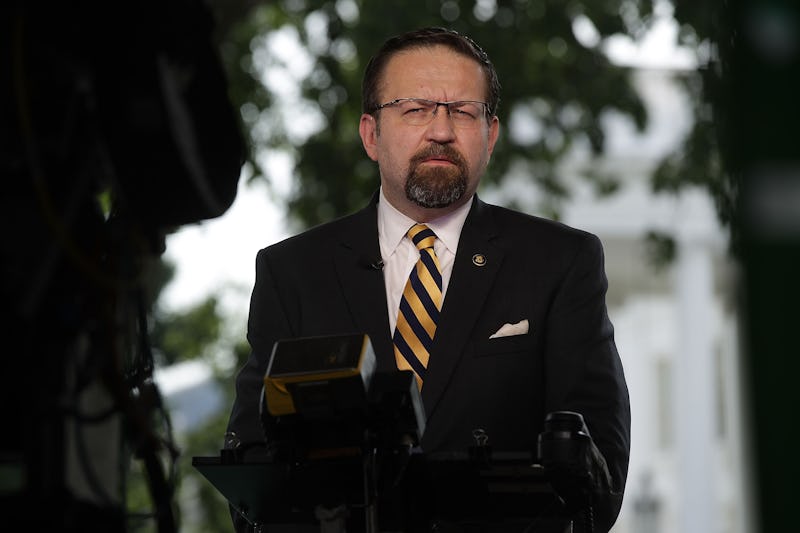 Alex Wong/Getty Images News/Getty Images
Counted among Steve Bannon's closest allies is Sebastian Gorka, a man who worked alongside the outgoing chief strategist at Breitbart News before stepping into a role in the White House. However, Gorka's position as deputy assistant to the president could be in jeopardy given his former boss' recent exit. According to Bloomberg, whispers have already begun to fly about Gorka being next in line to be ousted from the White House. Gorka is considered part of the far-right faction of the Trump administration.
Following last week's Charlottesville incident, President Trump has been under increasing pressure to distance himself from members of the far-right both inside and outside of his administration. Thus far, Trump had steadfastly refused to do so, instead telling members of the press Wednesday that there was merit to "both sides."
But the pressure may have apparently gotten to Trump as the New York Times announced without preamble Friday that the president had reportedly asked Bannon to leave. The news was soon followed by an official press release from the White House confirming the news with only the barest details: that Kelly had helped orchestrate Bannon's exit, and that Friday marked Bannon's last day.
According to Bloomberg, White House Chief of Staff Kelly may also be "looking to root out Bannon allies and other officials prone to igniting public firestorms," with Gorka at the top of the list. So, who is Gorka? He's a counter-terrorism expert who is reviled by liberals for his views on Islam and his alleged ties to far-right, anti-Semitic groups in Europe. He reportedly holds a Ph.D. from Corvinus University of Budapest.
Terrorism analysts have long questioned Gorka's qualifications to serve as a counter-terrorism adviser to President Trump. Veteran terrorism analyst Michael S. Smith II told Rolling Stone Gorka was "not somebody who should be working anywhere near the White House." David Ucko, an associate professor at National Defense University's Department of War and Conflict echoed a similar sentiment, telling Rolling Stone, "It's surreal and quite horrifying that someone who's such an amateur has reached such heights." Georgia State University professor and terrorism expert Mia Bloom claimed Gorka knew "virtually nothing" and argued "his views are a mixture of Islamophobia and racism," Rolling Stone reported. So how did Gorka end up at the White House?
Before he landed in the White House, Gorka worked alongside Bannon as Breitbart News' national-security editor, authoring articles with headlines like, "NYPD's Surveillance Program: It's Not About Islam, It's About Protecting New York" and "Muslim Brotherhood Overruns National Cathedral in DC." It's believed his position in the White House came largely in response to Bannon's influence.
Jenny Hollander contributed to this report