There's Only ONE Romantic Relationship Sebastian Stan Cares To Comment On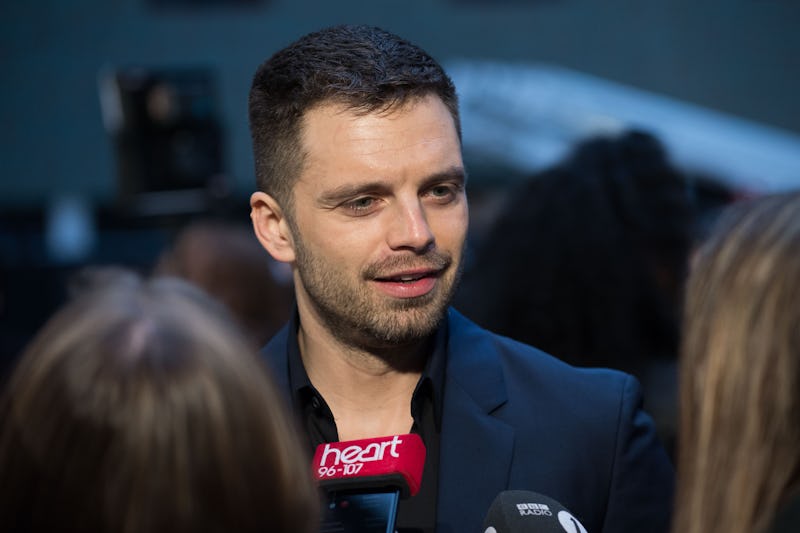 Gareth Cattermole/Getty Images Entertainment/Getty Images
Sebastian Stan is beloved among Captain America fans for his on-screen portrayal of Bucky Barnes. But off-screen, Stan is much more mysterious. So, who is Sebastian Stan dating in 2018? Unfortunately, the answer isn't clear-cut. Stan has been linked to his co-stars in the past, but it's not super obvious whether or not he's currently seeing anyone.
Back in 2008, Stan reportedly dated Leighton Meester, his Gossip Girl co-star, for two years. He's also been linked to Dianna Agron and Jennifer Morrison in the past. Stan reportedly started dating Agron in May 2011, but they broke up the following December. He also reportedly dated Morrison, his Once Upon a Time costar, for about a year, starting in 2012.
After that, Stan was linked to Revenge actor Margarita Levieva starting in 2014. It's not clear whether or not the two of them are still dating, but that could just be because they're keeping their relationship out of the public eye. Stan and Levieva reportedly met while co-starring in the 2009 movie Spread, but didn't start dating until 2014. They were seen together in New York City various times in 2015, and Stan shared a few photos of Levieva on his Instagram account.
The pair hasn't been seen together recently, though, and Stan's Instagram account doesn't give any clues about his romantic entanglements. Most of his recent Instagram posts are about his acting roles in Avengers: Infinity War and I, Tonya. (Levieva's Instagram account doesn't include many clues about her own relationship status either.)
Don't expect Stan to clarify his relationship status for fans anytime soon, though. He's been very quiet about his personal life during interviews over the years. Even in 2011, when Hollyscoop asked Stan about his rumored relationship with Agron during a red carpet interview, Stan simply responded, "No comment." It sounds like he's eager to keep the focus on his work, rather than his love life.
In fact, one of the only times Stan discussed his personal relationships was during a 2016 interview on the podcast The Drop-In with Will Malnati (via The Daily Beast). And even then, he wasn't discussing any current relationships. Instead, he shared the stories of his first kiss, which happened when he was only "9 or 10," and when he lost his virginity as a senior in high school. Stan said on the podcast that he rode to school on a trolley with a family friend's 16-year-old daughter, which is when the kiss took place.
"One day on the way over there I remember she leaned in for the situation," the actor told Malnati. "She asked me, 'Have you ever kissed anyone?' and I said 'no' and then she said, 'Do you want to?' It was amazing. I wish I could remember her name. That's what I remember as my first kiss."
There's one 'ship Stan hasn't shied away from talking about, though. In a 2016 interview for GQ, writer Max Berlinger asked Stan what he thought of the fact that fans ship Bucky and Captain America together. Stan responded,
"Look, man, I think it's great. Movies are for people to relate to in whatever way they want. No one here is ever going to point a finger and say what's right and wrong. For me, it's like, Awww. It's cute, it's great. If someone takes the time to think about that, that's great. I don't think of the character that way, though. But there's no right or wrong answer."
While that imagined relationship probably won't play out onscreen, it sounds like Stan is just fine with letting people's imaginations wander. Fans might not know much about the actor's personal life, but at least he's given his blessing to the creative 'shippers out there.