Why This New York Nun Is Counting On Millennials To Show Up To The Polls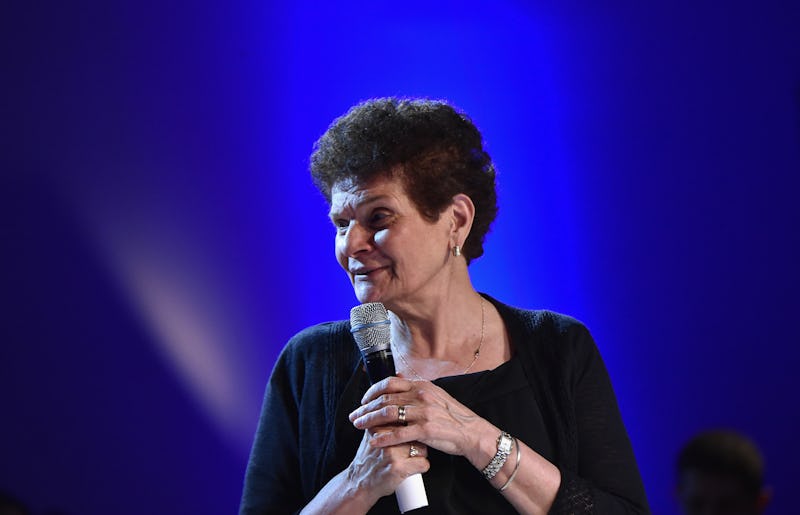 Mike Coppola/Getty Images Entertainment/Getty Images
If you've spent the last several months worriedly wondering how the Trump administration's proposals and policies will affect you, you're not alone. As the president makes his way through his first year in office, his administration has left many groups — immigrants, women, and minorities, to name a few — concerned for the future. If you ask one Catholic nun, though, it's not just groups of people who stand to lose out under the current administration — the very organizations that support those people also have reason to worry. That's why Sister Paulette LoMonaco wants millennials to vote for the kind of leadership they — and others — need.
LoMonaco has spent the last 50 years as a Catholic nun. She's a member of the Sisters of the Good Shepherd, an international Catholic community that dates back to the 1800s. LoMonaco's work with the Good Shepherd Sisters has taken her to places like Kenya, Malaysia, and Singapore, but for at least the past 35 years, she has been more focused on the familiar community of New York City.
During that time, LoMonaco has served as the executive director for Good Shepherd Services, a non-profit social services agency affiliated with the Good Shepherd Sisters. As executive director, LoMonaco spends many of her days at a desk, behind a computer, or in meetings, running a $90 million agency. It's not exactly the job you may picture for a nun. In fact, it's not unlike the job of a corporate CEO, she says.
"One of the reasons that I have been in my job for such a long time is that every day is different," LoMonaco says. Those days often include meetings with her organization's board of directors, private foundations, or city officials. What does separate LoMonaco from a corporate CEO, though, is the work that her staff does. Good Shepherd Services operates over 80 programs, most of which provide important services for New York City's children and families in need, such as after-school care, educational support, and counseling.
Then, there's the place LoMonaco calls home.
"I live with two other Good Shepherd Sisters in our residential program for adolescent girls who have been referred to us by the city or the family court," LoMonaco explains. "So I come home at night to a big group home, and while I don't work one-to-one with our young people, I see them coming in and out of the building, I see them playing in the gym, I see them working with the many volunteers that we have — and it keeps me in touch with the work."
LoMonaco takes an activist approach to working with the poor. She's a voice for many of New York City's struggling young people and a voice for the workers who care for them. Over the past year, she has worked with the local Human Services Council, of which she is a board member, to mount a campaign that calls for NYC Mayor Bill de Blasio to provide more funding for services for the poor — services that she calls the city's "safety net."
"You know, I think every mayor has their priority, and this mayor has initiated many wonderful things, such as community schools, universal Pre-K, and low-income housing, but the folks who have been the safety net have not gotten the attention that we would hope that they would have received," she says.
Earlier this year, LoMonaco penned an op-ed for The New York Daily News as part of the ongoing campaign.
Our funding is no longer sufficient to support the hiring of trained and experienced workers. We cannot provide them with salaries high enough so that they don't have to hold second jobs, nor can we offer the technology and training required for a professional workforce ... Yet in a city where the gap between rich and poor continues to grow, the demand for our services is at an all-time high.
Beyond New York City, LoMonaco has similar concern for what is happening at the federal level.
"I think every nonprofit today and every local government is very concerned about the cuts that are being proposed by the federal administration," she says. "When we think about the federal budget that is being proposed, it is a little frightening."
President Trump unveiled his first budget proposal back in May. The proposal outlined cuts to several programs that would hurt low income Americans, likely including those under LoMonaco's umbrella. For instance, Trump's budget would cut $200 billion from the Supplemental Nutrition Assistance Program (SNAP) over the next 10 years. As of 2016, one in four children in the U.S. participated in the SNAP program, which includes food stamps.
It's through LoMonaco's experience with activism that she feels she can relate to millennials. "Millennials are very interested in social justice issues and that is something that the Catholic Church has been really strong on," she says.
No, it's not that she necessarily wants you to convert to Catholicism — or even write an op-ed to your city's mayor. Rather, LoMonaco is interested in what millennials can do to further the social justice issues they care about on a national platform. Primarily, she says, millennials can make an impact at the polls.
"I have great faith in the American democratic process and I really believe that there will be push-back," she says. "I hope and pray that the millennials will get out there and vote because we need their votes. I'm counting on them to get out there and vote."
Millennials tend to be one of the least-likely populations to vote. In 2016, 50 percent of the millennial electorate voted, with a majority of young people voting against Trump, according to the Brookings Institution. Perhaps that's why LoMonaco sees next year's mid-term elections as an opportunity: "All of the House of Representatives will be up for re-election next year and a third of the Senate, so we have a lot of opportunity to try to turn things around," she says.
Of course, LoMonaco recognizes that encouraging civic engagement can begin with her. Good Shepherd Services works directly with many of New York City's young people, and although the organization does not promote one party or another, LoMonaco says that registering young people to vote and encouraging them to engage with issues that matter to them is all part of the message. From a national standpoint, the work she does may or may not move the millennial-voter needle, but her advocacy on social justice issues makes her a role model that millennials in New York City and beyond can look to.