Meet Sonny Turner, The Birmingham Born Body Pos Activist Who Just Killed It At NYFW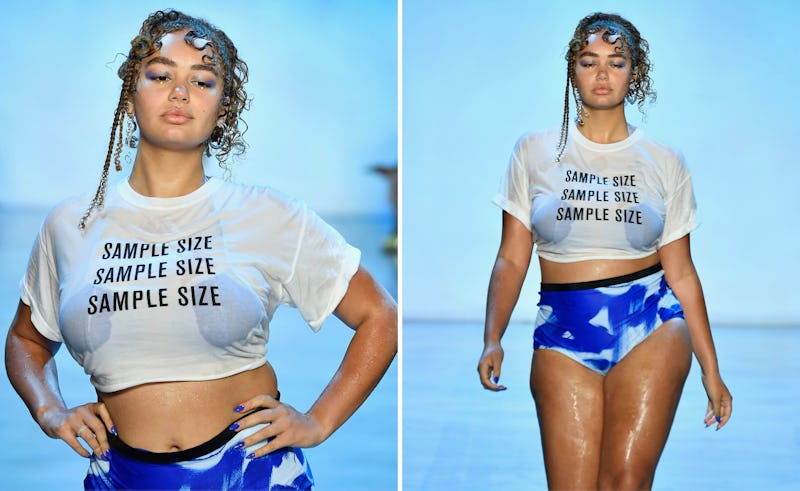 Frazer Harrison/Getty Images Entertainment/Getty Images
New York Fashion Week is so often criticised for being exclusive to the rich, glamorous, and thin. So, when there is a break out model walking the runway, representing self love and diversity I believe they deserve a bit of recognition. Enter Sonny Turner. With 255k loyal followers to her name, this Birmingham born model has just taken New York Fashion Week by absolute storm. So, who is Sonny Turner? You better believe she is one gal you need to be following.
With campaigns for ASOS, Primark and Figleaves under her belt, Sonny Turner is hardly your average 20 year old. Yet you can't help but feel with her "body positivity" posts, feminist attitude and wardrobe to die for, she is the best friend you need.
Turner was born in the Midlands but moved to London before university. Writing in the Huffington Post, she said "other than modelling, uni is at the centre of my world. I'm studying sociology, a topic that means as much to me as anything else in my life." Holding down university, a massive social media presence, and sky rocketing modelling career, this gal knows how to multitask.
Social media has played a massive part in Turner's rise as she reflects in Affinity, "I started doing smaller scale shoots for fun in my hometown and posting them on Instagram, and they started getting attention."
Her first big break was with an Aerie campaign which saw her travel to New York and Cuba and she hasn't really looked back since. Appearing on the runways of New York Fashion Week 2018, it is hard not to see Turner as a breath of fresh air. Bright, glowing, with her auburn curls and killer curves, she nailed it.
Teaming up with Chromat, the New York based clothes line which appears to also have absolutely no time for the strict beauty standards often imposed on us, Turner and several other models went viral for wearing the "Sample Size" t-shirt from their Saturation Collection.
This girl is seriously empowering.
I reached out to Chromat to find out what inspired the collection. They explained:
"'Sample sizing' tends to be an excuse that other designers cite as a reason why they don't feature a range of sizes in their runway shows. At Chromat, we know that the designer has the power to choose what size they prototype their collection in … Our goal is to encourage more designers to sample their collections in a range of sizes, in order to celebrate all different size bodies on the runway. I choose Sonny specifically to wear the shirt because of her activism in unapologetically promoting body confidence at every size through her YouTube channel and Instagram."
And it is true, when Turner isn't shooting for global campaigns or walking international fashion week run ways, she uses her online following to spread the message that being you — in whatever form you choose — is great.
Speaking to Elle she said, "Social media has helped to normalise stretch marks and cellulite and all that stuff that's usually considered ugly. Now I see them as normal and beautiful. Having a social media presence makes me feel more comfortable to be myself."
Turner is a glorious reminder that you are allowed to like yourself. She is living proof that representation on social media and on the catwalk is so insanely important. She is real and vulnerable with her followers which is something that is so hard to come by in the Photoshopped world of fashion and social media. Sonny Turner is the self-love superhero we all need.