The Weird AF Way 'Outlander's Brianna Prepared For The Show Makes A Lot Of Sense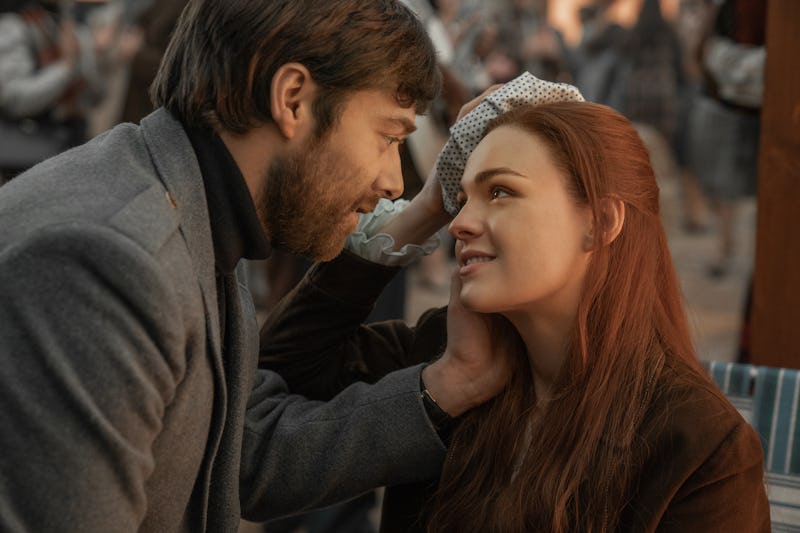 Sony Pictures Television
Autumn wouldn't be complete without a new season of Outlander, and boy has it come back with a bang. Based on the fourth novel Drums of Autumn, Claire and Jamie are pretty far away from the Scottish highlands and are instead stranded on the shores of Georgia in 1766. While their daughter Brianna, portrayed by Sophie Skelton, is safe in the twentieth century, events unfold that cause her to also head back in time. It looks like Brianna is going to have a pretty major role this season, so who is Sophie Skelton?
Born in Cheshire, Skelton began performing at an early age thanks to a love of ballet, but would eventually find herself following the path of acting rather than dance. With the odd school production under her belt, her interest in acting was initially ignited by a love of television. "I had always wanted to do the discreet acting that you can't really do with live theater," she told Harpers Bazaar. "In TV and film everything is really underplayed, and I liked that aspect."
Skelton began acting at 17, when her parents let her take a gap year after being accepted into university to explore what acting could hold for her. It was then she landed her first role in the ITV crime drama DCI Banks for a two-parter episode in 2012, and would later portray Eve Boston for four episodes in Waterloo Road.
Originally auditioning for the role of Brianna in 2014, the actor continued her work appearing in the likes of Casualty, Foyle's War, So Awkward, and Ren before knowing if she'd officially landed the role or not. "So I read the books and I met Caitriona for the first time at one of my screen tests. Then I didn't hear anything for a year," she said to Harpers Bazaar.
"I was kind of gutted, because sometimes you get a character that comes along that you feel really protective of and I really felt like that with Bree."
This uncertainty didn't stop her from throughly preparing for the role however, as when the audition for Brianna came around again she made sure that she'd watched the series thus far so she could copy the mannerisms that Caitriona Balfe and Sam Heughan portrayed through Claire and Jamie, i.e. Bree's parents.
"I want to get a lot of Sam's mannerisms in, too, because Brianna is going to be very much like Jamie," she explained. "But I wanted to make sure that his mannerisms were genetic things that you could do without ever having seen the person.
"With Caitriona, I wanted to copy the little traits that she did. She folds her arms, she does this little lick of the mouth — she does things you can pick up from somebody by being around them every day, as opposed to it just being in your genes." Talk about dedication.
While Skelton has got some work sans-Outlander in the pipeline — including Day of the Dead: Bloodline and action flick 211 — its pretty clear that the Brianna is very close to the actor's heart, and thankfully we'll be seeing a lot more of her this season to fully appreciate Skelton's care for the character.