Heather Heyer's Mom Won't Talk To Trump Because Of "What He Said About My Child"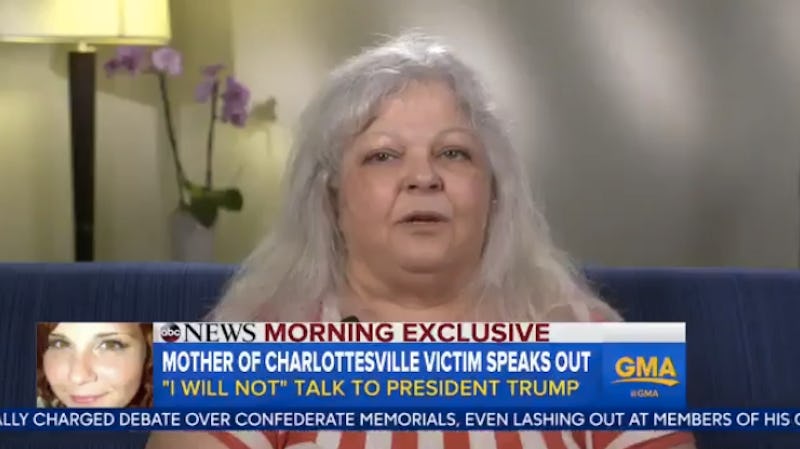 Good Morning America/ABC
The mother of the sole civilian killed during the Charlottesville protests spoke out against the president Friday morning, offering a stunning condemnation of his actions in response to this national crisis. In an interview with Good Morning America, Heather Heyer's mom, Susan Bro, unloaded on Trump for the way he spoke about her daughter and other counter-protesters in his Charlottesville remarks, saying that she will not talk to President Trump now "after what he said about my child."
It's fairly typical for sitting presidents to call or meet with bereaved families when their loved one has died in a high-profile incident, like when President Obama attended memorial services for the victims of the Pulse nightclub shooting last summer. However, Bro revealed Friday that she has not talked to Trump and she specifically isn't accepting his condolence calls, despite numerous attempts by the White House to reach her.
"At first I just missed his calls," Bro said Friday during her interview. "The first call looked like [it] actually came during the funeral. There were three more frantic messages from press secretaries throughout the day and I didn't know why that would have been on Wednesday. ... I hadn't really watched the news until [Thursday] night. And I'm not talking to the president now. ... After what he said about my child... I saw an actual clip of him at a press conference equating the protesters like Ms. Heyer with the KKK and the white supremacists."
The details of Bro's interview also reveal interesting insight into the decision-making process within the Trump administration. Trump had come under fire when he still had not reached out to Heyer's family on Tuesday, three days after her death. However, hours after his disastrous press conference in which he morally equivocated white supremacists with counter-protesters, it was suddenly incredibly urgent for Trump to speak with Bro.
Then, on Thursday, a deputy press secretary told reporters that the administration was "working on identifying a time that is convenient for the family to speak with the president," which has now been revealed as completely contradictory to Bro's statements. All of this suggests that this traditionally solemn, apolitical duty of the presidency was being leveraged for PR points, which should make all Americans uncomfortable.
Trump has certainly never been a popular president, but to see an everyday citizen call him out so strongly is a powerful symbol. Americans are clearly getting fed up with his disrespect for his constituency, so this kind of open defiance of Trump's presidency may be happening more and more.