Teresa Lancaster Tells Her Story In 'The Keepers'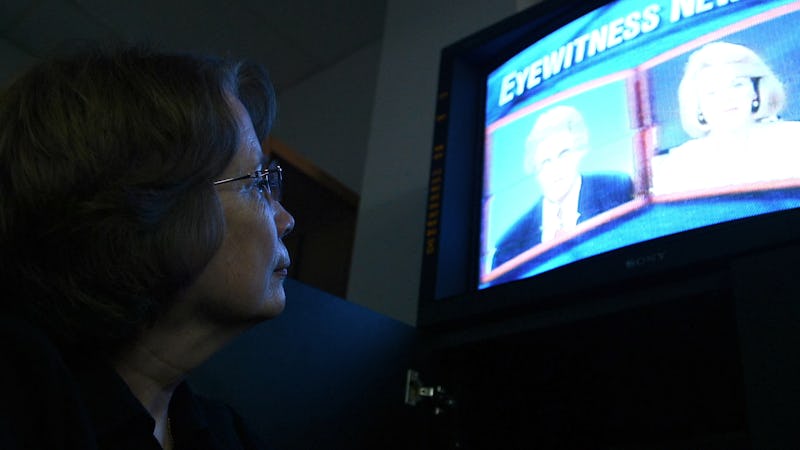 Netflix
Netflix's The Keepers is a harrowing look into the years of abuse that some students of Archbishop Keough High School claim they suffered while in attendance. The "true crime" angle that the series centers around is the unsolved murder of Sister Catherine Ann Cesnik, who also worked at Keough, but much of the series follows the women who accused Father Joseph Maskell of sexual abuse, including Baltimore-area lawyer Teresa Lancaster.
According to The Baltimore Sun, Maskell denied the initial accusations. He died in 2001. However, the Catholic Church has since acknowledged what Maskell always denied. A spokesperson for The Archdiocese of Baltimore, the division of the Catholic Church which employed Maskell and oversaw Keough High School, released the following statement to Bustle about the multiple sexual abuse allegations against Maskell:
Since the 1990s, when the Archdiocese of Baltimore first learned of an allegation of child sexual abuse against Maskell, and on numerous occasions since, the Archdiocese has publicly acknowledged and apologized for the horrific abuse committed by him. The Archdiocese reported the allegations to civil authorities in the 1990s and cooperated fully in any investigation, removed Father Maskell's faculties to function as a priest, apologized to victims and offered them counseling assistance, sought additional victims, and provided direct financial assistance to 16 individuals abused by Maskell.
Though it was unaware of the abuse at the time it occurred approximately 50 years ago, the Archdiocese deeply regrets the damage that was caused to those who were so badly harmed and has worked diligently since becoming aware of their abuse to bring some measure of healing to them. The Archdiocese is wholly committed to protecting children, holding abusers accountable — clergy and laity alike, and promoting healing for victims. These are hallmarks of the Archdiocese's child protection efforts, which we strive to constantly strengthen.
There is no room in the Archdiocese for anyone who would harm a child and every effort must be made to ensure what happened before never happens again. It is our hope that The Keepers advances this pursuit, just as we hope the series helps those who have kept alive the memory of Sr. Cathy and our collective hope that justice will be won for her.
Teresa Lancaster is one of many women who claims she was abused by Maskell during her time at Archbishop Keough, and she eventually sought action against the former chaplain of the school and the school itself. Her civil case was dismissed having exceeded the statute of limitations. According to Maryland law, "a civil sexual abuse case must be filed within seven years from the victim's 18th birthday [in childhood cases], and three years from the event for adult cases." Lancaster came forward in the '90s, years after she claims the abuse began while she was a high school student in the late '60s.
Lancaster initially spoke to the police anonymously as Jane Roe alongside fellow Keough student Jean Wehner (Jane Doe), nearly 20 years after Cesnik's murder. As seen in the docuseries, part of Wehner's claims included her claim that Maskell took her to Cesnik's body as a warning not to speak out about the alleged abuse. Her confession was the first time a connection had been drawn between Maskell and Cesnik's murder, as Wehner claimed that Cesnik knew about the alleged abuse prior to her death. Maskell was not considered a suspect at the time of Cesnik's death. According to the Archdiocese of Baltimore's website, "When suspicions arose regarding Maskell in 1994, he was interviewed by the Police and also by The Baltimore Sun about the allegations of sexual abuse and also about the murder of Sr. Cathy." No charges against Maskell were ever made in Cesnik's murder case. According to The Baltimore Sun, in February 2017, Maskell's body was exhumed to gather DNA, but the sample did not match evidence from Cesnik's crime scene.
The Keepers attempts to uncover the truth behind the murder of Cesnik, but as much as the show is a murder mystery, it's also a story about the women like Lancaster who have accused Father Maskell of abuse. In a lengthy report on the case, Huffington Post reported that "Lancaster had always remembered most of the abuse that occurred at Keough, [but] had managed to repress some of the details until her mother died in 1993. She says she avoided thinking and talking about the abuse while her Catholic mother was alive, because she knew the information would devastate her."
Lancaster spoke to Huffington Post in early 2015 to talk about what allegedly happened between her and Maskell, and her words show how confusing that type of situation can be for a young woman and someone in a position of power. "There was about a month or so when I actually thought he loved me. ... If there's some kind of love there, then there's sense to all this. When I found out other people were going in [to Maskell's office, where the abuse allegedly took place], I wondered if he loved all of them, too."
As much as the series is about the alleged crimes committed against these women, it's also about how they are moving on. As seen in the series, Lancaster is now a lawyer, she went back to school as an adult (she graduated in 2002) in an attempt to help people in a way she wasn't. Her LinkedIn says that she is self-employed and focuses on cases involving "general litigation cases including but not limited to: personal injury, medical malpractice, family law, breach of contract and Social Security Disability."
Although she lost her civil case in the '90s, Lancaster eventually came out publicly against Maskell and has shown she won't be silenced. The Keepers only adds to the fight that Lancaster and many other women have been involved in, so now, decades later, everything will be out in the open.