Twitter Has A Plan For Terry & Rahul That 'GBBO' Fans Will LOVE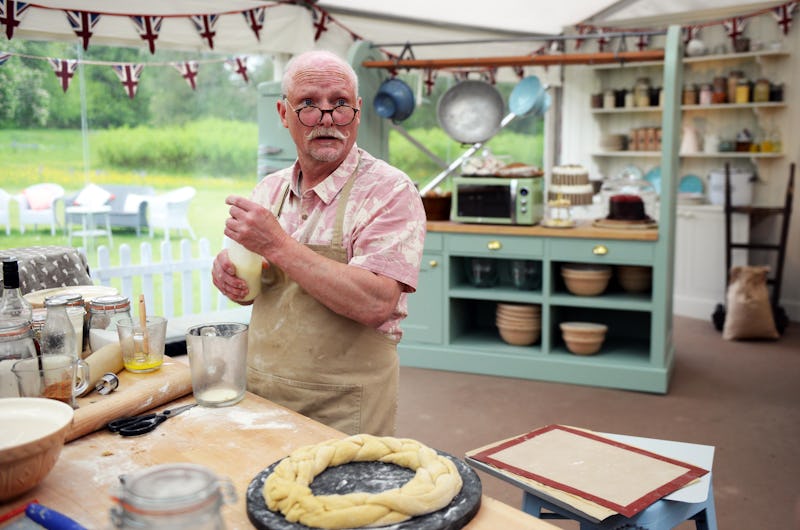 Charlie Fearn / Channel 4
As we find ourselves in the midst of another delicious series of The Great British Bake Off, the usual obsession with all things cake, decorative bunting, and indeed the often eccentric contestants have begun to emerge. However one contestant in particular, Terry, appears to have grabbed the attention of viewers more than others. So who is Terry from The Great British Bake Off?
Well it turns out Terry, a retired air steward, hails from the West Midlands and attributes his knowledge of baking to a skillset he picked up whilst spending time on his allotment and in a microbrewery, according to the Mirror. The 56-year-old also credits his grandmother on having an influence on his initial intrigue of all things cake when he learned how to bake at just 10 years old.
Going from baking in the privacy of your own kitchen to baking in the nation's most famous gazebo is quite a jump, and it was his daughters who convinced him to take the leap onto the Channel 4 show. Speaking of his decision to take part in the competition, Terry said "I wanted to change life a little, shake it up a bit, start a new course", and continued "I am on a new journey in life at the moment, and what better way to start it."
According to the Metro, Terry also boasts a background in fine art which appears to have a significant impact on his baking style, seen in his recent artistically inspired biscuit which consisted of a self-portrait and edible paint.
Terry's marvellous creation came as a welcome relief after a disappointing attempt at lamb biscuits, which put him firmly in the judges bad books - however his artistic flair went on to wow the judges and viewers alike.
Although after an impressive start, could Terry have set the bar of expectations for himself too high?
And it's Terry's style, as well as baking, which seems to have grabbed the attention of Bake Off viewers.
The, to put it nicely, unique baking style of Terry has been the primary appeal for many viewers — and things were no different during the Bread Week challenge.
I think we can all relate to a guy like Terry.
However Terry's sometimes bad luck in The Great British Bake Off tent could work in his favour with viewers of the show, after all everybody loves an underdog.
During this week's episode contestants were challenged to impress the judges by producing some non-yeast naan bread and Korovai (I hadn't heard of it either). Although emerging victorious in the technical challenge, Terry did not fare well in his "showstopper" efforts after running into trouble with some soggy bread.
Some are even rooting for a Rahul and Terry team event.
So, it seems that when it comes to Terry, inconsistency is key, and Bake Off fans can't help but root for the man behind the moustache.