Star Bakers Unite, This Is When To Block Out Your Diary For The 'GBBO' Final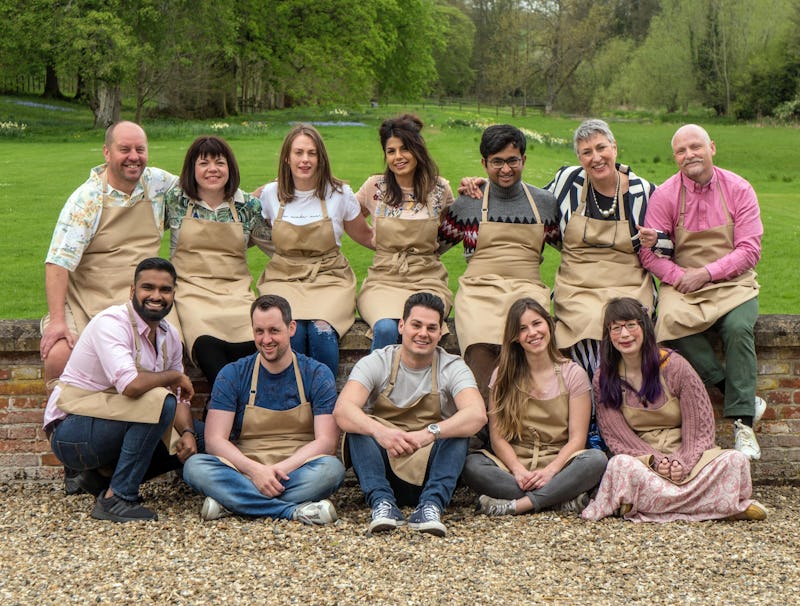 Channel 4
It's official: The Great British Bake Off is back on our screens. For the second time, the series is running on Channel 4 with hosts Sandi Toksvig and Noel Fielding, and judges Paul Hollywood and Prue Leith. From icing mishaps to collapsing cakes and everything in-between, it's always exciting to have GBBO back on our screens after a year without a fix. Although the ninth series has only just gotten underway, we're already wondering when the Great British Bake Off final is, so we can begin to prepare our showstoppers, invite all our mates round and pick an Noel-inspired shirt.
According to Radio Times, the newest series is set to run for ten weeks, so the final is most likely to air on Tuesday, October 30. Last year, it hit screens on Tuesday, October 31, so this date would make sense. It's fair to assume that this year's series will follow the usual pattern, with a baker exiting the tent weekly to leave three in the final. Exciting!
The first episode – which aired on Tuesday, September 28 — saw the new team of bakers face Biscuit Week (which is a change from last year as Cake Week was first). Their final challenge — to create a "biscuit selfie portrait" — was particularly entertaining, if a little, er, rogue. Contestant Imelda was the first to leave the tent after a disappointing two out of three bakes.
There's already been controversy, too: week one star baker Manon was found to have already competed on a cooking show named The Box, leading some to believe she may have an unfair advantage over the other 11 contestants.
The series has certainly met high expectations set by last year's hit run, with an impressive number of viewers already. The audience reached an average audience of six point one million viewers and peaked with seven million viewers, according to Channel 4. Audience members aged 16-34 increased from last year's debut and the first episode had the biggest share of 16-34 year olds for any TV show outside of the World Cup this year so far.
We have a long way to go between now and the end of the series, but it sounds as though there's plenty to be looking forward to in the next nine weeks. The second episode, for example, sees one of the most highly anticipated episodes on Bake Off: cake week.
We're hoping to also have old favourites such as bread week, as well as some newbies like Vegan Week and Danish Week, as The Mirror reports. Let's also remind ourselves that amongst all the soggy bottoms, oven drama, and handshakes from Paul Hollywood, there's only one real star of the show: Noel Fielding's outfits. For now, let's take a moment to relive last week's absolute corker of a shirt:
Pink polka dot/animal print? Check. White brick-inspired bottom? Yep. A dash of turquoise? Absolutely. Only Noel could make it work.
Great British Bake Off airs on Tuesdays at 8 p.m. on Channel 4