This Is Who Is Testifying Against Jeff Sessions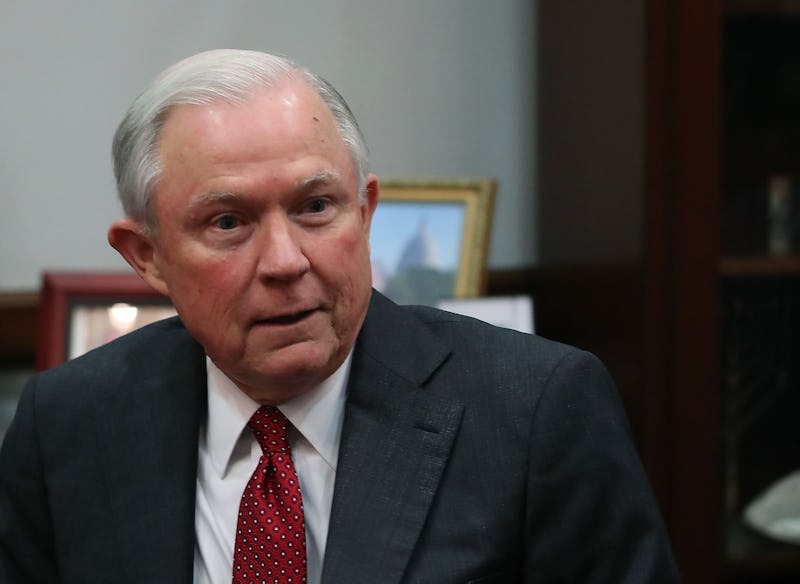 Mark Wilson/Getty Images News/Getty Images
On Tuesday morning, one of the most contentious confirmation hearings of Donald Trump's coming Cabinet will kick off. Sitting senator Jeff Sessions will be questioned by his colleagues, and there will be others testifying too — some for him and some against him. He's had a controversial run in the public eye, and many in Washington don't support his nomination. So who is testifying against Sessions at his confirmation hearing? The Congressional Black Caucus will be there, represented by both sitting representatives and, for the first time ever, a sitting senator.
This has been a contentious matter. The two reps are civil rights icon John Lewis of Georgia and Cedric Richmond of Louisiana. Sen. Cory Booker of New Jersey will also testify. Initially, the people who were scheduled to testify were not in government, and they will still be heard from first.
There are nine original witnesses on the books, and they all get to go ahead of the representatives from the Congressional Black Caucus. The Democrats argue that is not customary, but the Republican in charge of the hearing, Sen. Chuck Grassley of Iowa, said that is what he'll offer. He also added a few pro-Sessions witnesses, including a retired U.S. attorney and retired U.S. marshal to even things out.
This is a big deal because much of Sessions' confirmation will likely surround the debate over past claims of racism and bigotry. The conservative hails from Alabama, and in 1986, his appointment to a federal judgeship by Ronald Reagan was denied by a vote the Senate — a very rare occurrence. At the time, he was accused of racism, disparaging civil rights groups, and calling an African-American staff member "boy."
This time around, there are similar concerns around Sessions' views on issues like racial justice and voting rights. Sen. Booker explained Monday on MSNBC's All In why he is going to testify, even though a sitting senator has never testified against another:
I'm breaking a pretty long Senate tradition. We've seen Jeff Sessions — that's Senator Jeff Sessions — consistently voting against or speaking out against key ideals of the Voting Rights Act, taking measures to try to block criminal justice reform. He has a posture and a positioning that I think represent a real danger to our country.
As for when we'll get to hear from Booker and the other representatives of the Congressional Black Caucus, that's unclear. It could really happen either Tuesday or Wednesday, as it's assumed the session will stretch into the next day. That's an even more demanding one for the senators.
Some Democrats — as well as the bipartisan Congressional Office Of Ethics — have accused the Republicans of moving too fast to start the confirmation hearings, as not all the vetting has been finished. Sen. Majority Leader Mitch McConnell promises to continue on.
The testimony from all sides is sure to be enlightening.