The Reason You Haven't Heard Of 'The Cry's Ewan Leslie Has The BEST Silver Lining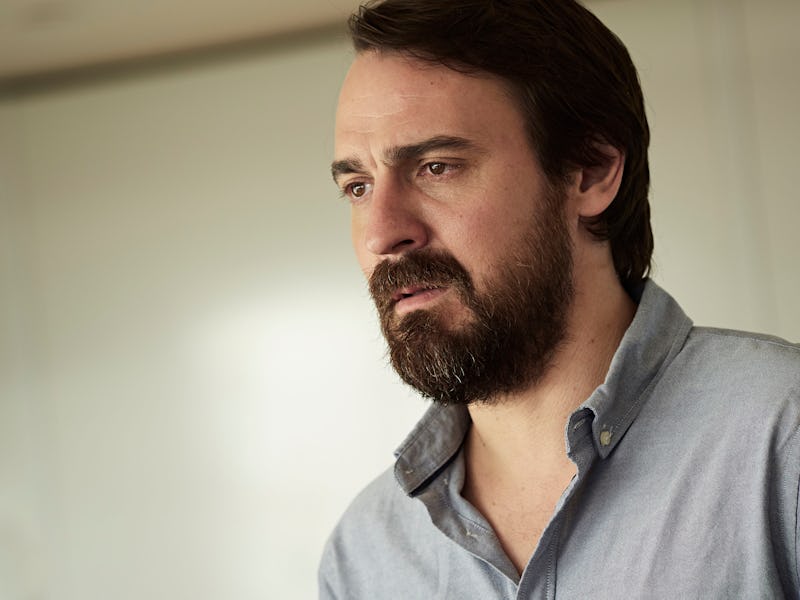 BBC
Last week, brand new BBC drama The Cry kicked off its four-part series based around the mystery of a kidnapping in a remote Australian town. The show is a TV adaptation of the acclaimed Helen FitzGerald novel, and stars Victoria's Jenna Coleman and Ewen Leslie, who plays Coleman's husband — but who is The Cry actor Ewen Leslie? Although he wasn't particularly well known outside his home country of Australia until now, Leslie has in fact enjoyed a successful career in both film and on stage, which has spanned an impressive 25 years. That means if you love watching him in The Cry, there's loads more where that came from.
Leslie was born on July 27, 1980, in Freemantle, Western Australia, and studied the craft of acting from a very early age, reports Cinema Australia. In fact, he landed his very first role in the Australian kids TV show Ship to Shore after securing the part of Guido Bellini when he was just 12-years-old. When he wasn't working in the industry, he was studying drama, and was so good, he earned a scholarship at John Curti College of the Arts.
In 2000, he graduated from the Western Australian Academy of Performing Arts, and that was when his career Down Under really began to take off. Leslie combined school with an active acting career, and soon after completing his studies, managed to bag some impressive roles, including Henry V in The War of the Roses, a play in which he starred opposite fellow Australian, and Oscar-winning actress Cate Blanchett, according to the Mirror.
He has since gone onto amount over 50 TV and film roles, including The Railway Man opposite Academy Award winner Colin Firth, and in Top of The Lake alongside Australian acting royalty, Nicole Kidman. His role opposite Kidman earned him an Australian Academy of Cinema and Television Arts Award, which compliments nicely his many other critically acclaimed and awarded works, in particular on stage in theatre roles such as such as Hamlet, Ivanov, and Richard III.
Although he's been described as "Australia's best kept secret", that won't be the case for much longer as his role in The Cry has seen his fanbase in the UK catapult. The opening episode of the new BBC drama pulled in an impressive 6.3 million viewers, according to the Evening Express. Not bad, eh?
In The Cry, Leslie plays Alistair, the husband of Joanna, portrayed by co-star Coleman. When discussing his role in the tense new drama, Leslie told the BBC: "From Helen FitzGerald's addictive and exciting novel, to Jacquelin Perske's beautifully written scripts, I'm absolutely thrilled to be a part of the amazing team that has been formed to bring these complicated characters and thrilling story to the screen.
"Synchronicity Films have a great track record in producing high quality drama and Glendyn Ivin is without a doubt one of the most exciting directors working today. I'm over the moon that they've asked me to join this amazing project."
The plot of the Sunday night thriller centres around a married couple, who, when travelling to Australia to fight a custody battle, find themselves in every parent's worst nightmare after their newborn baby is abducted.
If you missed the first episode, you can catch up on BBC iPlayer, and if the opening chapter of this gripping new story is anything to go by, we're really in for a treat.
The Cry returns to BBC One on Sunday at 9 p.m.