Trump Appoints Thomas Homan For ICE Director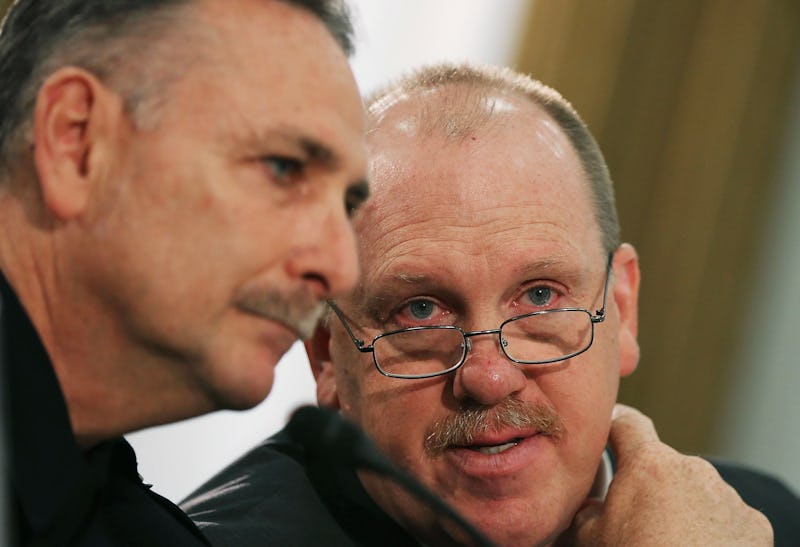 Mark Wilson/Getty Images News/Getty Images
On Monday night, on top of firing and replacing acting Attorney General Sally Yates, Donald Trump appointed Thomas Homan as acting Immigration and Customs Enforcement Director. Shortly after firing Yates after she told the Department of Justice to not defend Trump's temporary immigration ban, Trump also dismissed acting Immigration and Customs Enforcement Director Daniel Ragsdale, whom Holman is replacing. However, the Department of Homeland Security's official statement from Secretary of Homeland Security John Kelly does not mention Ragsdale's name, nor does it give a reason for the replacement. Update: According to The Washington Post, Ragsdale will return to his position as ICE's deputy director, which he has held since May 2012.
Instead, the statement reads: "Today, the president appointed Mr. Thomas D. Homan acting director of U.S. Immigration and Customs Enforcement (ICE)." After outlining Homan's career with no further explanation, it ends with these words:
I am confident that he will continue to serve as a strong, effective leader for the men and women of ICE. I look forward to working alongside him to ensure that we enforce our immigration laws in the interior of the United States consistent with the national interest.
According to the statement, Homan has been involved in law enforcement and immigration enforcement for more than three decades — in fact, he's worked with ICE since its creation in March 2003. Before that, he held various positions as a New York City police, U.S. border patrol agent, and San Antonio, Texas' assistant district director for investigations, among others.
In 2015, as Executive Associate Director of ICE Enforcement and Removal Operations (ERO), Homan was given the Presidential Rank Award for Distinguished Service. In response to the award, Homan said:
I am extremely humbled by this award but I must say that it is the hard work and dedication of the men and women of ERO who deserve the recognition. ERO is a big machine with many moving parts and whether you serve in a support position or are a law enforcement officer, everyone plays an important role and the machine will not perform if any part fails. I can sit in DC and manage the program and develop strategies all day long. But it is the 8,000 employees who put the plans into action and cause them to succeed. They are the real heroes. I have been in law enforcement for 31 years, and I have never been so honored to work with such a hard working bunch of people in my life. They get it done everyday.
After receiving the award, The Washington Post published a profile on Homan, describing him as being "really good" at deporting people. Speaking about deportations during an interview with the Post, Homan admitted, "Yes, it's not my favorite part of the job." Surely, Trump will be relying on him to deport many more people throughout the course of his presidency.