'RHONY' Star Tinsley Mortimer Is Tight With Her Ex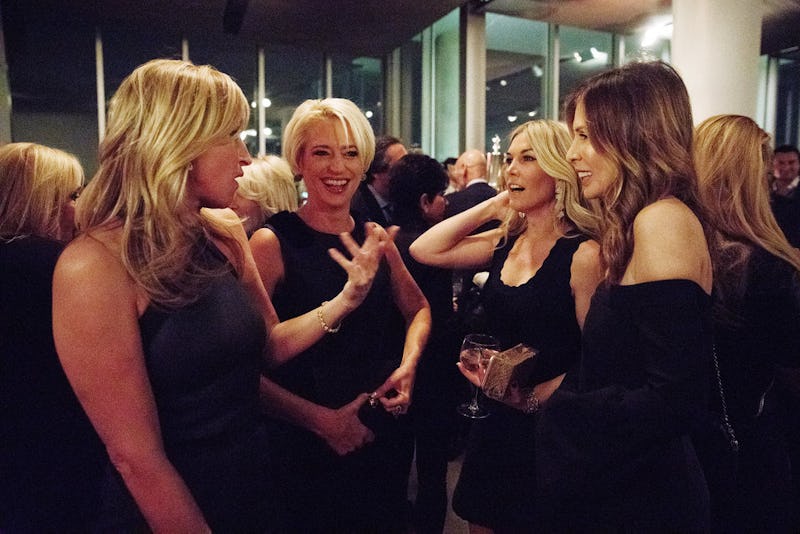 Heidi Gutman/Bravo
There's a new cast member joining The Real Housewives Of New York City this year, but she's no stranger to the Big Apple. In fact, Tinsley Mortimer would never refer to it as the Big Apple, since she's been a beloved and much discussed fixture of the New York City social scene for over a decade now, thanks in part to a very public marriage and an equally public divorce. And like many of the RHONY past and present, she was once married to the heir of a famous family. Luann married a count. Sonja was with an heir to JPMorgan Chase. So, who is Tinsley Mortimer's ex-husband?
According to the New York Social Diary, Tinsley was married to "Topper" Mortimer (given name: Robert Livingston Mortimer) — an heir to the Standard Oil fortune and a descendant of founding father John Jay — from 2002 to 2009. Some accounts of the couple while they were together hint at some tension between Topper and Tinsley. In a New York Times profile of the couple, writer Eric Konigsberg quotes Topper on the culture of New York City socialites. "It's not necessarily the type of goal that anybody should strive for, going out every night for the sake of self-promotion and getting their pictures taken," he said. "And I mean, these are girls who went to good colleges. You would think they'd have something better to do." It's hard not to sense some resentment there, especially when Tinsley said in response to his comment, "Sometimes he forgets, when he's on this subject, like: 'I know one of them. That's my wife.'"
As detailed by the same New York Times piece, Topper and Tinsley met while attending the private boarding school Lawrenceville in New Jersey, and officially got together when they were teens. So even though they were only married for a few years, their relationship spanned over a decade: from high school through college in Manhattan and then into Tinsley's quick ascendency to being one of the most-photographed women in the city and Topper's steady career working at the wealth management firm, Guggenheim Partners.
The couple were prone to romantic gestures, especially at the start. Tinsley and Topper don't keep it much of a secret that they drove to Florida for a courthouse wedding when they were just 18, according to the same New York Times article. The marriage was annulled later so they could marry in a more conventional way. But the story indicates that Tinsley and Topper were once very happy together and impatient to be wed.
The couple divorced in 2009, after a year of their public appearances becoming more conspicuously separate than usual. New York Magazine chronicled the entire Topper-Tinsley split, alleging that the end came soon after the wedding of Topper's friend Ware Sykes in Palm Beach, Florida. Friends claimed Topper looked heartbroken at the event over Tinsley's new relationship with German royalty, namely Prince Casimir Wittgenstein-Sayn.
Topper and Tinsley stayed married for a little while longer, with Topper reportedly sending mass emails to their friends declaring his intentions to make the marriage work. Meanwhile, Tinsley gave a public statement about her relationship with Prince "Cassi." "We're not hiding. I have filed for divorce. I am allowed to date other people," she said, according to New York Magazine.
Page Six claimed that Topper initially struggled with the dissolution of the relationship. But a 2016 profile of the new Housewife in Harper's Bazaar declared that Tinsley and Topper are still "close." Though, Topper's absence from social media and lack of recent interviews means that he hasn't shared his point of view on their status in a while. However, he appears to have moved on. Page Six has linked Topper to Vogue's Valerie Boster, actress Meredith Ostrom, and shoe designer Tabitha Simmons, pictured above.
Tinsley and Topper Mortimer seems to be doing well after their divorce. Maybe this season of The Real Housewives Of New York City will shed more light on the current state of their friendship.