Tom Felton Dated One Of His Harry Potter Co-Stars IRL, But You'll Never Guess Who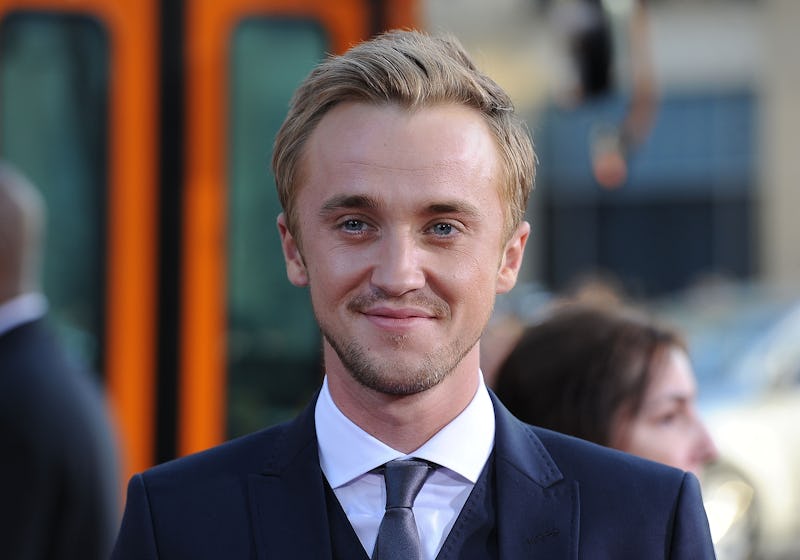 Frazer Harrison/Getty Images Entertainment/Getty Images
British actor Tom Felton is perhaps most notable for his portrayal of Harry Potter bad boy, Draco Malfoy. However, the 31 year-old actor is about to embark on a new leading role in the brand new Youtube series Origin. Besides his work, we don't really know much about the Harry Potter star's personal life, and the actor appears to keep details surrounding his love life fairly under wraps. So exactly who is Tom Felton Dating?
Well, due to no mention of a girlfriend from Felton himself, the actor appears to be enjoying the single life, however according to the Mail, Felton was recently spotted enjoying an intimate moment with a mystery woman in Los Angeles a few months ago. Previously, the Planet of the Apes star dated actress Jade Olivia, who appeared alongside Felton as his character's wife in Harry Potter and the Deathly Hallows: Part 2. The couple began dating after starring in the film together, and continued to do so up until a couple of years ago, when they called it quits in 2016.
Recently, singer and X Factor winner James Arthur released his music video for new single Empty Space, which stars Felton. In the video, art appears to imitate life, as the Harry Potter actor portrays a heartbroken man reminiscing about his ex-girlfriend.
According to the Daily Echo, Arthur's new track is a post break-up song, the focus of which is about "love and loss". Arthur told the publication said: "This song is for anyone who has ever deeply loved and lost someone dear to them, and is then faced with the struggle of trying to fill that void", and continued "It is about coming to terms with the fact that only that special person can truly fill the empty space." I'm guessing Felton can relate.
Back in September, the actor celebrated his 31st birthday, and fans of all things Harry Potter were sent into a frenzy after actor Jason Isaacs, who played Felton's father in Potter, shared a hilarious birthday message online. Issac portrayed super-villain Lucius Malfoy throughout the fantasy film series, the father of Draco Malfoy. The 55 year old took to Twitter to wish his on-screen son a happy birthday. The tweet read: "Happy Birthday to my favourite son. You've brought the Malfoy name into horrendous disrepute by turning out to be a gorgeous human being and a fairly average guitarist. I'm so ashamed and proud of you. #BrunettesHaveMoreFun @origin_series #FreePlug #LuvYa #HarryPotter".
While promoting the new science-fiction web series Origin, which will debut on Youtube Premium on November 14, Felton made an appearance on ITV's Good Morning Britain. After shocking viewers with his confession of never seeing a Harry Potter film, host Piers Morgan went on to reveal that his son, Spencer, is a huge fan of the films - and even has a Harry Potter themed tattoo. According to the Mail, Morgan said: "My eldest son has never wanted to see me in action on this programme in his life, has no interest in anything I've ever done in my life, but he has come in at this ungodly hour just because he heard you were on the show. He's actually got a Harry Potter tattoo".
The 55 year-old presenter then further complimented Felton on the profound impact his Harry Potter roots actually have. He said: "I feel like despite my own lack of interest, this is how far Harry Potter has permeated the public consciousness, when my children are emblazoned with permanent symbols of what you guys stand for".
Well, Morgan is certainly right about the monumental impact the J.K. Rowling literary and film series has had on many of us, and that's precisely why I'll be binge watching the young actor's leading role in Origin later this month.