North Korea Has Detained Another American Citizen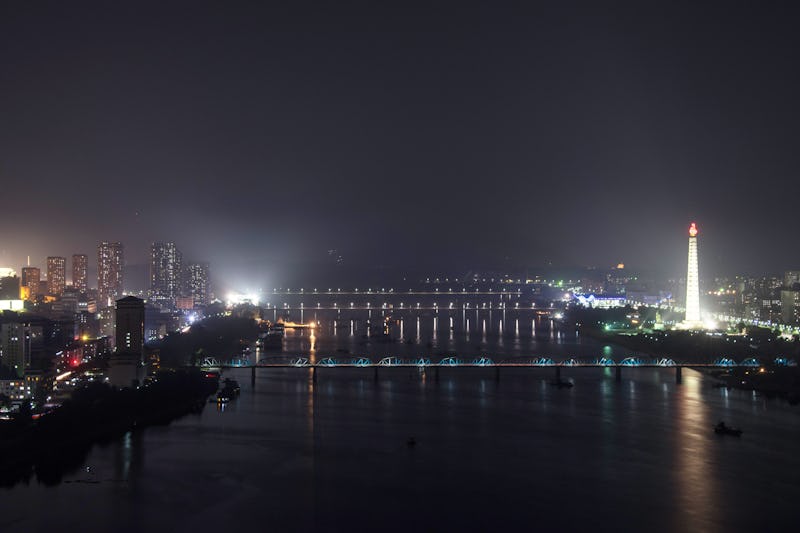 Getty Images/Getty Images News/Getty Images
Tensions between the United States and North Korea have escalated recently over the possibility of military action, but it's not just world leaders who are feeling the pressure of the tension. On Sunday, The Wall Street Journal reported that North Korea had detained an American citizen at the Pyongyang international airport. According to CBS News, Tony Kim is one of three American citizens currently in North Korean custody.
It was not clear on Sunday if North Korean officials had confirmed Kim's arrest, but the Swedish embassy in North Korea said that the incident occurred as Kim was trying to board a flight out of North Korea's capital city. The Swedish embassy represents American interests in North Korea, since the U.S. does not formally maintain relations with Kim Jong-Un's government.
It also wasn't clear on Sunday exactly when the incident took place. CNBC reported that Kim was detained on Friday, while CNN and CBS News reported his arrest as occurring on Saturday. Also unknown were Kim's charges, if any.
What is clear, though, is Kim's reason for being in the controversial country. According to various media reports, Kim is a Korean-American professor who had been teaching accounting at the Pyongyang University of Science and Technology (PUST). Kim, who is reportedly in his 50s, also goes by his Korean name, Kim Sang-duk.
According to a 2012 report from Christianity Today, the university where Kim taught was founded roughly seven years ago by a Korean-American businessman named James Kim. With approval from North Korean officials, PUST became the only private university in the country, offering programs in engineering, international management, and agriculture, among others. PUST opened as a sister school to China's Yanbian University of Science and Technology, where the now-detained Kim had previously taught, according to CBS News.
Upon visiting PUST in 2014, the BBC reported that students at the Western-style university are hand-selected by North Korea's government to attend. Classes are taught in English, yet some North Korean traditions remain: For instance, students reportedly march and sing patriotic songs on campus.
Kim joins two other American citizens who remain in North Korean custody. Otto Warmbier, a college student in his 20s, was sentenced to 15 years of hard labor last year. Like Kim, Warmbier was detained at the Pyongyang airport. Kim Dong Chul, was arrested in October 2015 and sentenced last year to 10 years of hard labor.
As of Sunday morning, the Trump administration had not publicly responded to reports of Kim's detention. Nonetheless, those reports have come at a time when the air between the U.S. and North Korea is already thicker than usual. There's no telling what the arrest of an American citizen could do to add fuel to the long-simmering fire.