A U.S. Navy Strike Group Is Headed Toward North Korea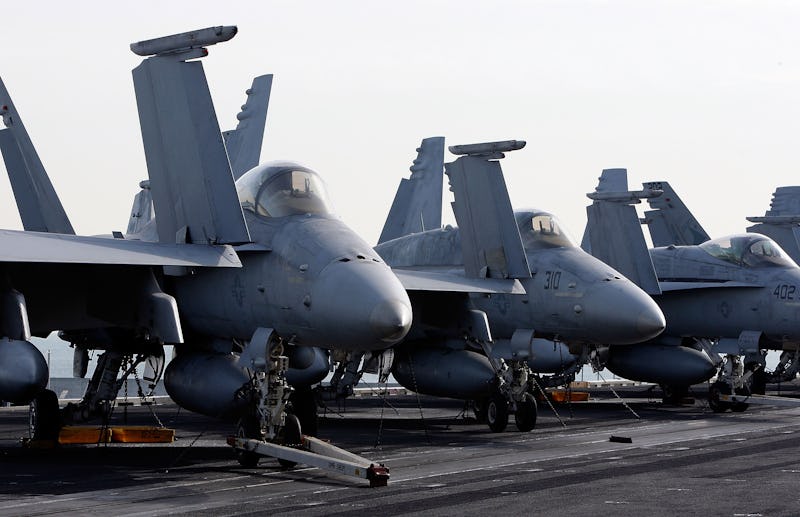 Chung Sung-Jun/Getty Images News/Getty Images
It's been a busy week for the commander in chief and his team of military advisors. Following a chemical weapons attack in Syria, on Thursday President Trump authorized air strikes to begin against Bashar al-Assad's regime in the country. Then, on Sunday, a U.S. Navy strike group reportedly turned toward the Korean peninsula, raising questions over the president's intentions. It's too early to tell if the if the U.S. is going to war with North Korea, but for now, it seems that a show of force is underway.
The strike group is led by the USS Carl Vinson, an aircraft carrier based in San Diego. The carrier had already been far from California, though. According to The Washington Post, the Carl Vinson left Singapore on Saturday and headed toward Australia for a port visit. Along the way, it received new orders and changed course for the Korean Peninsula.
A spokesperson for the military's Pacific Command was vague about the carrier's orders. In fact, a statement from the U.S. Pacific Fleet did not even mention Korea specifically in providing an update on the Carl Vinson's altered route. According to the statement, the Carl Vinson's orders were to "sail north and report on station in the Western Pacific Ocean."
In other words, don't jump to conclusions of war just yet. The Carl Vinson had already been deployed for months as scheduled. The change in course, while sudden, is part of the Pacific Command's ongoing mission to provide a presence in the Pacific region.
It's easy to understand the suspicion that has arisen about the president's plan for North Korea. By green-lighting air strikes in Syria, President Trump proved that he isn't going to be shy about using force when he deems it warranted. On Saturday, U.S. Secretary of State Rex Tillerson gave reason to believe that the president may soon see action against North Korea as appropriate. After a meeting with U.S. officials and Chinese President Xi Jinping at Trump's Mar-a-Lago resort in Florida, Tillerson indicated that the Chinese president had agreed to cooperate with the U.S. in challenging North Korea's missile and nuclear programs.
After the meeting with the Chinese, it seems the U.S. is on the brink of updating its approach to North Korea. A declaration of war seems improbable, but a show of force seems eminent. As the Carl Vinson heads north, all eyes are on President Trump's next move.