This Woman Wants To Buy Twitter So She Can Ban Trump Forever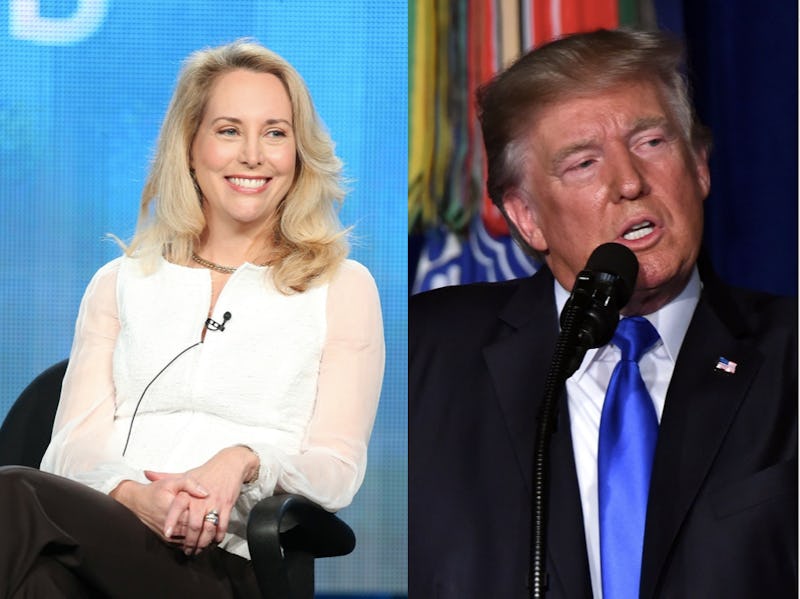 Frederick M. Brown/Getty Images Entertainment, NICHOLAS KAMM/AFP/Getty Images
It seems like people are so fed up with Trump's Twitter musings that they are willing to pay to never see them again. Among them is ex-CIA agent Valerie Plame Wilson, whose desire to boot Trump from Twitter has resulted in a GoFundMe page to raise money to purchase a controlling interest in the social media network.
Trump's use of Twitter has long been a a source of contention in his administration, and derided by those who think his use of the medium is far from presidential. But Wilson, whose identity as a CIA agent was revealed by the Bush administration in a political scandal that forced her to leave covert operations, has taken it a step further.
Wilson's GoFundMe page is titled "Let's #BuyTwitter and #BanTrump." She goes on to say that Trump has "weaponized" the social media platform, and that the power of his tweets go far beyond the scope of the internet.
"Donald Trump has done a lot of horrible things on Twitter. From emboldening white supremacists to promoting violence against journalists, his tweets damage the country and put people in harm's way. But threatening actual nuclear war with North Korea takes it to a dangerous new level. It's time to shut him down. The bad news is Twitter has ignored growing calls to enforce their own community standards and delete Trump's account. The good news is we can make that decision for them.
As of Tuesday, Wilson had raised just over $9,000 — not a small amount, but miles away from her goal, a cool $1 billion. Wilson writes on the GoFundMe page that the proceeds from the campaign will be used to buy a controlling share of Twitter. If she cannot purchase the majority interest, she noted that she will "explore options for buying a significant stake in the company and champion this proposal at the annual shareholder meeting."
The last resort option, if gaining shares is impossible or if there are surpluses, is that "100 [percent] of the balance of proceeds will be donated to Global Zero, a nonprofit organization leading the resistance to nuclear war."
In response to the crowdfunding campaign, White House press secretary Sarah Huckabee Sanders told ABC News in an emailed statement that the page's paltry donation totals were an indication that the public approves of Trump's Twitter use. "Her ridiculous attempt to shut down his first amendment is the only clear violation and expression of hate and intolerance in this equation," Sanders said.
While talk of impeaching the president has swirled around Washington of late, the odds of that happening are perhaps less realistic than Wilson reaching her goal. Additionally, ABC News reports that Wilson's billion dollar fundraising goal is not nearly enough to purchase a controlling stake in the company, which it estimates would go for around $6B.
But for some who are tired of Trumps' Twitter rhetoric, it seems they are willing to foot the bill to remove him from the Twittersphere.