Princess Eugenie Is Being Walked Down The Aisle By An Important Man In Her Life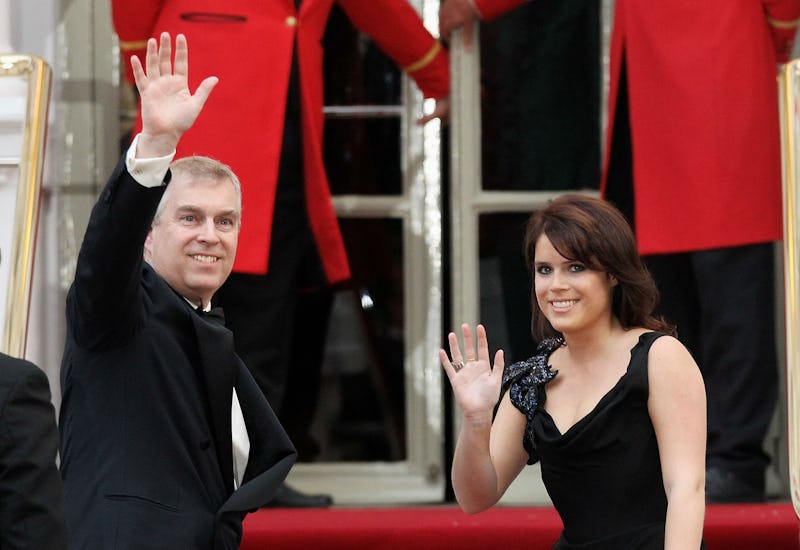 Chris Jackson/Getty Images Entertainment/Getty Images
Her big day is just a few short weeks away, and it's shaping up to be quite the royal affair. It'll likely be pretty similar to the weddings of her cousins, Prince William and Prince Harry, but she's been allowed a bit more freedom. In terms of who will walk Princess Eugenie down the aisle at her upcoming wedding, though, she'll stick to tradition by having her father by her side.
For those not up on their royal family trees, Eugenie's father is Prince Andrew, Duke of York. Andrew was the third child born to Queen Elizabeth II and Prince Philip — behind Prince Charles, 69, and Princess Anne, 68 — making him seventh in line to the throne — right after the newly born royal baby, Prince Louis. Hey, at least he's still ahead of his younger brother, Edward, 54, though.
According to the Duke of York's website, Andrew had a long career with the military before retiring from active duty in 2001. He first joined the Royal Navy as a Seaman Officer in 1979, and earned several respectable promotions throughout the course of his 22 years of service.
The Prince took a quick break from the Navy to marry Sarah Ferguson in 1986, after which they spent their honeymoon yachting around the Azores Islands. Andrew and Sarah had their first daughter, Beatrice, in 1988. Their second daughter, Eugenie — aka the soon-to-be royal bride — was born in 1990.
By 1992, though, the couple's relationship had gotten ... let's say, dicey. Rumors of infidelity fluttered around, and soon forced Buckingham Palace to issue a statement on the matter. It read, in part, that "lawyers acting for the Duchess of York [had] initiated discussions about a formal separation for the Duke and Duchess," but nothing was official yet.
Things got pretty messy in the months that followed, and involved a toe-sucking scandal that you can Google at your leisure. Needless to say, their divorce was made final in 1996. They've continued to cordially co-parent their daughters over the years, though, and seemingly remain pretty close. They still vacation together at the chalet they co-own in Verbier, according to Vanity Fair, and Ferguson even boasts a designated bedroom in her ex-husband's Royal Lodge home in Windsor.
All of that being said, the Prince and Ferguson are also working together on Princess Eugenie's upcoming wedding. "Sarah and Andrew are helping to organize the [post-wedding] evening party," a source told Vanity Fair. "The plan is for a marquee to be set up in the grounds and dancing late into the night. Eugenie and Jack are planning the whole thing but Sarah and Andrew are very involved."
Not only that, but they'll reportedly be throwing the newlyweds another post-wedding party — the day after the ceremony — as well. According to Haarper's Bazaar, the party will have a "festival and funfair" theme, complete with "dodgems and funfair rides, coconut shies, lots of food stalls, loads of cocktails, bloody Marys for the hangovers and a festival vibe."
Divorce can be pretty rough, so it's nice to know that Eugenie and Beatrice's parents have stayed close since they split. It undoubtedly makes big family events — like Eugenie's wedding, her after-party, and her after-after party — so much less stressful for everyone involved.