Why This Woman Trump Picked As Federal Judge Is Making Abortion Rights Groups So Worried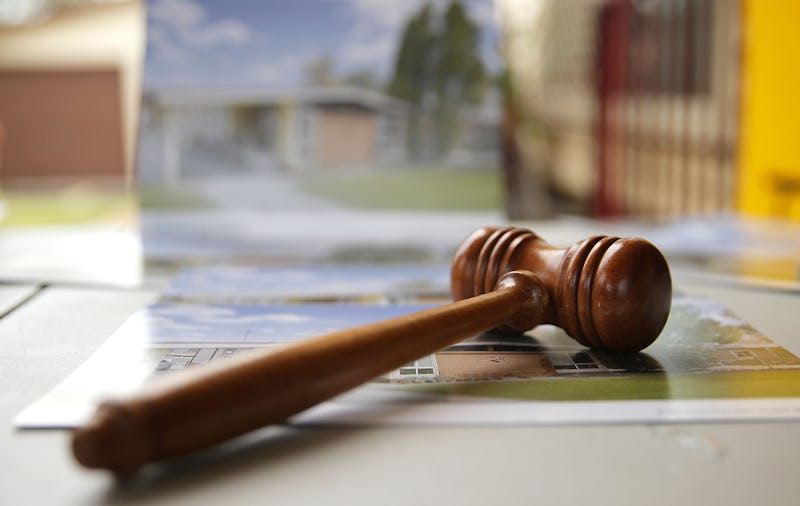 Mark Metcalfe/Getty Images News/Getty Images
One of President Trump's judicial nominees has sparked loads of controversy, and she hasn't even had her confirmation hearing yet. Who is Wendy Vitter, the potential federal court judge who Planned Parenthood called "patently unfit for a lifetime federal judgeship?"
Vitter, whom Trump has nominated to serve as U.S. district judge for the Eastern District of Louisiana in New Orleans, is an attorney and anti-abortion activist. Despite having been nominated for a federal judgeship, she's only tried one federal case in her decades-long career, according to the Times-Picayune.
Currently, Vitter is the general counsel for the Archdiocese of New Orleans — that is, the head lawyer for the New Orleans' wing of the Roman Catholic Church. Before that, she served in the Orleans Parish District Attorney's Office as a prosecutor, where she primarily focused on homicide cases. According to WGNO, Vitter ultimately rose to the rank of chief of the Felony Trials Division and litigated over 100 jury trials. In that office, she worked under U.S. Attorney Harry Connick Sr., father of singer and actor Harry Connick Jr..
"She got that appointment because of her attentiveness to her responsibilities and her ability as a trial lawyer," Connick told the Times-Picayune in 2007. "She was a no-nonsense, straight-ahead, competent, prepared lawyer. She was a little tough on the assistants, but there is nothing wrong with that. They needed strong leadership, and she furnished that."
A New Orleans native, Vitter got a bachelor's degree in government from Sam Houston State University in Huntsville and her law degree from Tulane University, according to the Times-Picayune.
Vitter's nomination has been controversial for several reasons. One is the fact that she is openly anti-abortion: Planned Parenthood has called Vitter "a dangerous choice for a federal judgeship" due to her "long record of opposing women's health and rights in her public appearances," and has launched a five-figure ad campaign in an attempt to torpedo her nomination.
In 2013, while leading a panel discussion called "Abortion Hurts Women," Vitter praised Texas Republicans for "making great strides in making it very difficult to get abortions in Texas." During that same forum, she promoted the false claim that that women who take oral contraception are "more likely to die a violent death." In addition, Vitter spoke at an anti-Planned Parenthood rally in New Orleans in 2013.
"Planned Parenthood says they promote women's health," Vitter said at the event, according to the Clarion Herald. "It is the saddest of ironies that they kill over 150,000 females a year. The first step in promoting women's health is to let them live."
Moreover, Vitter also didn't disclose either of these appearances at anti-abortion events in the disclosure form she gave the Senate Judiciary Committee, VICE reports.
Others have noted that Vitter, who is being nominated for a lifetime appointment to a federal court, has only actually tried one federal case in her life. That case took place over 25 years ago, according to the Times-Picayune, and Vitter was merely the co-counsel to the lead attorney.
"If you're a litigant in federal court, you certainly don't want the judge to be getting up to speed on the law while she's ruling on your case," Sarah Turberville, director of The Constitution Project at the nonprofit Project on Government Oversight, told the Times-Picayune."
Vitter is the wife of former Louisiana Sen. David Vitter, who became embroiled in a major prostitution scandal in 2007 but was nevertheless reelected three years later. He resigned in 2015 to run for governor, but lost.
Although she opposes abortion and has been nominated for a judgeship by a Republican president, Vitter has the support of at least one Democrat: New Orleans Mayor Mitch Landrieu, who's expressed tolerance for anti-abortion politicians in the past, wrote in a letter to the Senate that she would be "an asset to the Federal bench of the Eastern District of Louisiana."