Everything You Need To Know About 'Queer Eye' Star Jonathan Van Ness' Rumored BF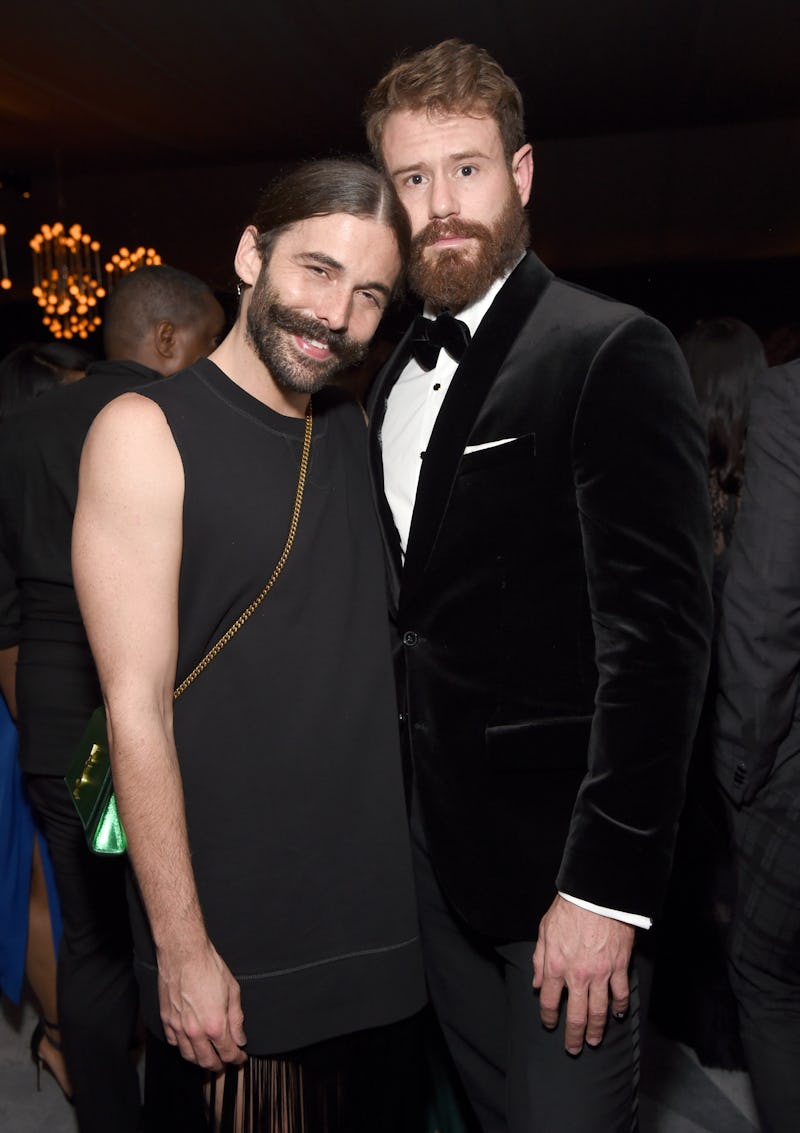 Michael Kovac/Getty Images Entertainment/Getty Images
If you caught the Emmys on Monday night (or checked social media at all while the awards were happening), you probably noticed that Queer Eye's Jonathan Van Ness attended with someone special — besides the other members of the Fab Five, of course. He actually took a date to the Emmys, and as it turns out, that date is rumored to be his boyfriend. So who is Wilco Froneman? From the information that's out there about him, it seems like he and Van Ness could be the perfect match.
Lately, Froneman has been popping up on Van Ness' Instagram more and more frequently, and last week, he joined him as his date to the Creative Arts Emmys. Then, on Monday night, Froneman made a repeat appearance at Van Ness' side. It seems like they're really enjoying each other's company, but so far, neither of them have confirmed that they're actually in a relationship.
But then, on Sunday night, Van Ness posted a picture of Froneman kissing him on the cheek before the awards, and it seems like there must be something up between them. So who is this guy who seems to be making Van Ness so happy these days?
Froneman's Instagram bio describes him as "proudly South African," as well as "kinda ginger" and a "full time dreamer" and "unicorn enthusiast" — all qualities that he's exhibited through his Instagram posts. He has also included a link to purchase Van Ness' "Own it, gorg" shirt, which is super supportive, whether they're just friends or in an established relationship.
As PopSugar pointed out, Froneman plays on a gay rugby team in New York called the Gotham Knights, although he did play rugby in Ireland before he moved to the United States. He's shared plenty of photos of his team on his Instagram, and it seems to be a sport he's very passionate about.
Something else that Froneman is passionate about? His adorable dog, a Boston terrier named Leja, who just so happens to have her own Instagram account. She seems to be a huge part of his life, so we can only hope that she's a fan of Van Ness when they meet — if they haven't already.
But Leja's approval aside, it seems like things are going really well for Froneman and Van Ness so far. Froneman also shared a photo from the Emmys on his Instagram, writing, "date nights are slightly more formal than anticipated." How cute are these two?
There's also this sweet photo that Van Ness shared before their various Emmy adventures, so it seems like their relationship might not necessarily be that new. Golden hour or not, these two look good together.
Hopefully, Van Ness and Froneman will update fans on the status of their relationship soon, but in the meantime, it's great to see them so happy when they spend time together and share those moments on social media. 2018 has definitely been Van Ness' year, and it seems like he's only just getting started.