Why Everyone Is So Excited Yuna Kim Had A Huge Role In The Opening Ceremony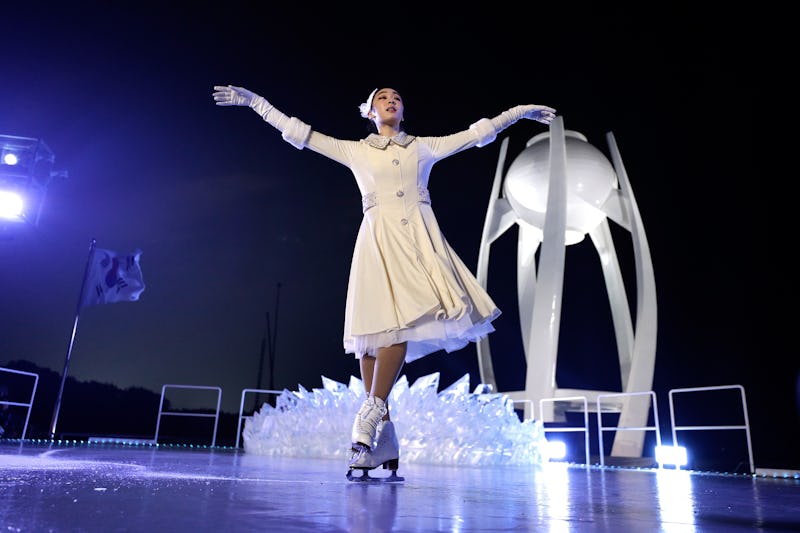 Pool/Getty Images Sport/Getty Images
Carrying the Olympic torch at any point during its journey is a great honor — but the greatest honor is reserved for the one who actually uses the torch to light the Olympic cauldron. In Pyeongchang, that honor went to South Korean Olympic figure skater Yuna Kim, an extremely popular athlete who won gold in Vancouver in 2010. Kim also won silver in Sochi in 2014, and while reports say that she will not be competing this year in her home country, her popularity clearly has not dimmed in the slightest.
Kim, who many refer to as "Queen Yuna," didn't just achieve great personal success in Vancouver in 2010. She was also the first South Korean to win an Olympic medal of any kind in figure skating. She retired after building on that success with her silver in Sochi, but she'll be an official Olympic ambassador for the 2018 PyeongChang Games, so she won't be totally out of the spotlight. While that is an honor in and of itself, her position as the one to actually light the cauldron makes it clear how important she is in the collective mind of her homeland. Many people carry the torch at various points, and the final steps of the journey through the Olympic stadium always has the flame in the hands of the most beloved athletes. As the flame's final bearer, Kim eclipsed them all.
The Pyeongchang organizers clearly didn't want to let Kim's talent go to waste when she lit the cauldron. While all of the other torchbearers wore the same Olympics uniform no matter what their sport was, Kim appeared at the top of the stadium wearing an elegant white figure skating outfit. They had constructed a little ice rink directly under the cauldron, and Kim gracefully spun around it a few times — in a performance that would have been absolutely impossible for anyone with a fear of heights — before receiving the torch.
She then appeared with the two members of the unified Korean women's hockey team, who had carried the torch up a pretty demanding flight of stairs. The hockey players then passed the torch entirely off to Kim, who lowered the flame into the receptacle that would eventually launch it up to the Olympic cauldron itself.
The two Olympic medals were only part of what earned Kim this enviable position. By 2010, at the age of only 20, Kim had already won each of figure skating's highest competitions, including that gold in Vancouver. And in winning that, she notched 228.56 points, which was the highest point total that anyone had ever received since the ISU started using this judging system. Time magazine named her as one of 2010's 100 most influential people in the world, and she picked up millions of dollars in sponsorship deals along her way to the top.
Four years later in Sochi, controversy arose over Kim's silver medal, which many people thought should have been gold. Her masses of Korean fans weren't the only ones leading this crusade — some of her competitors and some of figure skating's all time greats also spoke out, saying that they were stunned to see Kim lose the gold to Russia's Adelina Sotnikova. Kim kept her cool, though, only saying after the event that "the judges give points and I can't do anything about that. ... I did all I wanted to do, like I wanted to do it. … I'm just glad it's over."
It's no surprise, then, that many on Twitter have reacted to Kim's cauldron lighting by saying that this is an honor well deserved. Surely, no one who has ever watched the absolute mastery with which Kim skates would ever disagree with that.