'Glee' Actor Lea Michele Just Got Engaged & Here's Everything You Need To Know About Her Fiance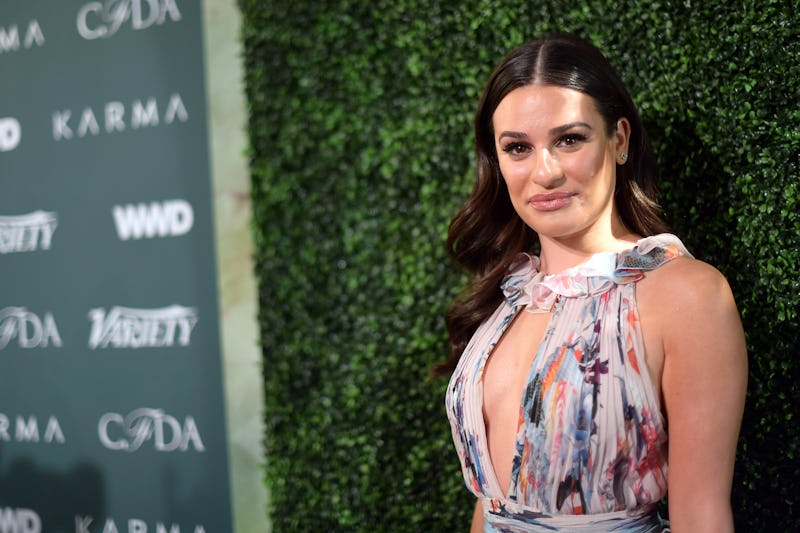 Matt Winkelmeyer/Getty Images Entertainment/Getty Images
Some happy news: On Saturday, April 28, Lea Michele announced that she is engaged to Zandy Reich. She shared the happy news on Instagram with an adorable selfie of her overjoyed expression and her ring. So who is Zandy Reich, Lea Michele's fiance? According to People, Reich is the president of the clothing company AYR, and they've been dating for more than a year.
Michele's engagement announcement IG photo had a simple, but poignant caption: "Yes" with a ring emoji. People reported that the couple was first linked together romantically in July 2017, and before that, Michele and Reich were longtime friends. In November 2017, Lea Michele told the publication that she was very happy with Reich and that he helped her stay focused:
"When I'm not working, I'm at home with my cat, with my family, with my boyfriend, with the people that I love — and that's how I reset, and that's how I center myself. It's so important to tune out the noise and the unnecessary, and just focus on the people that you love because they know you better than anyone."
While Michele has occasionally posted photos on social media of herself and Reich, it doesn't seem like her fiance has any public social media accounts.
Reich is the current president of AYR, a clothing company that makes seasonless designs. The AYR website described the company as the following:
AYR (pronounced 'air') stands for All Year Round.
We make seasonless essentials designed for everyday life. We founded AYR in 2014 because sometimes, the simplest things are the hardest to find. Our studio is based in downtown NYC, our denim is made in sunny LA, and we ship directly to you, everywhere in between.
Smart, strong women are our inspiration - all year round.
It's a cool concept that is the total antithesis of most designers' philosophy, which tends to rely on changing styles with the seasons. AYR claims to be a "label for women who don't like to be labeled." That seems to say a great deal about the kind of person that Reich might be, and if he's as open-minded as the design theory of AYR suggests, then it's no wonder that Michele fell for him.
Additionally, Reich appears to have a great deal of respect for the most important working relationships in Michele's life. In 2017, the actor told E! News host Giuliana Rancic, "When my boyfriend got the seal of approval from Ryan Murphy that was it ... sealed the deal." Murphy and Michele's working relationship goes back to her Glee days, which makes it all the sweeter that her boyfriend made a good impression on the prolific TV show creator.
On a personal level, Michele's fiancé appears to be a private person. While he pops up on his future wife's Instagam on special occasions, for the most part, he seems content staying out of the limelight and focusing on his business pursuits. Before he was president of AYR, he was the head of business development for the fashion brand Theory, according to Daily Mail.
Even though Reich doesn't reveal too much to the public, he must be a special guy. He and Michele appear to be excited to start a new chapter in their lives, and he's already been by her side for birthdays, holidays, and lots of new beginnings. This sweet couple is happy to keep their relationship between them, so her engagement is definitely a special thing for Michele to share with the world. And her photo speaks volumes — the former Rachel Berry has found her guy, and he certainly appears to be a worthy partner for the talented actor and singer.