THIS Is Where You Recognise 'Wanderlust' Actor Zawe Ashton From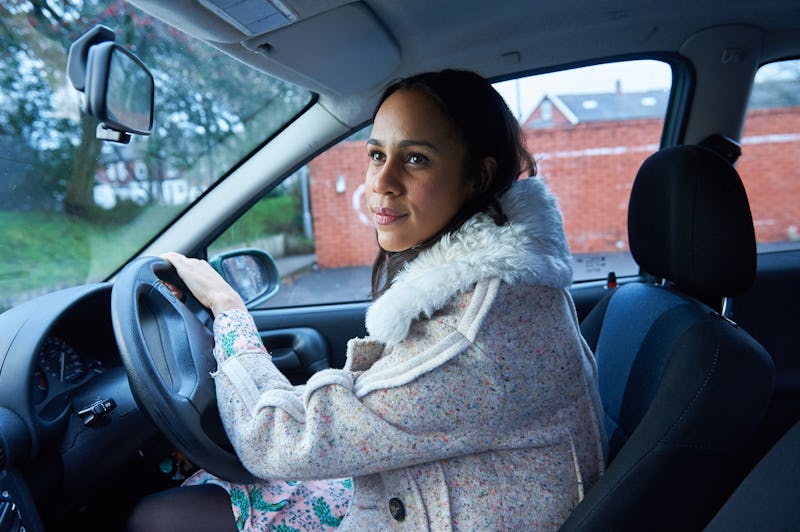 BBC/Drama Republic
Tonight sees the launch of BBC relationship drama Wanderlust, which stars Toni Collette and Steven Mackintosh as a married couple whose sex life has dissolved into near-nothingness. Collette plays Joy Richards, a couples therapist, while Mackintosh plays English teacher Alan. The Radio Times reports that the series offers "a wonderfully refreshing approach to sex and relationships", though it's the sex, of course, that's made the most headlines. According to the Guardian, however, it's Zawe Ashton as Alan's coworker Claire who "steals the show". So who is Zawe Ashton, and why does she look so darn familiar?
Ashton plays Claire Pascal in Wanderlust, as the Radio Times reports, an English teacher who's "younger, single, and drives a beaten-up old car that frequently won't start." According to the BBC, she "enters into an unorthodox relationship" with Steven Mackintosh's Alan, as the Richards test the bounds of monogamy. She told the broadcaster, "I was interested in playing someone who was attempting to challenge social norms," adding, "Young women are still pressured by society into such archaic roles when it comes to relationships, sex, marriage and motherhood. I wanted to play someone who wasn't drawn to that, but still didn't have all the answers herself."
Ashton might have drawn from her family history to play English teacher Claire: the Guardian reports that her father, Paul, was an English teacher too, while her mother, Victoria, taught design and technology. (Another interesting tidbit? Ashton's grandfather is Paulo Muwanga, briefly the president and prime minister of Uganda, as the Guardian reports.) Ashton, now 34, grew up in Stoke Newington, London, according to the newspaper. Her acting career began, the Telegraph reports, with classes at the Anna Scher Theatre School; she subsequently studied drama at Manchester Metropolitan University.
Back to Wanderlust: to spare your frantic Googling every time Ashton appears on screen, you probably recognise her from the Channel 4 uni-based comedy Fresh Meat, which ran from 2011-2016. she played the acutely hilarious (and iconically outfitted) Vod. Ashton was frequently hailed as the show's breakout star — the Guardian called her "the coolest thing on TV right now" — and is still fondly remembered for her incomparable quotes. A standout? "God has given me a brain, and I'm choosing to do some pretty wicked things to it."
Still lamenting the show's departure? You'll be happy to know that the cast, which also included comedian Jack Whitehall, Call the Midwife's Charlotte Ritchie, and The Inbetweeners' Joe Thomas, still keep in frequent contact. In 2017, Ashton told the Guardian that they share a very active WhatsApp group chat. "I've not known a cast bonding like that," she said.
In 2011, Ashton played Joyce Vincent, a London woman who died alone in her flat and wasn't discovered until three years later, in documentary drama Dreams of a Life. "I always play outsiders," she told the Guardian, "I think I'm carrying a lot of those characters and I wonder if I play them because those characters need an extra element of thought to bring them to life."
She also starred in Doctor Who alongside Peter Capaldi and Jenna Coleman in the 2014 episode "Into the Dalek"; she played Journey Blue, a soldier shrunk to microscopic size to enter a deactivated Dalek. In 2015, Ashton appeared in another Channel 4 comedy drama, Not Safe For Work, which followed a group of millennials grappling with job insecurity, student debt, and the impenetrable housing market.
How about the big screen? Ashton played a supporting role in the 2016 noirish thriller Nocturnal Animals, featuring Amy Adams and Jake Gyllenhaal. And according to her IMDb, she was reunited with Wanderlust co-star Toni Collette on the set of Velvet Buzzsaw, a "horror-thriller" set in the upper echelons of the art world that's due to be released in 2019. She's also trod the West End boards: she starred in Jean Genet's The Maids alongside OITNB's Uzo Aduba and Downton Abbey's Laura Carmichael, plus she's appeared in Othello and contemporary play The Frontline at Shakespeare's Globe. In August 2018 she revealed on her Instagram that she had been admitted to The Academy, aka the organisation that votes Oscar winners.
If you've (somehow) remained completely oblivious to Ashton as an actor, there's a chance you've encountered her work behind the camera. She produced and hosted Channel 4's short film anthology series Random Acts, wrote and directed short films The Place We Go to Hide and Happy Toys, and recently created a film about conceptual artist Lorraine O'Grady.
Catch Ashton in Wanderlust on BBC One tonight, starting at 9 p.m., for the first in a six episode series that's sure to dominate the TV conversation. And join me, too, in quietly hoping that Vod's iconic navy blue lipstick makes an appearance.