Toni Collette Might Always Play Americans But She's From Somewhere TOTALLY Different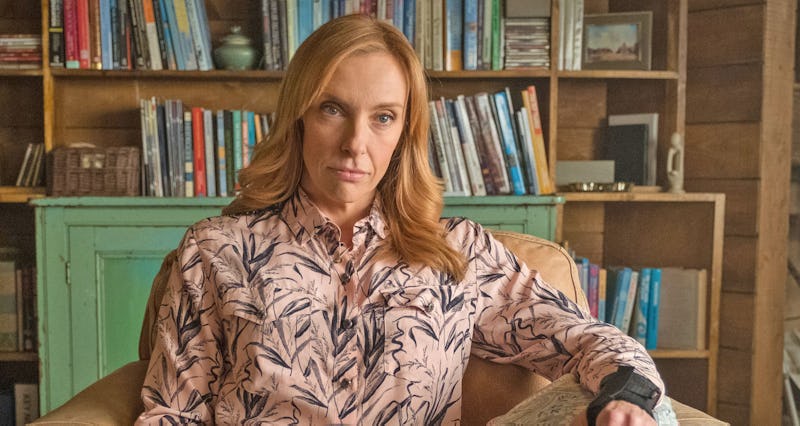 Wanderlust/BBC
Ever since the trailer for BBC One's Wanderlust popped up on my screen, I've been trying to place where Toni Collette is originally from. In the new series, her English accent is spot on. But then, her American accent is pretty convincing in The Sixth Sense and Little Miss Sunshine (my favourite film of all time). So, where is she from? Is Toni Collette English, or is she American? Turns out, I'm dead wrong on both counts.
Collette is actually Australian and hails from Blacktown in Sydney, according to the Sydney Morning Herald. She made her name initially as an actress Down Under, working alongside fellow Aussies Russell Crowe in The Efficiency Expert, according to the New York Times, and later onstage with Geoffrey Rush in Uncle Vanya, reports the Telegraph, before moving to Hollywood. After breaking onto the scene with Pallbearer, she became a fixture in many beloved American and British films. She would occasionally dip back home to take on films like Diana & Me — a comedy in which she plays somebody with the same name as Princess Diana. (Here for it.)
Despite pulling different accents out of her playbook, she's hung onto her Aussie roots which you can hear in a recent interview below:
In the '00s, she was also in a number of British flicks where she honed her British accent — most notably in About a Boy and Emma, which she starred in alongside Gwyneth Paltrow. Given how much time she's spent working in the English capital, it's no surprise then that London now feels like a "second home" to Collett, which she touched on in a recent This Morning interview.
"I love [London], I feel so at home here. It's true I did a bunch of movies here in the 90s, I lived here for a while, I have so many great friends here," she said. "I love so many things about London, I could live here to be honest. It's like a second home."
While Collett currently lives in Sydney, according to an interview with the Guardian, she revealed to This Morning that she at least won't be far from London in her new show Wanderlust. Set just outside of London (but filmed in Manchester), she'll be flexing her chameleon-like accent abilities as a sexually frustrated therapist in the upcoming six-part series, which premieres on Tuesday night on BBC One.
The show is a deep dive into her character Joy's marriage to a man named Alan Richards, played by Steven Mackintosh. According to BBC One's synopsis, a car crash involving Joy puts "their sex life on hold" and the pair decide to open up their marriage and give polyamory a try. The series, which is a joint venture between the BBC and Netflix, is already a big talking point as Toni Collette said to The Sun that she apparently "was the first woman to have an orgasm on the BBC."
Piers Wenger, a controller for BBC Drama, said in the same piece: "We've never seen anything like it on BBC One."
My interest is definitely piqued. It sounds like many a cold shower will be had across the nation when the pilot episode hits our screens.
Wanderlust will air on BBC One on September 4 at 9 p.m. in the UK. The Hollywood Reporter has stated that Netflix will be "getting it ready for the rest of the world," so it could be coming to the streaming platform soon afterwards.