Who Is Zazie Beetz 'Deadpool 2' Character Domino?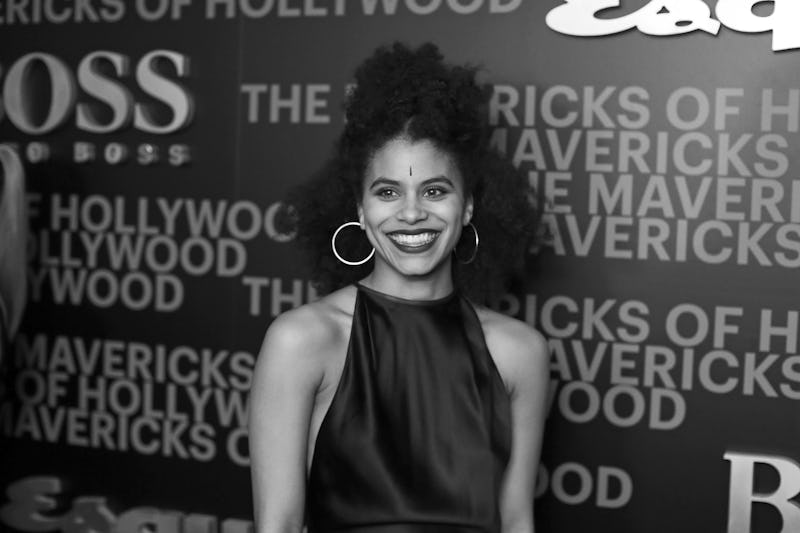 Joe Scarnici/Getty Images Entertainment/Getty Images
Actor Zazie Beetz has been killing it in the indie film game and as Earn's on-again off-again girlfriend/always mother of his child, Van on the popular FX series, Atlanta. But now, Beetz will be adding superhero to her belt. According to The Wrap, Beetz will take on the role of Domino in Deadpool 2, which is set to be released sometime in 2018. If you're anything like me, you love superhero movies, but the comic book reading part of childhood passed right on by. So you might be wondering, who is Zazie Beetz Deadpool 2 character, Domino?
The news that the Berlin-born actor would be taking on the role of Domino aka Neena Thurman came from the one-and-only Twitter account of Ryan Reynolds, who basically is Deadpool, if Deadpool were an actor and producer and not the Merc with a Mouth. Reynolds shared an image of five rows of dominoes with the caption "Domino effect." on March 9, 2017 that, at first glance, seems innocuous. That is until you look a little closer at the dominoes and realize that the middle rows spell out the name, "Zazie Beetz." I can't help but think that this caption is the exact way Deadpool himself would publicize such an actor performing in his movie.
The Deadpool 2 producer proceeded to share another photoshopped image of Beetz's head on the cover of a Deadpool comic, Deadpool & The Mission for Money, with the caption, "Zazie Beetz Effect."
But who is Domino and why is she flying through the air on Deadpool's back? In the Marvel universe, the sometimes-heroine is the result of a top-secret government breeding program that is working to develop the perfect weapon. Domino, the only test subject to survive the program, develops mutant probability-altering powers or "luck power." In addition to her mutant powers, she's also got skills as a sharpshooter and in hand-to-hand combat. Domino spends a lot of her story lines as a mercenary and even a founder and lieutenant of a few superhero groups, specifically X-Force. She's also often romantically linked with another character who will appear in Deadpool 2, Cable.
While Domino and Deadpool have quite a history, I'm betting that Deadpool 2 follows the events surrounding the characters in the 2016 Marvel Now. In the series, Domino forms a band of mercenaries called Mercs for Money who work with Deadpool to free Negasonic Teen Warhead, a character portrayed in the first Deadpool by Brianna Hildebrand.
No matter what the story, it's definitely going to be exciting to witness Deadpool's sassiness mixed with Domino's charm and luck. Deadpool 2 can't come soon enough!