'Riverdale's' Latest Murder Mystery Won't Stop With The Twists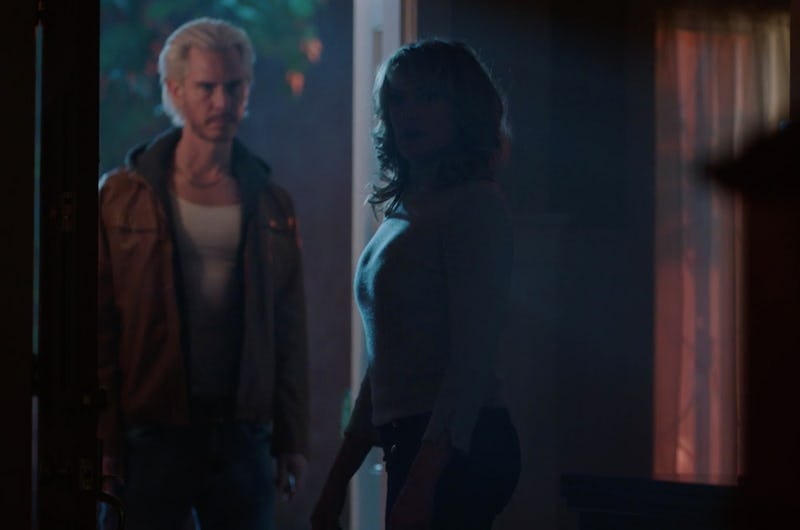 The CW
With the mystery of the Black Hood Killer seemingly put to rest, Riverdale decided to introduce another murder mystery to keep things interesting. Last week's cliffhanger found Betty Cooper (Lili Reinhart) coming home in a happy daze after sleeping with Jughead (Cole Sprouse) for the first time ... only for her romantic bubble to pop in one game-changing moment. She found her mother Alice (Mädchen Amick) cleaning up a huge puddle of blood, while Chic (Hart Denton) was falling apart in the corner, and oh yeah, a dead guy was laying in the middle of the dining room. What. Happened?! And, who killed the guy on Riverdale?
If you were hoping for some solid answers in Wednesday's episode as to who killed the creepy random dude, unfortunately us fans were all left hanging on that particular mystery. "The Tell-Tale Heart" mostly followed Betty's descent into madness as she was forced to help her mother and her brother clean up the blood, dump the dead body in the woods, and pretend like nothing was out of the ordinary. That's a lot to ask of a teenage girl who already has a lot going on!
But, Alice was determined to make sure this whole dead body thing didn't get in the way of her happily reunited family (minus Hal [Lochlyn Munro] since he was off hooking up with Penelope Blossom [Nathalie Boltt]). So after Betty confessed about her accessory to murder to Jughead, Jughead immediately enlisted his dad FP (Skeet Ulrich) to help them bury the body and get rid of the random guy's cell phone and car.
Before throwing the phone into the lake, Betty did her due diligence to try and figure out who this random guy was that showed up to their house in the middle of the night and ended up ... well, a lot worse for wear. Turns out he was a drug dealer, and Chic was potentially one of his clients. But does that mean that Chic was the one to kill him, or did Alice do it to protect Chic? What exactly went down in that kitchen?!
"We'll be feeling the repercussions of that murder for most of the rest of this season," Riverdale executive producer Roberto Aguirre-Sacasa tells Bustle along with a small group of reporters at The CW's headquarters. "We will find out exactly what happened in the kitchen but it's more like the chain reaction that that murder and cover up sets up going forward as well."
As for that creepy scene near the end of the episode with Chic happily cutting Hal out of all the Cooper family photos in the albums by the fire, it's looking more and more likely that there is something sinister going on with the newest addition to the Cooper household. Was Hal right not to trust his son? We didn't get any further explanation of Chic's motivations or endgame in this episode, but trust that it is coming on Riverdale (airing Wednesdays at 8 p.m. ET on The CW).
"It is about unwrapping these characters and their layers, so we're going to learn so much more about Chic in the coming episodes," Aguirre-Sacasa teases. "One of the reasons Betty reached out to Chic was to try to understand her darkness and to see if she recognized something in Chic that she saw in herself. We're very much continuing that story but it takes some big twists and turns before resolution."
He then adds with a laugh, "More characters should check in with the town therapist." Truer words have never been spoken. This is literally the third murder scandal to hit Riverdale in less than two seasons!
Despite how expertly FP seemed to bury the body, chances are that this is not the last we've seen of the random creepy dead drug dealer. This is a TV show after all — everything has far-reaching consequences. There's no way the Coopers are literally going to get away with murder. The truth is going to come out, and when it does, Riverdale will never be the same.
Betty is already feeling the stress of having to cover up either her mother or her brother's murder. She started to spiral in this week's episode, even going so far as to cut her hands with her nails again and throw up in the school bathroom over her anxiety and worries that they'll get caught. Making matters worse is the fact that Cheryl (Madelaine Petsch) tried to help Betty and told her about her mother and Betty's father, but that only drove even more of a wedge between Betty and Hal.
At least Betty and Jughead are back to a good place in their relationship. After sleeping together the night before, Jughead told Betty he loved her, and despite all the craziness happening in her life, she managed to find some moments of peace with Jughead during the episode. He's her rock, and if anything can get her through this murder cover-up, it's going to be him. Too bad he didn't realize what he signed up for when he got back together with Betty. Helping cover up a murder is a big commitment, and he's in it for the long haul.
Even with all the murdering going on, Riverdale also managed to fit in a Godfather-esque storyline with the Lodges. Turns out this entire time that Archie (KJ Apa) thought he was talking to an FBI agent, he was actually just being tested by none other than Hermione Lodge (Marisol Nichols), who's been pulling the strings all along.
By the end of the episode, Archie refused to help the fake FBI agent take down Hiram Lodge (Mark Consuelos), proving his loyalty to the Lodges, and Hermione confessed all about her sneaky test. She officially welcomed Archie into the Lodge family, so he's about to be in deeper than he ever thought he would.
But one major casualty came from all the Lodge shady business dealings, as Mayor McCoy (Robin Givens) was forced to step down from her office or else her secret affair with Sheriff Keller (Martin Cummins) would be exposed. She chose to resign with her pride rather than be kicked out of office in scandal, and she'll be focusing her time on being an attorney moving forward. Based on how many murders happen in Riverdale, maybe she should go into criminal defense. Business is going to be booming!