Jeff Sessions Will Pick Comey's Replacement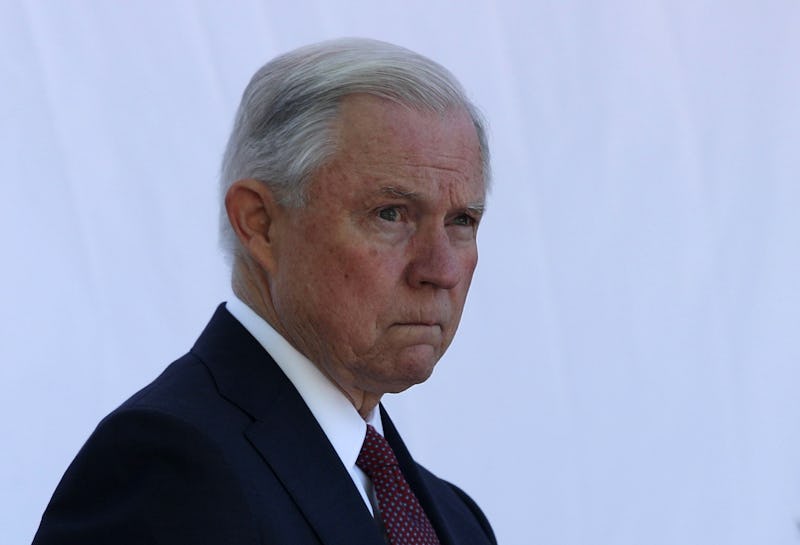 Alex Wong/Getty Images News/Getty Images
On Tuesday, President Donald Trump fired FBI director James Comey, effective immediately. Which means he's actually former FBI director James Comey, and the hunt for a replacement is officially on, amid a mountain of scandal and controversy. After all, the FBI is still actively investigating ties between the Trump presidential campaign and the Russian government, and whether they colluded to impact the outcome of the 2016 race. And although it risks getting drowned out in all the tumult, there's yet another controversial detail in all this: Jeff Sessions will be picking the new FBI director, which means that he'll be in charge of finding someone to run the Trump-Russia investigation — despite previously recusing himself from the probe over a potential conflict of interest.
That's according to ABC News, which reported on Wednesday afternoon that Sessions and Deputy Attorney General Rod Rosenstein — the man behind the memo that laid out the administration's official argument against Comey — are both currently interviewing candidates to serve as interim FBI director. They'll reportedly have a decision in the next one to two days.
News of Sessions' involvement comes as a surprise, given the fact that he recused himself from the Russia investigation in March, after it was revealed he'd made false statements to Congress, under oath, about his contacts with Russian ambassador Sergei Kislyak during the presidential campaign.
The White House is not backing down on this, however. And although it's gotten a little less attention than it might have in a less-crowded news environment, it deserves to be spotlighted.
Deputy Press Secretary Sarah Huckabee Sanders was filling in for Sean Spicer on Wednesday afternoon, less than 24 hours after he reportedly hid behind some bushes on the White House grounds to avoid talking to reporters on camera. And in the midst of answering questions from the assembled press, she acknowledged that Sessions is involved in the search for Comey's replacement, and argued that it's wholly right and proper for him to be.
In the process, she downplayed the significance of the Trump-Russia investigation, calling it "one of the smallest things" facing the FBI at the moment, and implying that the media's focus on the story is unjust:
In terms of whether or not Attorney General Sessions should have a role, look, the FBI is doing a whole lot more than the Russia investigation, I know everybody in this room, and probably most of the media around the world would like to think that's the FBI's sole responsibility. But that's probably one of the smallest things that they've got going on their plate with the 21,000 people who work there, and so he should absolutely have a role in seeing who runs that agency and that department.
At this point, it's still too early to say who will end up getting the nod to take over the investigation from Comey, until such a time as a permanent new director is chosen and advanced through Senate confirmation. But this much is clear: Regardless of the decision, it'll be controversial by virtue of Sessions' ongoing involvement, despite his ostensible recusal.