This Fan Theory About Who Planted *That* Bomb In 'Bodyguard' Changes Everything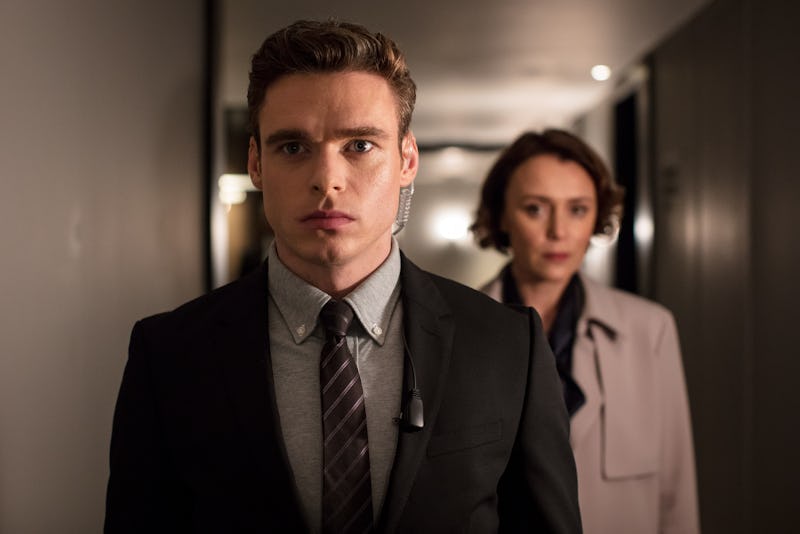 BBC/World Productions/Sophie Mutevelian
Jed Mercurio knows how to make a damn good thriller for the BBC, and Bodyguard is no different. I mean, for a new series you'd usually expect the first few episodes to focus on setting the narrative, building characters, steadily leading to an armchair-gripping finale. But not Mercurio. Instead, he opened the series with a foiled terrorist attack, followed by an assassination attempt on the home secretary, and then, that ending following Sunday night's episode — I'm getting heart palpitations just thinking about it. Is Julia alive? What was in the briefcase? And, who planted the bomb in Bodyguard?
Thanks to the nation being collectively captivated by the thriller as I have been, there's an abundance of theories to investigate; at least until some answers are given next Sunday night (Sep. 9).
Whilst I'm sticking with the suggestion that Julia's (Keeley Hawes) ex-husband — and Conservative Party chief whip — Roger Penhaligon (Nicholas Gleaves) has something to do with it, there are plenty of other key players in the series that are pretty freakin' suspicious.
I mean, you only have to traverse the #Bodyguard — or the misspelt #Bodygaurd — on Twitter to discover endless amounts of speculation regarding who planned and planted that bomb.
Despite all these fantastic theories, I definitely still think it's Julia's ex-husband; it was all an inside job, and no one can sway me otherwise (I say that through gritted teeth).
But then again, as Digital Spy rightfully points out, Julia's special adviser Rob Macdonald (Paul Ready) sends PR adviser Tahir Mahmood (Shubham Saraf) in his place to the conference, suspiciously calling Tahir to warn him that there's been a huge mistake "and that he needs to deliver the 'research files' to Montague on-stage, since they're essential to her address [...] and what we assume happens next is that Tahir steps on-stage, the briefcase detonates and takes half the conference with it."
Hmm. That would make sense, if it weren't for David having a look at what was inside the suitcase before the conference, something that the audience didn't see. Surely David can't be in on it as well? Personally, I wouldn't put it past Mercurio, TBH.
So. Many. Questions.
Questions that could very well not be answered, as a second season for the show is up in the air, and it's not because of the BBC.
"I'm not projecting that far in the future. I think it's very hard to do that, particularly because there are no guarantees that something will get recommissioned," Mercurio told Digital Spy, discussing the pros and cons of unnecessarily elongating a series.
"I think the problem with putting things in a first season that have no relevance to the first season is that you can end up making something quite difficult to follow."
He continues: "It feels like things don't quite knit together and so you lose the pace and the narrative drive that you should be trying to go for with a thriller series." Need I remind you that there are only six episodes of Bodyguard, so all these events better be answered in the next three if there isn't a second season.
Please don't leave me hanging, Mercurio, I can barely deal waiting a week for the next episode.