There's An Excellent Reason You Probably Recognise Ambrose From Netflix's 'Sabrina'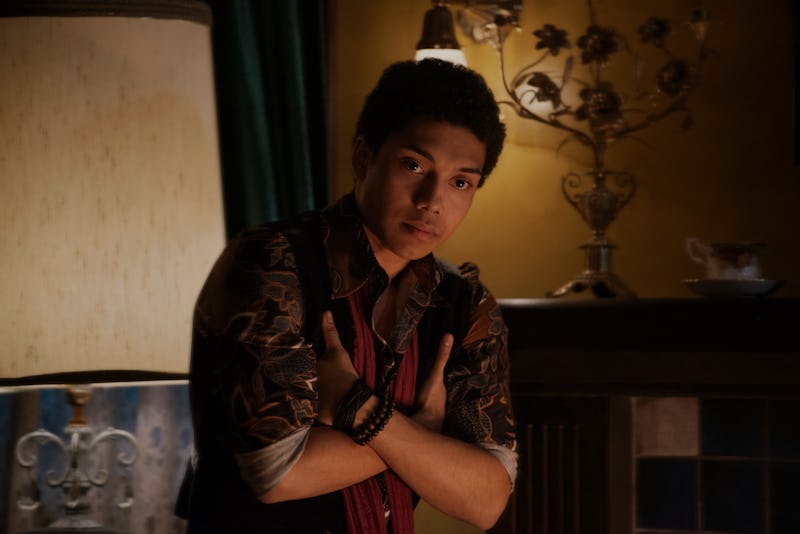 Diyah Pera/Netflix
The reboot that everyone wanted but didn't deserve has been gifted to the world in the form of Netflix's Chilling Adventures of Sabrina. You might have spent hours lying in front of the sofa, breezing through the show back when it was more like a teenage sitcom. But now the show's most recent incarnation has become much more sinister, and well, chilling. It's like an extra-spooky Riverdale. Out of the actors, one stands out in particular, and that's Chance Perdomo who plays Ambrose on Chilling Adventures of Sabrina.
Out Magazine refer to Perdomo as "Sabrina's Sexy Pansexual Warlock," though that describes his character on the show more than the actor himself. But Perdomo says it was "gratifying bringing forth new narratives," in his interview with Out from Oct. 27, adding: "I don't remember the last time I saw a pansexual person of color written with depth." Perdomo recognises the importance of representation, telling Out that "if Bruce Wayne had been black like myself, it probably would have had an incredible subconscious effect on me, just like when Black Panther came out and the nine-year-old in me felt validated."
In an interview with Bustle, during which he also revealed his own first TV crush was Hermione Granger, he added:
"These kinds of narratives are narratives we haven't seen explored in depth before, on TV especially. Ambrose is pansexual and an ethnic minority and he's a very old soul in a young man's body, like that's not your typical shirtless white man with a six-pack running in the jungle saving a damsel in distress story."
Now Perdomo's hoping to be the same to anyone who's felt underrepresented by the actors they've seen on TV. So how exactly did Perdomo come to be in the acting game? Well, if you were wondering "is he actually British or is that just a great accent?" I can reassure you that it's all real. According to Pop Buzz, he was born in London in 1996 (making him 22), and before he came to star in Sabrina, you might have seen him in Midsomer Murders and Killed by my Debt, a moving BBC Three drama based on the tragic story of British teenager Jerome Rogers.
But is Perdomo anything like his character in Sabrina? "Ambrose can definitely talk sh**, as can I," he told Them on Oct. 25. "I used to use my energy for things I shouldn't have in the past," he admitted, but acting swiftly turned his life around. "I was always getting into fights until I put my energy into acting," he told the site, "Then my grades picked up, and I became president of the student union. Before that, I was similar to Ambrose being so pent up."
If you were hoping to clean some more info from his socials, you might not have much luck. There's an unverified Chance Perdomo Twitter account, where the first of only two tweets reads: "Is this how you use Twa- I mean, Twitter?" He's also pretty low-key on his Instagram. Most of the shots are professional rather than personal, and it definitely feels more curated than spontaneous, with Perdomo opting for a Row by Row Instagram layout.
What's clear about Perdomo, though, is that he's determined to represent and give better, more nuanced depictions of anyone who exists outside of TV's usual white, hetero mix. And while that's enough for now, I still can't wait to get to know Chance Perdomo — the guy who might be getting his big break — some more.