'The Quad' Will Turn Peyton Alex Smith Into A Star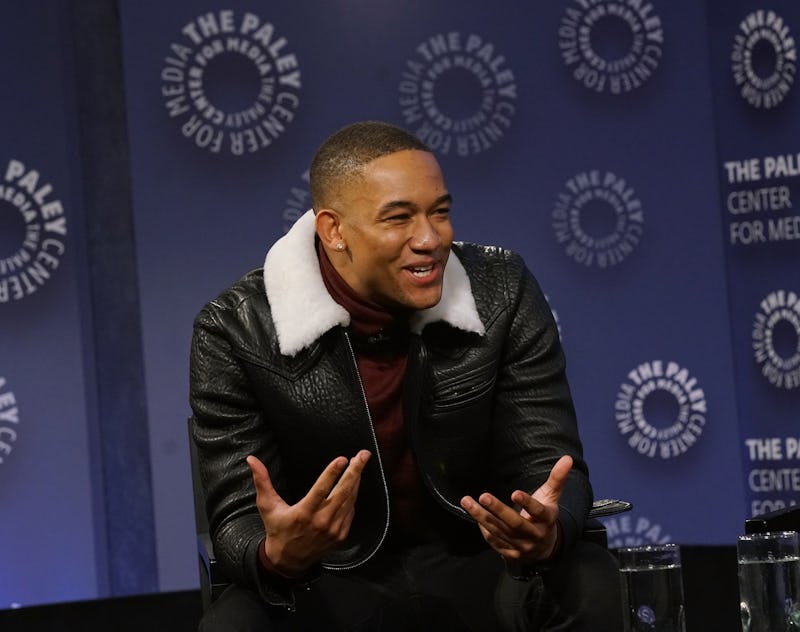 Bennett Raglin/Getty Images Entertainment/Getty Images
BET's The Quad is all about the lives of the students and staff at a fictional HBCU, and aside from Anika Noni Rose as the new president and A Different World's Jasmine Guy, the cast is mostly filled with new faces. One of those new people you should be very excited to see onscreen is Peyton Alex Smith, who plays Cedric on The Quad and is poised to become a huge TV star. This series could be the next launching pad for new talent and in the case of Smith, make him a more well known star.
Right now, there's not too much to know about him. In fact, in his Instagram profile he describes himself as "not a public figure." Of course, that's going to change as soon as The Quad premieres on Feb. 1. What we do know, however, is that Smith's character, Cedric, loves music and didn't want to leave Chicago. Underneath his tough exterior, he's a kid who decided to go to college in order to please his mother, who was worried about him jumping into the rap game without an education. And while fellow student Bryce is compared to Kanye West in his BET introduction video, it seems like Cedric also has some similarities with the Chicago-bred rapper — namely, their hometown, their single moms, and their desires to both prove themselves as both intellectuals and rappers. As for the actor behind Cedric, here's what you should know about Smith.
His Arc May Get Serious
While he's going to start the season with no greater concern than his next studio session or proving himself to some producers, as the above trailer suggests, Cedric may face some trouble with the police. He could find himself within a flawed, biased system that might mean the end of his short academic career.
Smith Is Curious To Learn More
There are no guarantees when it comes to Hollywood, so it always helps to have a backup plan. Smith has apparently been trying to learn about sound while on set of The Quad, so who knows, maybe that can be his fallback.
He's Trying Not To Take Things Too Seriously
You are what you read, so Smith should be prepared to stay down to Earth, even with some newfound fame.
You Have To See His TBTs
You don't know anyone, even a TV star, without seeing the quality of their throwback pics. And not only is Smith a super cute baby, but making his granny his #WCW? That's a quality throwback.
He Has Other Exciting Roles On The Horizon
And while his resume before the Quad is a little slim (though you may have seen him in a Luke Cage episode last year), it's already taking off. Smith recently announced that he was cast in Kathryn Bigelow's upcoming untitled Detroit riots project, which costars John Boyega and John Krasinski.
He's Revealing Some BTS Tidbits
If you want to go behind the scenes of The Quad, look no further. It seems like Smith knew his character could be an early favorite, so he's been showing plenty of glimpses at what filming was like and is clearly excited for people to watch it when it premieres on Wednesday, Feb. 1 at 10 p.m.