There's A Reason Daddy On 'OITNB' Season 6 Might Look Familiar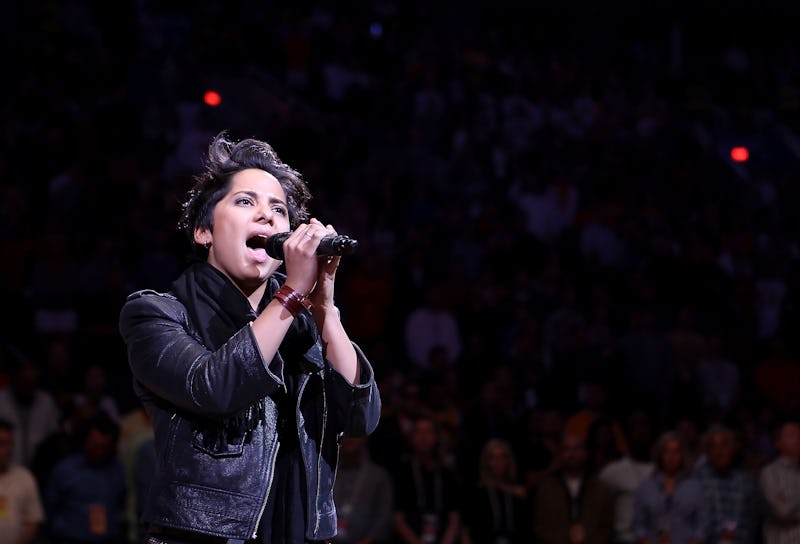 Christian Petersen/Getty Images Sport/Getty Images
The new season of Orange Is The New Black comes with a lot of new characters as many of the characters have been transferred to Litchfield maximum security after the riot. One of the ringleaders at Max is a familiar face, actually, to fans of another hit show. Who plays Daddy on Orange is the New Black? Vicci Martinez is already a star.
Her character runs D-Block on Orange Is The New Black, but Martinez is best known as a runner-up on the inaugural season of The Voice, representing Team Cee Lo Green. Her blind audition was a song we basically all couldn't stop singing in 2011, Adele's "Rolling In The Deep." On the show, she sang "Jolene," "Love Is A Battlefield," battled it out with Pink's "F*ckin Perfect," Florence and the Machine's "The Dog Days Are Over," and ended the finale with Train's "Drops of Jupiter." In 2015 Martinez returned to The Voice to perform and promote some new music.
A singer-songwriter, she's released a dozen albums in her career, both before and after coming in joint third on the NBC competition. Her single "Come Along" actually features her Voice mentor Cee Lo Green and enjoyed global success, though it wasn't released in the U.S. According to an official fansite known as the "Vicci Martinez Army," the artist and her team hustled the song's way onto the American airwaves anyway.
She was also a super fan of the show before being cast, according to an interview with the Tacoma News Tribune. "'Have I heard of Orange Is The New Black? Are you kidding me? I watch that show religiously,'" Martinez said, recalling how she responded when the producers contacted her for an audition. "'I love it. It's one of the my favorite shows.'"
The show offered her many things, and not just professionally. Although her character on the show takes a liking to Daya, Martinez is currently dating her Orange co-star Emily Tarver IRL. (Tarver plays prison guard McCollough.) "We are super in love," Martinez said in the same Tacoma News Tribune interview. "And we have a music group together. I've started to do music again. She's fulfilling my fantasy of doing duets together." How freakin' cute is that?!
Martinez and Tarver are not the only musically inclined actors on the series. Orange Is The New Black regulars Uzo Aduba, Kimiko Glenn, and Danielle Brooks have had notable Broadway musical appearances. Recording artist Ruby Rose also starred in Season 4. So, Martinez obviouly fits right in with this super talented cast on set.
As far as first steps into acting go, this is pretty major. Hopefully Martinez will stick around on OITNB after Season 6. It seems like she might, given the way the character becomes intwined with our longtime faves. Plus, in the first few episodes, Daddy already has an extended flashback backstory, which is always a good sign. Fingers crossed that some kind of talent show scenario or karaoke flashback will allow Martinez to show off her singing chops as well. The Voice may be the first time you saw this performer but it won't be the last.