This New 'Supergirl' Character Is Played By A Real-Life Hero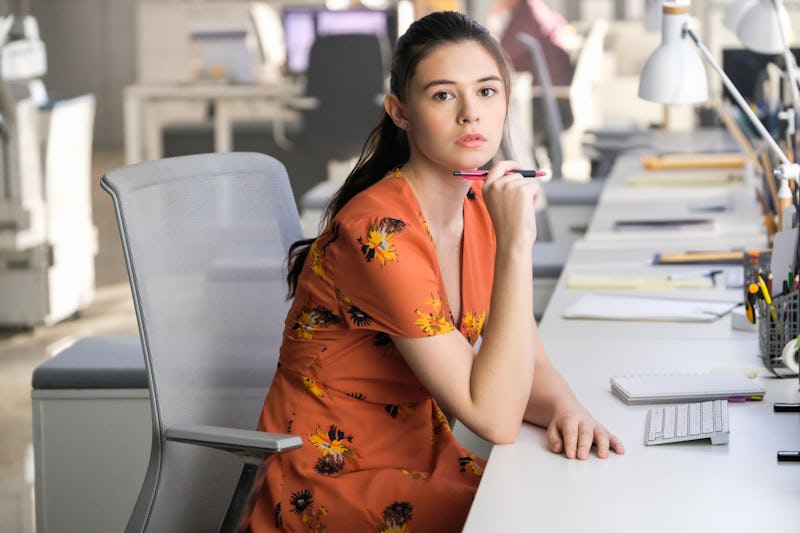 Bettina Strauss/The CW
When Supergirl returns for Season 4, there's going to be a new face on Kara's team. As previously revealed at San Diego Comic Con, Season 4 will introduce Supergirl character Dreamer, played by Nicole Maines. This addition is a big deal because Dreamer is the first transgender superhero on TV — and not only that, but she's portrayed by a real-life trans hero.
If you recognize Maines' name, it's likely because she's been open about her transition, and has been advocating for the trans community since she was just a teen. You may have heard her story on HBO's The Trans List or read about her in the book Becoming Nicole: The Transformation of an American Family. Or perhaps you saw her on the news in 2013, when, after her high school refused to let her use the girls' bathroom, the Maine Supreme Court ruled that her rights had been violated — a landmark victory for trans rights.
Maines' work in the trans community, coupled with her acting skills, led the Supergirl team to cast her. "We did a world-wide search for trans actresses and not only is she a phenomenal actress, she's also a real-life hero," executive producer Jessica Queller told Den of Geek. "She has been an activist in her community since she was 14 years old, she was honored by GLAAD, she's just an incredible woman. We couldn't be more excited."
Trans advocates have long argued that trans roles should be played by trans actors, and Maines couldn't agree more. She told USA Today that she was excited to have the opportunity to bring this character to life and increase trans representation on TV.
"When we have trans actors play trans characters, people can look onscreen and say, 'OK, this is what trans is,'" Maines said. "If I had had a trans superhero, someone who looks like me wearing a cape, [while] growing up, that would have changed the game," the now 21-year-old added. "That would have been an entire new level of validation in myself to think that I can be a superhero!"
Still, Maines is relatively new to acting — her only previous credit is a guest stint on Royal Pains and — she said during an interview on The Ellen Show that she still pinches herself every day. "I always loved theater growing up and I was always like, 'Wow, it would be so fun to be an actor,'" she explained. "But my next thought was, like, 'I'm from Nowhere, Maine.' ... I did a guest episode of Royal Pains and then right after that Supergirl happened and I was like, 'How did I get here?' Every day I walk on set and I'm waiting for someone to be like, 'Ma'am, you can't be here.'"
Maines totally belongs on set, though, and Queller likened her acting abilities to that of the show's main star. "I can't believe we found an actress who just magically has the same effervescence and essence [as Melissa Benoist who plays Kara]," Queller told Digital Spy.
Not too much is known about Maines' character yet, since she was created specifically for the show. But the aforementioned Den of Geek article notes that she's distantly related to Dream Girl from the original Legion team. Unfortunately, Supergirl viewers won't see Maines in her superhero costume until later in the season; according to Digital Spy, the show will introduce her journalist alter-ego before exploring her super side.
But the superhero reveal is something Maines absolutely can't wait for — and fans likely will feel the same. "I've been trying to conduct myself on set like this isn't the only thing I'm thinking about, but it's all I'm thinking about," Maines joked to Digital Spy in the same interview. "That's when it'll really sink in that we have a trans superhero."
You won't want to miss Maines' historic role on Supergirl when it returns Oct. 14 at 8 p.m. ET on The CW.