The Actor Playing El Chapo In 'Narcos: Mexico' Is Used To Playing Intense Characters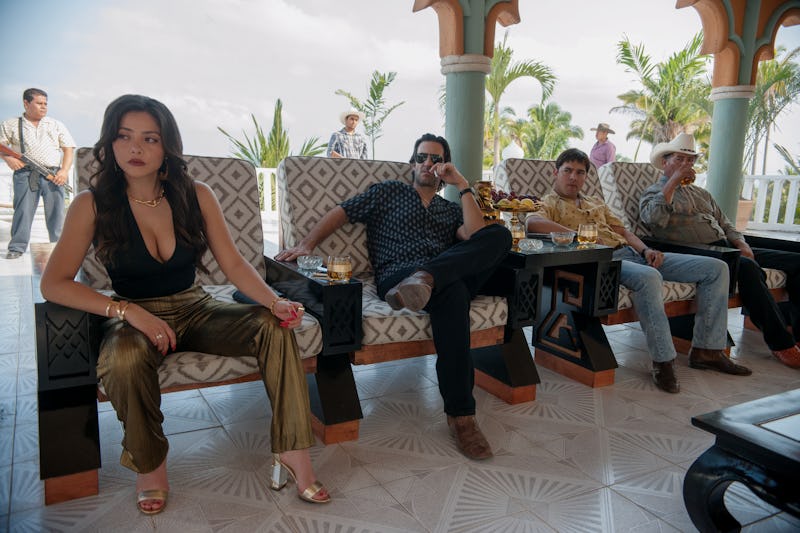 Carlos Somonte/Netflix
After over a year-long hiatus, the Netflix drug-trafficking drama, Narcos, is returning — with a slant. Narcos: Mexico premieres Friday, Nov. 16 on the streaming platform, and with a new country comes a brand new cast. One such character is Joaquín "El Chapo" Guzmán — a notorious Mexican drug dealer who factors into this season of the Netflix show. So who plays El Chapo on Narcos: Mexico, and how much will he appear in the series itself?
Leading the cast this season are Michael Peña and Diego Luna. Peña stars as Mexican-American DEA agent Enrique "Kiki" Camarena, while Luna plays his not-so-law-abiding opponent. And while it may be tempting to think that Luna's character is El Chapo, since he's playing a drug kingpin, the Rogue One actor is in fact portraying Miguel Ángel Félix Gallardo. This druglord was called "El Padrino" or "The Godfather" and was the co-founder of the Guadalajara cartel, per the L.A. Times. That being said, El Chapo is still in Narcos: Mexico, albeit in a smaller role.
But first, it's important to have some background about the historical figure himself. According to the U.S. Department of State, El Chapo became involved in drug trafficking in the late '80s when he began working for Gallardo. Since then, Guzmán has been in and out of prison: The first time was on June 9, 1993 when he was sentenced to 20 years on murder and drug trafficking charges, per the Department of State, before escaping from Mexican jail on January 19, 2001.
After his first jailbreak, El Chapo became prominent in the Sinaloa Cartel, according to the Department of State. Per Forbes, the U.S. Department of Treasury named Guzmán the "world's most powerful drug trafficker" in 2012. What's more, the druglord made Forbes World's Billionaires list in 2009, where his net worth was estimated at $1.0 billion. However, his run-ins with law enforcement were far from over. According to the same Department of State report, Guzmán was taken into custody on February 22, 2014 in Mazatlan, Sinaloa, Mexico, and escaped again on July 11, 2015.
However, the New York Times reported that El Chapo was arrested for a third time on Jan. 8, 2016. "Mission accomplished: We have him," Mexican President Enrique Peña Nieto said, per the article. Currently, as of Tuesday, Nov. 13, Guzmán is on trial in New York City for international drug trafficking, gun charges, conspiring to murder rivals, and money laundering, per CNN, to which he has pleaded not guilty. For that reason, this season of Narcos is that much more relevant.
As for El Chapo's onscreen counterpart, Alejandro Edda plays the drug lord in Narcos: Mexico. And while Edda doesn't appear much in the trailer, it's clear that Netflix has been planning to incorporate his storyline for a while. "Chapo was there at the beginning, in a way," showrunner Eric Newman told the Hollywood Reporter back in 2016. "He was one of the younger guys in the Guadalajara cartel before it splintered, and he and another guy were given Sinaloa as territory."
Previously, Edda has appeared in shows like AMC's Fear the Walking Dead and FX's The Bridge, as well as the 2017 Tom Cruise film American Made. According to a 2017 interview Edda did with Remezcla, the actor is from Puebla, Mexico but moved to the States after high school to study acting. "I went to San Francisco and that's where I started working in English, doing some musicals, some theater, and started taking my first acting classes in English at a community college," he said.
Before Edda got his big break, the actor recalled doing odd jobs like valet parking and cleaning bathrooms while appearing in Domino's commercials. Eventually, he graduated to bigger ad spots, finally booking his gig on The Bridge. "In the beginning it was just one episode, but they kept writing me in," he told Remezcla. "That gave me a little bit more confidence."
As for Edda's character, El Chapo appears to be — where audiences enter the story — an up-and-comer who's learning the ropes from Gallardo. The current Guadalajara drug lord is referred to as "the Rockefeller of marijuana" in the trailer, which shows what the cartel was trafficking at that point in time. "The Guadalajara cartel was a force in the 1980s, concurrent with the Colombian cartels," showrunner Eric Newman told the Hollywood Reporter in another interview. "So we will ostensibly be going back in time a little bit. The Mexican cartels started with marijuana and heroin and then got into cocaine, which they acquired from the Colombians."
Since Narcos: Mexico is set in the '80s, audiences will likely get to see El Chapo's rise to prominence (and eventual arrests) in any subsequent seasons. But whatever happens this time around, audiences can rest assured that Narcos: Mexico will be just as heart-pounding as its previous seasons.