Here's Where You May Have Seen the 'I Feel Bad' Star Before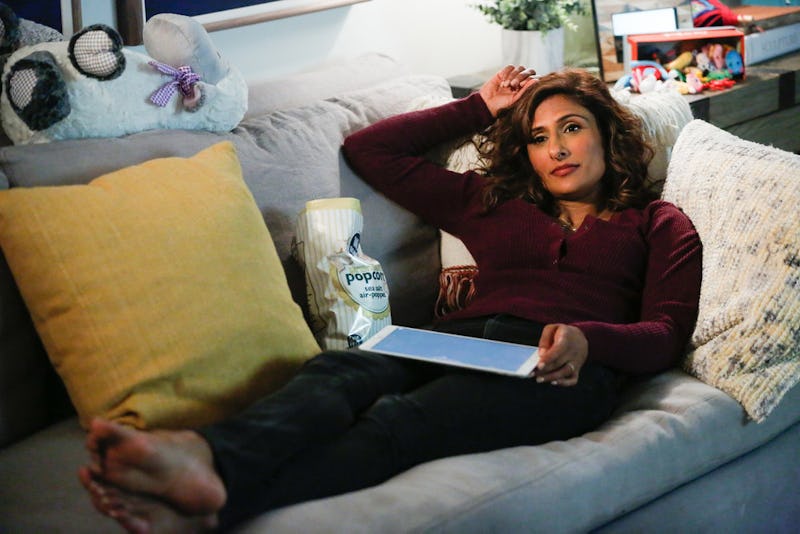 Vivian Zink/NBC
Finally, a comedy that knows exactly how its audience feels — bad. The Amy Poehler-produced show, I Feel Bad, will release a special preview on Wednesday, Sept. 19, at 10 p.m. ET before the series officially premieres on Thursday, Oct. 4, at 9:30 p.m. The show follows a working wife and mom named Emet (Sarayu Blue), who — as the show's title implies — can't stop feeling bad. She's worried that she's turning into her mom, that her coworkers think she's old, that she has sexy dreams about other men, that she can't afford a real nanny...the list goes on and on. It's a super relatable premise — even for viewers who aren't parents. And Sarayu Blue, who plays Emet on I Feel Bad, embodies her character perfectly.
"I never know what I'll feel bad about, but I know it's always just around the corner," Emet explains in the series trailer. A particularly troubling scene shows her father, Sonny (Brian George), slapping her butt while she's leaning into the fridge. After they both yelp appropriately, he apologizes by saying, "I thought you were your mother. You remind me of her sometimes — just in how you look and sound and act and the way you carry your weight." Yikes. Who wouldn't feel bad about that?
Then there's Emet's oldest daughter, Lily (Lily Rose Silver), who wants to join a dance team with her friends. Sounds innocent enough, right? Apparently not, as the trailer reveals. "Is he motorboating her??" Emet asks her husband, David (Paul Adelstein), as they watch Lily dance provocatively with a boy her age. Needless to say, they've got their hands full with their three children, not to mention Emet's parents, who take care of the kids while they're at work.
Emet's mother, Maya (Madhur Jaffrey), gets in a few jabs about her daughter's parenting style. "Mama's running off to work," she tells Emet's youngest baby in the trailer. "Fancy career lady abandoning her kids." The protagonist responds by telling her youngest, "I am so sorry we can't afford a stranger to take care of you." But her mom is right about one thing: Emet is a fancy career lady and works at the video game company, Game Punch. In an extended scene from Episode 1, audiences discover that Emet is the head artist and is in charge of a bunch of millennial dudes. When she tells them that she stayed up late sketching empowered women for their new game, she's met with reluctant groans. "She looks like my dad," Griff (Johnny Pemberton) comments on one of her characters. Strike two.
So while audiences know about Emet, what was Blue doing before being cast as her I Feel Bad character? The actor was recently in the 2018 comedy Blockers, where she played John Cena's wife, Marcie. Before that, she was in everything from the CW comedy No Tomorrow, where she played a character named Kareema, to small roles on Veep, The Big Bang Theory, and Agents of S.H.I.E.L.D. And since this is the actress's first big role, I Feel Bad is a huge deal for her. "I'm grateful to be a woman of color and play this kind of character," Blue told the New York Post. "A funny, complex woman."
What's more, the I Feel Bad cast and crew gave a talk at Paleyfest, which the organization live-tweeted. During the panel, Executive Producer Aseem Batra said that the character of Emet wasn't necessarily meant to be an Indian-American woman.
However, they were ecstatic when Blue nailed her audition for the role. In an interview with Kathie and Hoda on The Today Show, Blue explained just how much she relates to Emet. "I was like, 'This is me on a page! How is that possible?'" she recalled of reading the script. "The way she spoke, her attitude, all of it, I was like, 'Well, there I am!'" The actor went on to say, "Someone once said, 'What do you feel bad about?' I said, 'What don't I feel bad about?' It would be nice to feel good about something! I haven't found it yet."
So whether or not Emet ever stops feeling bad about all of her problems, fans can look forward to watching Blue shine in this comedy that was, intentionally or not, tailor-made for her. And despite what the show's title says, I Feel Bad looks nothing but feel-good.